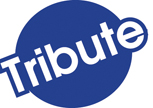 Kamala Peris nee Ratnayaka on her 90th birthday:
We are honoured to call you 'AMMA'
90th birthday tribute to our mother -
Courage, strength and determination are the words that would come to mind when we think of our mother Kamala Peris (Nee Ratnayake). A lady born to a family of status and class, amongst the tea plantations in the beautiful country village called Deniyaya in Southern Sri Lanka. She is the 7th child (out of 9) born to Muhandhiram A. A. W. Ratnayaka, who was a planter, entrepreneur and a philanthropist.
Her life's journey was a difficult path, yet she drew strength from her heritage and her roots to hold herself with utmost respect and poise. She fought for her rights and for her ancestral grounding through a modern changing world.At the tender age of 23 she met my father (Dr Nicholas Peris) who was on his very first appointment as a medical officer in Deniyaya. He was called to consult her during an episode of viral influenza. Fate was such that she was attracted to the 'House doctor' and later married him - a man who was brought up in Colombo with education and strict family rules.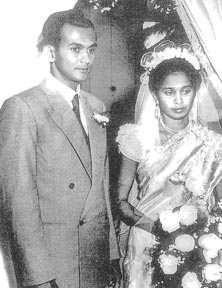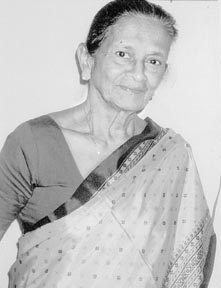 Her life changed, moving around the country as my father was fulfilling his medical appointments in various towns in Sri Lanka. He later became a specialist/consultant in Leprosy in Sri Lanka.
Mrs Kamala Peris led a life that was totally different from her upbringing. As a wife of a Sri Lankan doctor - she had many social and community commitments, which kept her lifestyle busy. She followed my father when he took a position in the Royal Flying Doctor service in Darwin Australia in 1974 with a young family, only to face one of the worst natural disasters in the history of Australia - Cyclone Tracy on Christmas Day 1974. She was caught up in a lifestyle she never imagined, yet she held her head above the waters with courage and determination. She longed for her family lifestyle in country Deniyaya - yet she adapted her lifestyle for the demands of bringing up a young family in a foreign country.Women of this nature are rare. She is one of the most kind hearted, generous and loving human beings you could ever meet. She has a heart that is open to help anyone. Her wisdom and intuition and her unconditional love for her family is an inspiration for all who knew her.
She is a 'loving mother' not only for her children, but also for her brother's and sister's children as well our friends. She would sacrifice her happiness to give people around her, the BEST. She has faced many sad events in her life. She lost her father at a very young age and her mother passed away when she was only 27 years. Her greatest loss was when she lost her youngest sister at a very young age.
Her five sisters and three brothers have now passed on. Mum is the only family member alive from her family. My father passed away at age 57, she was widowed at age 55 and never remarried.
We gathered on the 26th of April 2015 in Sri Lanka,to celebrate her 90th Birthday; to show her how much she means to us, to show her our love and respect for who she is and to thank her for sharing her life with us. It is a blessing to have her in good health and in good spirits to such age - We are honoured to share our lives with her and to call her our 'AMMA'.Mum has being an inspiration for all us.
Through good and bad times, she has been there for us. She did the best she could, from what she knew. She held us together as a family with patience and courage. She is blessed with 6 healthy children, 10 very loving grand children and beautiful great grandchildren. She is also blessed with very loving nieces and nephews, who hold her with utmost respect and love.
You are an inspiration to us all.
Wishing you a very special 90th birthday AMMA.
From your loving family in Australia
---
Enatilaka Hemakirti Dissanayake:
A friend indeed
I had jokingly asked him to write my elegy, when I passed away. It is an irony of fate that I have to write his now.
Enatilaka Hemakirti Dissanayake born on March 8, 1933 at Hunnadeniya, Dikwella, was a friend and roommate when we were studying at Piliyandala Central for the University entrance examination.
'Enatilaka' being the name of a famous scholar, had been proposed by the head priest of his village temple to his father who was the local Coroner. For family members, his name was a tongue twister. So they called him 'Erand' with which he appeared to be uncomfortable, being a strict follower of our culture. His friends called him 'Dissa'. At lighter moments, I teased him with 'Nayakatuma', associating the second half of his surname with political leadership.
After passing out from Peradeniya in 1954, Dissa worked as a teacher and acting school inspector for a couple of years until he was selected to the DRO's Service, facing a tough recruiting exam. Dissa was not happy with the pomp and honour attached to the post. He felt embarrassed when his vidane arachchis addressed him as hamuduruvane. Besides he did not find the job intellectually satisfying and resigned to the surprise of thousands who were going hammer and tongs to get there. Others who joined as DROs with him ended up at the top of the Public Service.
Dissa's next position was as Registrar of the Vidyodaya University where its intellectual environment gave him job satisfaction. The last President and Speaker were on the staff of Vidyodaya during Dissa's time, a fact that he was reluctant to talk about and the other two never forgot. CR was very receptive and courteous to Dissa, whenever he met him in public. Although MR was willing to offer a high post to him in his retirement, Dissa chose not to dress himself 'in borrowed robes'. Contentment and renunciation were Dissa's characteristic qualities.
When politics disturbed his working environment at Vidyodaya, Dissa joined the State Engineering Corporation as its Personal Manager but dissatisfied again with routinized administration, he shifted to the Agricultural Research and Training Institute. Though his post there was 'Registrar', he got happily involved with the curricular activities of the Institute,. Dissa spent the longest span of his chequered working life at the ARTI.
With his excellent command of both languages, Dissa was an asset to me in my writings. At school he won the first prize for English Oratory. His translations of the press releases of leading institutions were published incognito, at his request. I ignored his wish when I used his translations of my own work. On my last visit to Dissa, when he had only a few days to live, his apology for not completing an assignment given to him touched me deeply.
Panita was Dissa's soul partner for over fifty years. Though they had no children, the two of them enjoyed life to the fullest, being each other's shadow to the last. Being a self-effacing, unambitious man, Dissa was not a Karma Yogi, but under pressure, he had the capacity to climb great heights. When he was over sixty, at my bidding, Dissa competed with candidates less than half his age at the Law College Entrance Exam and got selected. But feeling insulted by a disparaging remark made by the then Chief Justice about aged entrants, at the inaugural dinner, Dissa gave up his legal studies. Unassuming, though he was, Dissa stood for his self-respect, uncompromisingly.
Dissa was a friend indeed. May he attain eternal bliss!
- Somapala Gunadheera
---
Recollections:
'My career at St. Benedict's College'
My career at St. Benedict's College (Primary) as teacher, principal/headmaster spans 37 years from September 1963 to August 2000.
One hundred and fifty years in the life of any educational institution is a milestone. St. Benedict's College was founded and nurtured enormously by the selfless service of the De La Salle Brothers. During the 150 years of educational and character-building service to the nation, St. Benedict's College has enriched its reputation.
When I joined the tutorial staff on September 1, 1963, then, director Rev. Bro. Lawrence Justinian directed me to the primary school principal, Rev. Bro. Victor Thomas who welcomed me and I was made class teacher of grade 5A2 -English medium. I taught Grades 4 and 5 and gained immense experience.
In 1978, I was appointed master-in-charge of prefects and discipline and I discharged my duties justifiably. In 1986 I was appointed Vice Principal of the Primary section by Rev. Bro. Alexander Cyrillus. I worked under two directors and three principals and I gave of my best to develop discipline and education. In May 1994, I was officially appointed principal/ headmaster of the primary section. It was a challenge to be the first lay principal of the primary.
I was focused on improving the religious environment, discipline, education, computer science, sports, and cultural activities and give them an all-round education. The new primary education system was scrupulously followed at St. Benedict's primary and involved much dedication. The teachers were equal to the challenges it posed.
Our students did remarkably well in the Grade 5 government scholarship examination during my tenure as headmaster. Teachers of the primary section spared no pains to achieve this task
Twelve Aptiva IBM computers have been gifted by generous Old Bens of the UK. The UK OBU President, Dr. Gasper Gomez made the presentation. Children from Grades one to five have the opportunity to profit from this endeavour. Mr. John Fernando, merits special thanks in this regard.
The Sportsmeet was formally inaugurated in a fitting manner during my time and held annually at the Sugathadasa Stadium. I appointed qualified officials to run the meet and the performance of our athletes was excellent.
Children were given the opportunity to play tennis and to participate in all island tennis competition. Guidance was given to ShanthiLal Perera our tennis coach and MIC.
Regular cricket practice was held after school and weekends under Old Ben, Terence Perera and children were encouraged to go for practice regularly. Old Bens Ranjith Fernando and Felix Dias were ever ready to help us and I thank them sincerely for their genuine service.
A mini basketball team was organized and coached by me in 1972 and it was captained by Delukshan Fernando. Sinhala English Tamil Days were held annually to promote the talent of children in aesthetic skills.
The new primary building was built during my tenure. It became a reality when it was opened on March 26, 1999 - three storeyed - a hall on the top floor and 17 class rooms. The children went into occupation on May 24, 1999. Thanks to the Old Bens world over who assisted. I was selected for the Principal's Conference in Singapore in 1996. It was a superb conference which involved school administration in which many Lasalian educators from various countries participated.
I was conferred the distinguished Lasallian Award in May 2008. I have served as vice president, secretary and treasurer of the Teachers' Guild and I extend my cordiality to all my colleagues for their unstinted cooperation. Our former energetic secretary Mr. C. Padmanadan deserves my thanks for his loyalty.
I was inspired and assisted by Rev. Brothers Edward Vaz, Hendry Dissanayake, Philip of Jesus, Bertram Perera, Randolph Arsekularatne, NimalGurusinghe, BenjamineGunathilake, Late Lawrence Justinian, Late Victor Thomas,Late Alexander Cyrillus and the late Lewis of Jesus who have left an indelibe mark.
- W.G.A. Leonard Fernando
Former Principal /
Headmaster of St. Benedict's College Primary