Irasewaya:
Not quite a sunshine story
The premiere of 'Irasewaya' (Sunrise) by veteran journalist, lyricist, teledrama director and assistant film maker, Rodney Vidanapathirana, was screened in Kathmandu, Nepal, recently and subsequently released in selected local cinemas across the country.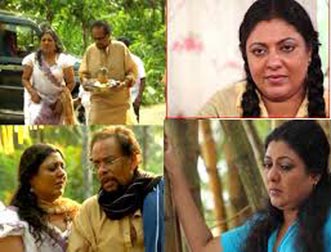 A movie about societal idiosyncrasies, man's vulnerabilities and the drawbacks of extreme wealth and extreme poverty, it strikes a poignant note, not so much for its storyline as for the final appearance of actress Rebecca Nirmalee, who succumbed to cancer last year, shortly after the movie was completed.
Rebecca plays the lead character of a woman who decides to remain single, when her boyfriend walks out on her because of her poverty
The storyline is realistic enough, in that, as explained by Vidanapathirana, it is based on social issues faced by most Sri Lankans owing to their economic situation. "The monk enters priesthood because of the problems he faces," he says, adding that with society changing people's problems also change.
Vimal Alahakoon plays the role of Nalaka Bandara, a rich politician, who is suffering from kidney failure. Despite his wealth he is not happy in his married life.
Apart from Alahakoon and Nirmalee, the cast includes Maureen Charuni, Stanley Krishnarathna, Gamini Samarakoon, Ishara Wickramasinghe, Tissa Bandaranayake, Ranjith Ranasinghe and Malini Kathirasinghe. Photography is by Ranga Kariyawasam, Chaminda Dissanayake and Kapila Thilakarathne, with editing by Viranga Ketapearachchi and Madhura Prasad.
Music for the movie is provided Visharada Manoj Peiris.
How much of the message that Vidanapathirana seeks to impart to the audience is left to be seen, but what emerges as interesting is the manner in which characters appear to be narrating their stories rather than merely acting them out.
Deviating from traditions Vidanapathirana decided to have the premier of 'Irasevaya' in Nepal mostly because of its Buddhist concepts.
He is extremely happy with the response he has got so far, most specifically the response he got from a German Professor, who had said the movie was one of the best he had watched so far. Also deviating from tradition, he had the movie released in selected cinemas, believing it would create more of a 'worthwhile impression'
Vidanapathirana is mournful about the various issues suffocating the movie industry. Topping the list is the dwindling number of people actually going to cinemas these days. He believes there are numerous reasons for this, but also points out the industry has other problems as well, particularly technical problems. "There are only a few Cinemas which have gone Digital. Even in India, the Cinema halls do not show Reel based Films. The technology has developed now," he says.
He is of the view that if industry standards improve, develop film quality would be an automatic given.
Then it will be possible to show a good film, he says, explaining that it costs a lot of money to make a good film copy.
"A film director has to face many challenges such as having financial security and attracting a good audience. Therefore, we will have to depend on the digital technology," he says.
Vidanapathirana does not agree it is a good idea to copy foreign films, even though that is how most Sinhala films start. He suggests the best way to attract the audience to return to the cinema is by developing the industry and by making good films. "If we can bring a good audience to the cinemas again, then the income and the facilities of the cinemas will be developed as well," he says, pointing out that some cinemas are about to close down because of the low income they get.
He also welcomes the idea of mini theater, and says there should be many more such theaters.
Vidanapathirana, who began his career with ' Udawadiya Mal' went on to direct a lot of teledramas including 'Hemanthaye wasanthayak' which was well received , and films such as 'Ananthaya'. He hopes to make another film based on light entertainment without being too serious about the subject matter.
Of course, the theme might be based on a serious subject, but he hopes to bring out the story with a rather subtle approach. The premier of Irasewaya' was a joint effort of the Embassy of Sri Lanka in Kathmandu, under the guidance of Ambassador W.M Senevirathna, and was held under the patronage of Dr. Narayan Khadka, Minister of Urban Development of Nepal, Duminda Dissanayake, Minister of Education Services, Weerasumana Weerasinghe, Minister of Youth and Sports , Southern Province, Dr. Keshab Man Shakya, former minister of Science and Technology of Nepal, Most Ven. Dr. Gnanapurnika Maha Thero, Deputy Sanghanayake and the Maha Sangha of Nepal.
Reported by Sureshni Pilapitiya