Nothing short of a miracle
The groundbreaking surgery that saved the life of a paraquat poison victim:
When life flowed unexpectedly into the dying veins of a young woman, poisoned by the highly toxic weedicide, Paraquat, the ground breaking surgery, which saved her life was justifiably hailed as 'nothing short of a miracle'. And it continues to be hailed a miracle several months later.
The miracle unfolded in a small sterile white walled operating theatre of a leading private hospital in Colombo. The patient was a teenager - a 19 year old school girl - who angered by her parents' objection to her love affair with a fellow classmate, had resorted to the ultimate form of retaliation by attempting to end her life.
Driven by these emotionally immature feelings and acting on impulse rather than rational thinking, she had reached out for the most readily available poisoning agent in the house – paraquat - and injected herself with a generous dose of the lethal poison.
Had it not been for the competent and speedy post toxic treatment she had received, both by the admitting doctors and the surgeon to whom she was finally referred to, the teenager might have kept her tryst with death. For, as medical evidence has proved, the herbicide causes serious morbidity and mortality when ingested. And survival is rare. Never, if the dose is high.
Admitted to the hospital ten hours after she had injected a near lethal dose of the poison to her left forearm, she had been already showing symptoms of complications. "She was complaining of feeling faint. The injection site was red and swollen. We knew we had to act fast and immediately, even though previous attempts at saving such patients had not been successful," recalls Senior Professor of Forensic Medicine and Toxicology, University of Colombo, Prof. Ravindra Fernando.
Gift of life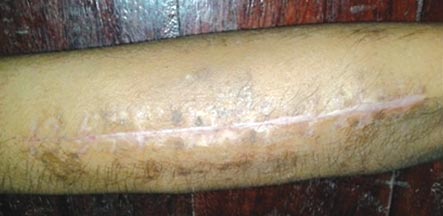 He referred her to the Consultant Surgeon Nawaloka Hospital, where she had been admitted and it was under the competent and experienced care of the burly sporting doctor that the young woman received her gift of life, a life she carelessly tried to throw away.
With supreme confidence honed by years of experience the surgeon deftly removed the toxic material which if allowed to remain could have proved fatal. He removed the skin and underlying subcutaneous and muscle tissue with a 7 cm long incision.
"The histology of the tissue showed necrosis. The urine was positive for paraquat with the dithionite test. The syringe and needle showed residual paraquat with the same test," says Prof. Fernando, explaining that the liver and renal function tests showed no abnormality and that the teen had an uneventful recovery. "She left the hospital seven days later and was in good health after six months of recovery."
Paying a tribute to the surgeon, he says, "There is no doubt the recovery of this patient was due to the immediate surgical removal of the paraquat containing tissue."
So pleased with the unexpected and fortunate turn of events, the former head and founder of the National Poisons Centre at the National Hospital says he has recommended this procedure for subcutaneous and intramuscular paraquat injections in future.
Insights
Effects of ingesting Paraquat
Head, Poisons Information Centre, National Hospital,
Dr Waruna Gunathileke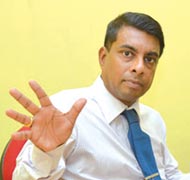 "It is an extremely lethal poison. One of the commonest ways of ingesting it is via the mouth. If swallowed even in tiny doses, it can have severe health effects. Usually the results are unpredictable and in most cases fatal. But if the patient is lucky to survive, he /she could have mouth ulceration and it could cause long term fibrosis and good pump (oesophagus) failure. It can also effect the liver and lung."
Although Paraquat was banned in the country several months ago, Dr Gunathileke is concerned that the National Hospital is still seeing some patients being admitted after swallowing or injecting themselves with paraquat. "Recently we had a case where a man from Mapiatigama, Galle, swallowed it under the influence of liquor. Luckily he had taken only one sip and threw it away when he found out what he was drinking! But he ended up with severe ulceration of the mouth. We don't know what other long term consequences there may be even though he ingested only a small dose.
He said they had informed the Registrar of Pesticides about this and hoped there would be more vigilance and tighter control over the sale of this lethal and now illegal agro chemical compound.
Giving some insights and the history of this widely used herbicide compound seen in almost every home in Sri Lanka's agricultural regions that cut across North to South, East to West, Prof. Fernando, explains that Paraquat is a highly toxic bipyridyl compound widely used as a herbicide. "It causes morbidity and mortality when ingested. Death occurs within two days of ingestion of 50 mg/kg. At lower doses death from pulmonary fibrosis delayed for a few weeks as the toxic compound accumulates in lung tissue where free radicals are formed, lipid peroxidation (cell damage) is induced and nicotinamide adenine dinucleotide phosphate (NADPH) is depleted.
History and Impact
He recalls that the first case of fatal paraquat poisoning by subcutaneous injection was reported in 1967 and that since then a few more cases of parenteral (intravenous or intramuscular) injection paraquat poisoning have been reported, and all were fatal.
Leading cause
Prof. Fernando said paraquat ingestion is a leading cause of fatal poisoning in most parts of Asia, Pacific nations and the Americas. Studies have shown that the rapidly acting non-selective herbicide is also relatively inexpensive and safe to use for agricultural purposes, he says warning that accidental or deliberate ingestion has an extremely high case – fatality rate.
Due to the high human toxicity and difficulty in managing patients with paraquat poisoning, the Registrar of Pesticides banned its imports into the country in 2010.
Agricultural and Consumer Affairs Authority officials on grounds of anonymity say that despite its ban, many weedicides rejected in other countries are now increasingly being smuggled into the country. "Much of the hidden stocks are now being circulated at enhanced prices to farmers, fighting to save their crops from the prevailing drought and rains. This is being done with the encouragement of stake holders who include several local politicians. The government and Agricultural Ministry must take implement the existing regulations as ingesting the harmful chemicals they contain can cause water pollution, cancer, nervous disorders, stunted growth , hormone deficiency and pregnancy problems," concerned health official charge.