Her story in politics
With just 10 women elected to Parliament, is Sri Lanka back to the 'one step forward, two steps back' shuffle?: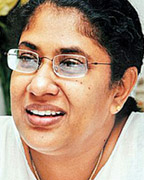 Thalatha Athukorale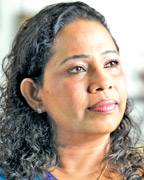 Pavithra Wanniarachchi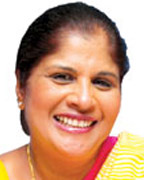 Chandrani Bandara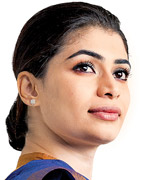 Hirunika Premachandra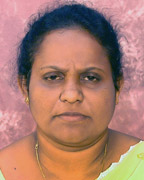 Sriyani Wijewickrama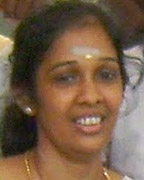 Vijeyakala Maheswaran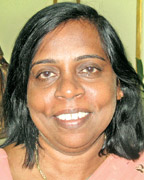 Anoma Gamage
In a lopsided representation of the people only 10 women were elected to the new Parliament, leaving one to wonder just how truly representative the new government is, especially in terms of social composition.
Never ideally represented in Parliament, the number of women elected at the August 17 polls is three less than the number represented in the previous Parliament. In what is looking like a classic one step forward, two steps backward dance, the 13 women parliamentarians included those selected from the national list.
Still, the fact that 10 women made it to Parliament, from what is essentially a male political domain, is a manifestation of the female fortitude to fight the good fight and emerge victorious against the many curve balls lobbed their way. The curve balls ranged from the failure to bring in electoral reforms, to low response from the main political parties to nominate more women candidates, despite the heavy lobbying to increase the percentage of nominations for women and the public awareness campaigns run by activists in support of women candidates of all parties. But the question that arises now is, can the few chosen women deliver?
Women's representation in the Sri Lankan Parliament on average is about 4.7%. It is less than 2% in local government. The percentage is woefully inadequate and significantly lower than those in Western countries such as the United Kingdom (average 19.5%) and Germany (31.8%). It also lags behind South East Asian countries such as Malaysia, where women members comprise 10% of its Parliament.
The winners
In the August 17 polls, United National Party (UNP) candidate for the Ratnapura District, Thalatha Athukorale, topped the district list with 145,828 votes. Entering politics following the death of her politician brother, Gamini Athukorale, in 2002, Thalatha has held several ministerial posts, and was the Minister of Foreign Employment Promotion and Welfare in the last government.
Place second in the district with 87,660 votes was United People's Freedom Alliance (UPFA) candidate, Pavithra Wanniarachchi. A strong supporter of former president Mahinda Rajapaksa, Pavithra continued to be an integral part of the UPFA team, despite the upheaval created by the former president's decision to contest the election. This blind loyalty also saw her being sacked from the SLFP executive committee by President Maithripala Sirisena last Friday.
Pavithra was the Minister for Research and Development during the Rajapaksa regime.
UNP's Chandrani Bandara, who served as the Minister of Women's Affairs, obtained 83,666 votes, contesting from the Anuradhapura District. She polled the second highest number of votes in the District list.
Former UPFA Provincial Councillor Hirunika Premachandra, accomplishing a couple of firsts - contesting in a parliamentary election and contesting on a UNP ticket - polled over 70,500 votes from the Colombo District. This was amidst heavy competition. Although vowing to serve the people, she has, on several occasions in media interviews and public rallies, maintained that her desire to seek justice for the murder of her father, Bharatha Lakshman Premachandra, is prominent in her political character.
Next on the list is Sumedha Jayasena who secured 69,082 votes from the Moneragala District. One of the long serving women politicians Sumedha entered politics following the death of her husband, becoming a Member of Parliament in 1989. Over the years she has held numerous ministerial posts.
Actress turned politicians, UPFA's Geetha Kumarasinghe, contesting a parliamentary election for the first time, secured 63,955 votes from the Galle District. She was placed fifth in the Galle District list.
Sriyani Wijewickrama, a member of the Mahajana Eksath Peramuna, contesting on a UPFA ticket for the Digamadulla District, obtained 49,691 votes, while
Rohini Wijeratne, contesting on a UNP ticket for the Matale District secured 41,766 votes.
This was Rohini's first parliamentary election. A teacher by profession, she grew up in a political environment, with her father Wijeratne Banda, being an active politician who went on to become the Minister of Agriculture. Rohini's husband, who died last year, was a prominent politician at the Provincial Council level, who spoke largely about environment conservation.
Rohini believes people in Matale sent her to Parliament expecting her to continue the service her father and husband extended to them. "While doing so, I'm determined to strengthen the women base and bring more women to the political front, especially in the Provincial Council elections. It will be an effective start," she said.
Vijeyakala Maheswaran, widow of T. Maheswaran, who was murdered in January 2008, contested from the Jaffna District on a UNP, secured herself a seat in Parliament with 10,263 votes. Coming from a political family, she, like many other women in her position, entered politics after the death of her husband.
Anoma Gamage, former Deputy Minister of Irrigation and Agriculture and wife of UNP National Organizer, Daya Gamage, is only woman to secure a parliamentary seat through the national list.
Political reality
Almost all the women politicians securing seats in the 15th Parliament have been propelled into politics due to the influence of fathers or husbands who've been in politics and held ministerial portfolios. The family political history has helped open doors for these women, both within the party and on the campaign trail, giving them a distinct advantage over women entering politics on their own accord. And it is these women who successfully entered politics on their own effort, who have got marginalised in the August 17 polls, due to various reasons, petty politics among them. Civil society activists are deeply concerned about the low representation of women in the 15th Parliament. "In the UNP, the number of elected women stands at six. This is the best performance at this election," said Kumudini Samuel, Research Associate, Women and Media Collective, an organisation that has been in the forefront of getting more women into politics. Due to heavy campaigning by women politicians like former State Minister Rosy Senanayake, and women's organizations, the SLFP and the UNP pledged in their election manifestos to increase nomination for women candidates and implement a reservation or quota for women. In reality however, it was limited to the inclusion of one or two women on nomination lists.
The two mainstream political parties did not seriously address the under-representation of women in political institutions. The reasons were numerous. However, compounding the party failures were the high cost of election campaigns, thuggery and violence, competition within the party fostered by the proportional representation system and the general lack of support for women candidates from male colleagues, which meant that even the few women who were offered nominations , were often reluctant to accept them.
National list
It was in this backdrop that civil society organisations promoting an increase in women's representation in politics, demanded that a significant number of prominent women be included in the national list.
The SLFP led UPFA did not have any women in its national lists, while the UNP had a token representation, which in itself raised questions of appropriateness, given that it enabled a husband and wife team to be represented in Parliament.
Unfortunately, the national list has lost its initial meaning – to appoint professionals, intellectuals, visionaries and women to parliament - and become an opportunity for parties to give a parliamentary seat to defeated candidates. "Ideally in the national lists there should be women who are capable of working on broader range of issues," said Kumudini. Commenting on the women parliamentarians elected and their capacity to serve as efficient law makers, she said there should have been new candidates and more number of women. "People have chosen many new politicians as the parties have given a choice to them by nominating an increased number of new members. Political parties are willing to pump fresh blood to the male politician category but not for women. If that happened people could have had a better choice to vote and the result could have been different," she added.
Civil society groups working to establish true democracy like have appealed to political parties to appoint women through the national list, giving consideration to women politicians who have a proven track record of working for issues of social justice and national development.
In an open letter to political parties, Women and Media Collective stated, "If the government and the opposition leave a segment of society out of it, in this case women, they are not going to have a real democracy in the country, these groups claimed," reiterating, "In the weeks and months to come, we hope that the new government will treat the issue of under representation of women in all elected political institutions in Sri Lanka as a matter of critical import which must be addressed through affirmative action."