Project heads to be held accountable for results
Budget 2017 to restore public finance discipline
The government aims to make a sweeping revamp of public spending with Budget 2017, restoring financial discipline and making expenditure more efficient, ensuring transparency and holding implementers including project directors accountable for delivering results so that citizens get a better service and value for money. Preparation of Budget 2017 would continue to be based on the Zero Based Budgeting technique with some features of Performance Based Budgeting where funds are earmarked to achieve a set of results identified in a 'Results Framework'. This requires ministries, departments and public institutions to give high priority to achieve results, Minister of Finance Ravi Karunanayake said.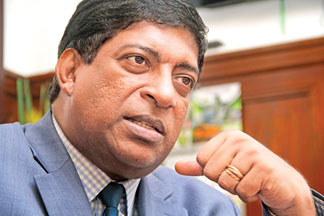 "In achieving fiscal consolidation, rationalisation of recurrent expenditure is also vital," he said in a letter seeking approval of the Cabinet of Ministers to prepare the Budget for 2017.
Personal emoluments now account for 35% of the total recurrent expenditure of the government, with the strength of the public workforce having risen to 1.26 million, including the armed forces, provincial councils and public institutions whose salary bills are paid from the Consolidated Fund.
Interest payment on government debt is another major recurrent expenditure which accounts for another 31% of the total recurrent expenditure. That means the government spends about two-thirds of total recurrent expenditure on 'rigid' expenditure commitments, constraining the funds available for public investment, Karunanayake pointed out.
"Therefore, special attention has to be paid to critically review the spending on salaries and interest payments and managing the limited resources by enhancing productivity of government expenditure," he said. "The salary cost needs to be reviewed through an assessment of capacity requirement and rationalisation of public service, to improve productivity in spending units. Rationalisation of subsidies and transfers is needed."
Expenditure on subsidies and transfers, including pension payments, account for over 20% of total recurrent expenditure. The Finance Ministry said subsidies and transfers should be linked to the government's inclusive growth targets in line with the 2030 Sustainable Development Goals, having quantified the contribution of each program or project to the respective goals.
Karunanayake said the number of public sector agencies has grown significantly over time, resulting in overlapping and duplication of work, more layers or compartmentalised service delivery, shift from core functions, outlived structure, and concerns on accountability and transparency with their quasi fiscal activities having an impact on the national budget.
"Hence, with the objective of delivering a better service for citizens and employees and enhancing value for money, it is necessary to review all public service delivery agencies in respect of objectives, scope, functions, output capacity and performance," he said. Public investment is a catalyst for value creation for the nation, the Finance Minister said.
However, the country has experienced projects plagued by delays, cost overruns, inappropriate investments, issues associated with cost estimation, questionable priorities, inconsistencies in projects and programs, substandard quality of infrastructure and inadequate maintenance.
"Therefore, Budget 2017 requires the relevant authorities to be accountable for planning, to ensure sustainable public investments, allocate investments to the right sectors and projects, implement projects on time and on budget and to avoid issues observed in the past. The implementers including project directors should be held accountable for the results as agreed in a results framework," Karunanayake said. In the process of preparing the Budget for 2017, the Finance Ministry hopes to bring back public finance discipline, giving high priority to the principle of good governance including transparency and accountability.