Alok Sharma appointed Minister for Asia and the Pacific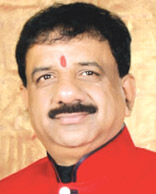 Alok Sharma, MP for Reading West, has been appointed Under Secretary of State at the Foreign and Commonwealth Office with responsibility for Asia and the Pacific.
In a statement he said that he was honoured to have been appointed by Prime Minister Theresa May as Minister for Asia & the Pacific, hugely important parts of the world that are crucial for the UK's prosperity and security.
"Britain is a truly great country and I will work tirelessly to ensure we continue to thrive and prosper on the world stage.
"I look forward to working closely with my new colleagues and my counterparts across Asia and the Pacific, with a particular focus on strengthening commercial ties, increasing investment opportunities in both directions and promoting human rights in the region,"he said.