Paada Yathra: Public dissent against Govt.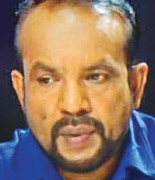 All 40 SLFP MPs in the Joint Opposition (JO) will participate in the Jana Satana Paada Yathra which will kick off at George E.de Silva Gardens, Kandy on July 28 at 8.00am after religious observances at the Sri Dalada Maligawa, UPFA Ratnapura District MP Ranjith de Zoysa told the Sunday Observer yesterday.
He said there were 51 MPs in the JO and 40 were from the SLFP and 11 MPs from other constituent parties under the SLFP- led UPFA rainbow coalition including the MEP and NFF.
Asked whether the SLFP hierarchy had officially informed SLFP MPs not to attend the Paada Yathra, MP Zoysa said no such directives were received as yet.
The four-day Paada Yathra which will take the form of a broad-based national movement, led by former President Mahinda Rajapaksa is expected to reach Colombo on August 1. Nearly one a million people are expected to participate in the Paada Yathra ahich will focus on the witch-hunt of JO politicians, the VAT hike, fertiliser subsidy, a guaranteed price for tea, rubber and coconuts and indefinitely postponing Local Government Elections, he said.
Over 10,000 JO supporters from nine electorates in the Kandy District along with supporters from Matale and Nuwara Eliya districts are expected to join. The Paada Yathra would end in Mawanella on the first day. On the second it would end in Nelumdeniya and on the third day in Nittambuwa.It will reach at Kiribathgoda on the fourth day and conclude on the fifth day with a massive public rally at Hyde Park,Colombo on August 1.
All political parties in the JO will participate in the Paada Yathra. In addition, religious leaders, civil society groups and university students will also join the Paada Yathra,he said.
MP Zoysa said there have been isolated protests in towns and institutions islandwide against the undemocratic moves of the Government."The JO has focused on the goings-on in Parliament and inaction in the area of good governance. Therefore, itis high time to organise a mass movement along with the JO to demonstrate public animosity against the Government," he said..