Disciplinary action on the cards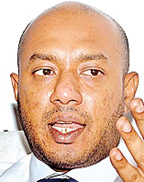 "The SLFP hierarchy doesn't need to issue special guidelines to SLFP MPs in the Joint Opposition (JO) not to attend the Paada Yathra in Kandy on July 28 as they are aware that the SLFP has no connection whatsoever to that event, "SLFP General Secretary and Agriculture Minister Duminda Dissanayake told the Sunday Observer yesterday.
The SLFP Central Committee might resort to disciplinary action in this regard,, he said. "However, we didn't resort to such disciplinary action during the past couple of months because we wanted the party to be united and to prevent any rift within the party," the Minister said.
"This is a very decisive moment. We have to wait and see. The SLFP doesn't need to issue guidelines to MPs in the JO about an event that is not organised by the party,"he said.