Mangala Moonesinghe passes away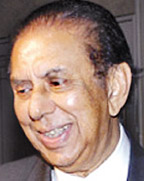 Veteran politician and senior diplomat Mangala Moonesinghe passed away last morning after a brief illness. He was 84-years-old.
Moonesinghe was Sri Lanka's High Commissioner to the United Kingdom from 2000 to 2002 and High Commissioner to India from 1995 to 2000.
He served as the Lanka Sama Samaja Party Member of Parliament for Bulathsinhala from 1965–1977 and again as the SLFP MP for Kalutara district from 1989–1994. He headed a Parliamentary Select Committee on the Ethnic Issue which became famous as the Mangala Moonesinghe Committee during President R.Premadasa's era.
He was awarded the Eisenhower Fellowship to study Space Law at Western State University College of Law, California in 1975.
Moonesinghe was a member of the group of eminent persons appointed by heads of state to identify measures and mechanisms to enhance the effectiveness of SAARC.
The grand nephew of Anagarika Dharmapala and cousin of Anil Moonesinghe, he was educated at Royal College Colombo.