Thirty more containers to be inspected :
Cocaine haul: Customs has only two scanners working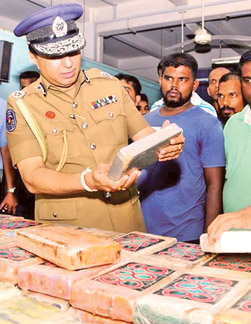 Only two scanners of the four meant for container examinations at the Customs Yard were in working condition, while the Customs requires six such scanners to carry out functions smoothly.
However, the Authorities were in the process of buying four new machines, Customs Media Spokesperson and Director Dharmasena Kahandawa said.
Meanwhile, the Customs Authorities were now gearing up to examine thirty more containers after the Police Narcotics Bureau (PNB) seized over 300kgs worth of cocaine from a sugar container last week, Kahandawa said.
"We are waiting for instructions from the PNB. The operation is likely to require a lot of resources and personnel and will need time for preparation," he said.
"Each container has about 500 sacks of sugar and it takes about four to five hours to finish one container."All containers which have arrived from the same port in Brazil will be manually ed. inspected, he said. "The scanning machines currently in operation were old as they were purchased in the 1990s and need to be replaced. The Cabinet procurement committee is in the process of formulating plans to purchase more scanners," Kahadawa said.
The latest detection is the largest haul of cocaine smuggled into the country. Last month 80 kg of cocaine was seized from a sugar container following a joint operation by the Customs Narcotics Unit and the Finance Ministry Raid Unit. The latest cocaine haul was also smuggled into the country in a shipment from Brazil via Portugal.
Following the detections, the Port will now be listed as a High Risk Management Port, which will require increased vigilance by Customs Officers inspecting cargo, Kahandawa said.
"Earlier, only ports of countries such as Afganistan, Pakistan and India were listed as High Risk Management. However following the recent trend we will have to list these ports in the same category," he said. The Police Narcotics Bureau is to hand over samples of the seized products for scientific testing to the Government analyst department.