Kerala couple transited Colombo to join terror group?
Security alert for IS suspects from India
Security agencies are on high alert over reports that an Indian couple had stayed in Sri Lanka for two months before travelling to join the so-called 'Islamic State of Iraq & Syria' (IS) terror group in West Asia, the Sunday Observer learns. While these are only some newspaper reports in South India and there is no actual confirmation of any such movements by IS suspects to Sri Lanka, security officials told the Sunday Observer, "we are monitoring developments and investigating these reports".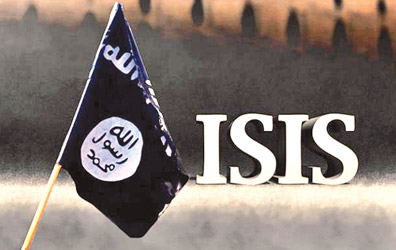 While security officials remained tight-lipped, investigators reportedly did check up on local Islamic study centres belonging to the Salafi sect with which the IS suspects were linked.
In an article in the New Indian Express titled 'Terror Tentacles of ISIS in Kerala' which went viral on the internet, an Indian police officer, Additional Director General of Police A. Hemachandran was quoted as saying that the group from Kerala may have gone to Sri Lanka before leaving to join the IS in either Afghanistan or Syria. It was reported that nearly 21 youths from Kerala, purported to be followers of a conservative Islamic Salafi school, had travelled to join the now notorious terror group.
A family member of one youth, A. Hakeem from Padanna, India, is quoted in these news reports as saying, that, his 23-year-old son, Hafeesudheen, last heard of on July 1, had apparently left for Sri Lanka.
While these news reports continued to circulate, the Sri Lankan authorities acknowledged they were monitoring the situation, but declined to elaborate. Army Spokesperson Brigadier Jayanath Jayaweera told the Sunday Observer, that the government was 'on alert'.
While there has been no confirmation from Indian authorities, on July 13, Indian press sources reported that India's central intelligence agency, the Research and Analysis Wing (RAW) had taken over the probe into the disappearance of the youths, to ascertain whether the missing individuals had any links with IS.
The Indian Union Minister of State for Home Affairs, Kiren Rijiju, had told the Indian press, that there has been no confirmation on the speculations, thus far. Meanwhile, Secretary to the Ministry of Defence, Karunasena Hettiarachchi, when asked if Indian authorities were in touch with Sri Lanka on the matter, did not comment, saying it was 'classified' information.
According to South Indian press reports, Indian intelligence agencies have referred to Sri Lanka as a possible locus for Islamic religious activity of the Salafi sect following Wahabism. Sheikh Abu Abdur Rahmaan Yahya Silmy, who operates Masjid as-Salaf & Dar as-Salaf, and the Islamic Educational & Research Institute in Kochchikade, decried the Indian press speculation, saying it was "baseless and unjustified".
"The Salafi school of thought, unlike other sects, does not advocate the setting up of a caliphate," he said, referring to the IS claim of a caliphate. "It is condemned, and all forms of teaching calling for a stoppage of acts of violence, terrorism and corruption in totality." Sheikh Yahya Silmy, who is also a member of the All Ceylon Salaf Council, disclosed that officials from the Ministry of Defence had visited his centre last week. "I briefed them on the actual situation," he said, adding that he was happy to educate individuals who were seeking the truth since IS does not represent Islam.
"I told the officials from the Ministry that if they were intending on squashing the IS menace, they had to be armed with knowledge."
He emphasized that, anyone who wanted to fight the IS ideology needs to understand the factors that give root to IS rhetoric and thinking. He argued, the mounting negativity directed at Muslims and Islam stoked by news media was unsettling for Muslims because the IS terrorist outfit did not represent this religion of peace. He explained that IS preaching cannot be described as Salafi because it did not reflect the teachings.
Colonel Chandana Wickramasinghe, who serves as Dean, at the Faculty of Defence and Strategic Studies at the Sir John Kotelawala Defence University, said, due to a lack of information, it was difficult to say if IS were widely networked in Asia, or Sri Lanka in particular.
Prof Rohan Gunaratna, an international terrorism expert, told the Sunday Observer, that IS was known to have successfully enlisted individuals from Pakistan, Afghanistan, India, Bangladesh,the Maldives and Sri Lanka to join the group.
"South Asian governments are overconfident. They are usually reactive and not proactive," he said, adding, "they need to work together as a region and share intelligence and conduct joint operations to fight a common threat. The IS threat will not abate in the short term. In South Asia, IS will grow in the form of extremism. As the ideology permeates the social fabric, the ideology will crystallize and manifest as terrorism."
Referring to Sri Lanka he said, all recruits who left the country, were from middle class families indicating that, it was the IS strategy to recruit from all social strata and it was no longer in the periphery of the Muslim society.
He also added that, Indian IS cells were likely to transit in Sri Lanka and operate in the Maldives. And, such developments call for greater cooperation and collaboration between South Asian law enforcement and intelligence agencies.
"South Asian governments have always underestimated the threat of international terrorism. With the rise of IS in Pakistan, Afghanistan and Bangladesh, governments should strengthen their human intelligence and technical intelligence capacities to effectively monitor IS and al Qaeda in the Indian subcontinent (AQIS)," he said.
All attempts for a confirmation or comment from the Indian High Commission were of no avail.