Hayleys Energy Services generates Rs 100m
Oil rig testing and modification: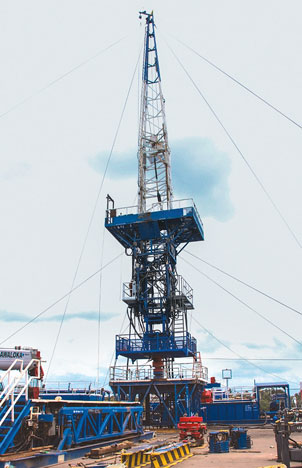 Hayleys Energy Services last week announced that it had completed the testing, repair and modifications of the hydraulic work on the rig, Lewek Explorer 600, due to be mobilized for an oil project in Bangladesh soon.
This is the first time an oil rig has been serviced on-shore in Sri Lanka with Hayleys Energy Services having been awarded the contract by EMAS Energy Services (Thailand).
Chief Executive Officer of Hayleys Energy Services, Chas Charles said, "The end-to-end logistics service offering of the Advantis Group and the experience in handling complex logistics operations gave us the confidence to approach EMAS and secure this new line of business for our Group."
"We are also proud to say that this is the first time the hub concept has been utilized in Sri Lanka for the repair and refurbishment of an oil rig, showcasing to the world the potential in this small island," he said. General Manager of Hayleys Energy Services, Ricky Barnett said, "The successful completion of this operation in Sri Lanka proves that we are ready to serve large oil and gas companies such as EMAS Energy Services.
This was made possible due the Government's initiative of setting up a Free Zone in Sri Lanka, the benefits of which we are seeing today."
Advantis Free Zone, in Katunayake enabled a streamlined service of storage, repair and maintenance with green channel operations, relieving the client of all taxes and duties.
Operating in the field of Oil and Gas logistics services since 2008, Hayleys Energy Services has been moving rigs across several countries such as Thailand, USA, Canada, UAE and DR Congo.
Through the relationships established in the industry, Hayleys Energy Services identified the potential savings for its client EMAS by bringing this rig to Sri Lanka for assembly, testing and modifications.
The components of the rig were brought down from several locations across the globe, including the main component which was stored at the Hamriyah Free Zone in Sharjah, UAE.
The green channel operations of the Advantis Free Zone, enabled this operation to be carried out with significant cost savings to EMAS, whilst generating nearly Rs. 100 Million in revenue to the Sri Lankan economy.
The unique geographical positioning of Sri Lanka and the benefits offered through Advantis Free Zone, such as savings on mobilization and demobilizations, duty free status, quick turnaround of customs clearance, competitive labour and material cost, etc. enabled Hayleys Energy Services to secure this business for Sri Lanka beating the bid from Hamriyah Free Zone.