Are there no laws to prevent the relentless pollution of water? :
LIFE-GIVING WATER
"Ma-Oya is not only a blessing for people like us living in the Aranayake area. It provides life giving water to thousands, until it reaches the sea at Kochchikade. But, the way our elders are abusing this waterway, children like us will not be able enjoy its benefits for long. Is there no law in the country to prevent this relentless pollution?"
This essay by a child who penned down her thoughts for an essay competition organized by Netwater, echoes the question that many of us would ask.
From the very beginning of life, when one studies the civilizations of Mesopotamia, on the river banks of the Tigris and Euphrates or the Indus valley civilization, it is evident that people, kingdoms, governments and society, grew around a water source. Water was an integral part of their livelihoods, agriculture and development. The demand for water has increased rapidly, but the question is, has the supply increased to cater to the demand?
"Climate change imposes a lot of stress on communities. As a country which has undergone a lot in the recent past, we cannot afford to have community distress," says Kusum Athukorale, chairperson and senior advisor of Netwater and Sri Lanka Water Partnership.
The closest incident of insufficient water supply was seen last Wednesday when about 500 people living in the Heel Oya water catchment area had gathered to complain to the Divisional Secretariat Ella-Wellawaya, that they lacked sufficient drinking water. It is due to the Uma Oya project, since the villagers claimed they had no such issue before the project was implemented. The Divisional Secretariat for the Ella-Wellawaya area says, steps have been taken to provide water using bowsers.
One of the many water resources that Sri Lanka depends on, as any other country, is rainwater. Rainy seasons are mainly the Southwest and Northeast monsoon seasons, also complemented by the two inter monsoon seasons. Hence, technically, there are four seasons where rain is expected, but in reality it is not so.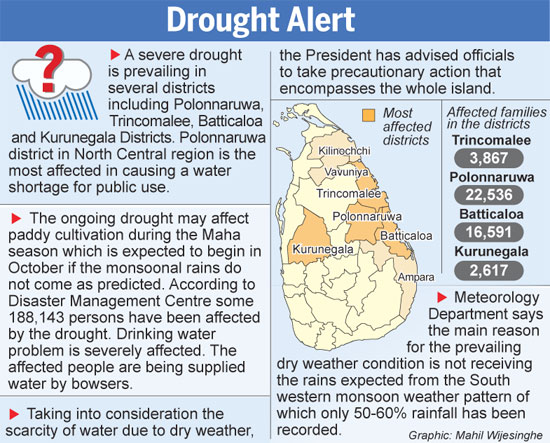 In May this year over two thirds of the country faced the catastrophe of floods and landslides. Soon after the dry spell started, for the last four months there has been no rain. With such erratic weather conditions imposed by climate change the question is, are we ready to prevent unwanted catastrophic conditions or are we waiting to address it after the damage is done?
"We must consider disaster risk reduction. Why is it that we wait until the last minute? We wait till the end of a really bad drought and start screaming and running with buckets of water. Nobody knows what to do with ground water, there is no monitoring. We do not have an integrated water resource policy. We have about 62 agencies going haywire," Kusum Athukorale told the Sunday Observer in a tone of despair.
Accordingly, a continuous drought prevailing up to six months can be an extreme; we have so far not faced such extreme circumstances. The authorities have failed to come up with coherent strategies on adaptation to climate change and disaster risk reduction. In the monarchical era, our kings gave priority to water. Inculcated deeply within them was a desire to contain and save water and consequently, Sri Lanka had innumerable tanks and reservoirs.
It was due to the agricultural background that prevailed at that time. It shows the interrelation between water and a socio-economic development of society.
When the infamous Kashyapa asked his father King Dhathusena to give him his share of wealth, King Dhathusena took him to the 'Kala Wewa' and said; 'this is my wealth,' which shows that water was an integral element in the livelihood of early society.
Additional General Secretary, National Water Supply and Drainage Board, Jaya Siriwardena shows two key methods of water management and storage.
First, water retention. "If there's no retention,the water we get from the rain would just flow into the sea. So, we need water catchment areas so that the water can be retained during rainy seasons for release during the drought.
At present, our forest cover is depleting. Statistics show a reduction from 30 percent to 17 percent. Our main catchment areas are above 5,000 ft from sea level, so the number one proposal is to protect and improve our catchment areas," he said.
Second, ways and means of trapping the water received during the rainy season. This is done by reservoirs. The need here is to increase the number of storage tanks.
A Meteorology Department research shows, on a closer study of weather patterns, in the past 20 to 25 years rainfall has not decreased. But, rainy seasons occur for shorter periods and drought continues for a longer period.
The drought has affected several parts of the country including the Polonnaruwa district and Hambantota, Tangalle and Angunukolapelessa areas in the Southern Province and in the Eastern province Pottuvil and Muttur .
Currently, the issues faced by the Water Supply and Drainage Board in providing water is twofold. First, water consumption has increased islandwide due to the dry climate.
According to the Water Board, due to dry weather conditions people in areas not affected by drought have increased their water usage by 1.5 times.
Second, Water Board has to distribute water to drought affected areas, which means going out of their usual customer base.
In rural areas water is not supplied via the Water Board but wells or water ponds are the main sources of finding water.
But, once these sources dry up the responsibility falls on the Board to meet such demands.
Most authorities sight ground water as a solution. But the question is how much of ground water is available and accessible?
"Ground water runs dry. We have many agro wells and they are also running dry. How sustainable are these wells? There are over 100 agro wells and only three are viable. For instance, we have over 52,000 small tanks in the country.
They are very important sources of ground water recharge. When there is ground water recharge the wells in the area also benefit. Ground water is also a shared resource," said Kusum Athukorala.
What the Sri Lankan system lacks now is an integrated approach. There are many authorities, professional and technical staff deployed to water related authorities and Ministries, but they are more compartmentalized and are unaware of each section's contribution to the national system as a whole.
"Somebody has to look at these tanks in the country and provide for tank rehabilitation," says Kusum.