Plans to ban Babul:
Police nab nine drug barons

The nine drug barons who were operating in the country with impunity since 1993 have been arrested by the Police. The drug barons from areas like Colombo, Dehiwela and other areas, were rounded up by the 27th of September 2006, the Director of the Police Narcotics Bureau (PNB) Senior Supdt. of Police (SSP) Sugathadasa told the "Sunday Observer".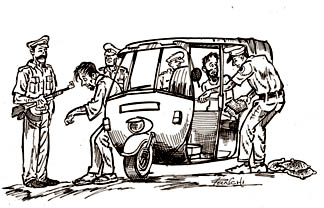 He said that a number of Sri Lankan drug traffickers wanted by the police have fled to the neighbouring SAARC countries and are operating under cover with the help of drug lords in those countries.
According to figures compiled by the PNB around 237 Sri Lankans have fled the country during the past years. Meanwhile a Sri Lankan who smuggled drugs to the United Kingdom concealed in mattresses in 1993 have returned to Sri Lanka after serving a jail term there. The consignment of mattresses was detected by the Customs in the U.K.
The number of Sri Lankan drug traffickers who fled to India are 213 persons, while 21 drug traffickers have fled to Maldives. Two persons have fled to Pakistan while one person fled to Nepal. The suspects were wanted by the PNB and other law enforcement agencies for serious drug related offences.
Local figures show that drug couriers arrested by the law enforcement agencies in Sri Lanka during the period 1993-2006 are as follows. Eighty nine Pakistanis, 2 Nepalese, 1 Maldivian, 82 Indians. The Indian Narcotics Control Board (NCB) has close links with the Sri Lankan Police Narcotics Bureau (PNB) and often exchange valuable information with regard to drug couriers.
Crisis situation
According to Director PNB SSP Sugathadasa the local drug addicts are facing a crisis situation due to the shortfall of heroin being smuggled into the country owing to the ongoing security operations in the North, so much so that heroin addicts have switched over to other indigenous drugs as substitutes for heroin.
Usually heroin is smuggled across the Palk strait by couriers with the help of fishermen who are paid generously for undertaking such missions. However attempts to smuggle in large quantities of heroin this year have been thwarted by naval presence in the north seas. Although detections have increased during the first quarter of 2006, quantitywise there is a sharp drop in heroin. This could probably be attributed to non availability of heroin.
The Police Narcotics Bureau (PNB) arrested four persons last week from Grandpass, Maligawatte and Dehiwela areas for possessing large quantities of heroin. The haul was 1 kilo and 150 grams of heroin with a street value of more than Rs. 4 million. PNB sleuths laied in ambush and intercepted a tri-shaw at Furgueson road at Grandpass last week.
A man carrying a parcel containing heroin was found in the tri-shaw. Police arrested the man and took charge of the vehicle along with its driver for questioning. On a tip off PNB sleuths searched houses at Badowitta-Dehiwela and at Maligawatte and recovered quantities of heroin.
The four suspects included two Sinhalese and two Muslim persons who were taken before the Mount Lavinia and Maligakanda courts and remanded.
Statistics
Statistics show that there is a reduction of heroin detected this year. The amount of heroin detected during the first quarter of this year by the law enforcement agencies like the Police Narcotics Bureau, out Station Police Stations, Customs, and the Excise Department was 42 kilos and 30 grams and 24 milligrams.
This figure is less than what was detected during the same period last year. The Cannabis detected during the same period is 9736 kilos, 876 grams and 46 milligrams. Hashish detected was 408 kilos and 438 grams and Madana Modakaya was 7 grams and 900 millimeters.
Sri Lanka has become a transit point for heroin smuggled across to Europe. Around 1200-2000 kilos of heroin is smuggled across to Sri Lanka annually for local consumption alone.
Meanwhile the National Dangerous Drugs Control Board has forwarded a proposal to the Attorney General's Department to amend the existing law relating to synthetic drugs such as ecstasy, commonly known as the date rape drug in the west smuggled into the country.
Young people have often used such drugs to seduce their female partners at night clubs and at functions. When the law is amended police will be able to prosecute people who possess such drugs.
The National Dangerous Drugs Control Board is contemplating banning the import and sale of Babul betel leaves near school premises. Students who get addicted to Babul betel leaves often end up as drug addicts, police say.
According to a survey conducted sometime back by the PNB it was revealed that several police officers in Colombo and suburban Police stations have had close links with drug dealers. However it is not known whether the department has probed into these allegations so far.
However as stipulated in the Mahinda Chintana, President Mahinda Rajapaksa has vowed to eradicate the drug menace in Sri Lanka.