Massive fertiliser fraud bared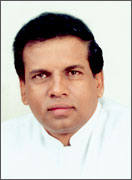 A massive fertiliser fraud which had been going on for some time in a government owned fertiliser company under the Ministry of Agriculture and Agrarian Services has been detected by the investigation unit of the ministry.
The Director of the investigation unit said when his team raided the packaging plant of the fertiliser company at Hunupitiya on the instructions of the Agriculture Minister, they detected fertiliser bags which had been fraudulently packed to be issued to wholesale buyers in the packaging section.
Several lorries of wholesale traders were at the company to collect the fertiliser at the time of the raid, he said. The modus operandi was to issue subsidised fertiliser to wholesale traders at the normal market price which is very much higher than the subsidised price of Rs. 350.
According to the Head of the investigation unit, at the time of the raid the labourers were refilling the subsidised fertiliser in company fertiliser bags from the specially packed "Mahinda Chintana subsidised fertiliser" bags.
He said in terms of a Board decision on August 20, 2007, fertiliser should not be filled from "subsidised bags" into other bags.
On the instructions of Minister Maithripala Sirisena the fraud was reported to the Peliyagoda police.
The Secretary, Ministry of Agriculture Development and Agrarian Services T. M. Abayawickrama said that the investigation was handed over to the CID as it was a large scale fraud which cannot be handled by the SCIB, Peliyagoda police.
Chairman, Ceylon Fertiliser Company (CFC) Lalith Kanta Jayasekera was removed from the post and Ruwan Buddhika Madihehewa has been appointed as the new chairman of CFC, he said.