Gold prices sparkle - investors benefit
There has been a drop in sales due to the sudden increase in gold prices which has hit a record high of US$ 1,000 an ounce, according to jewellery manufacturers.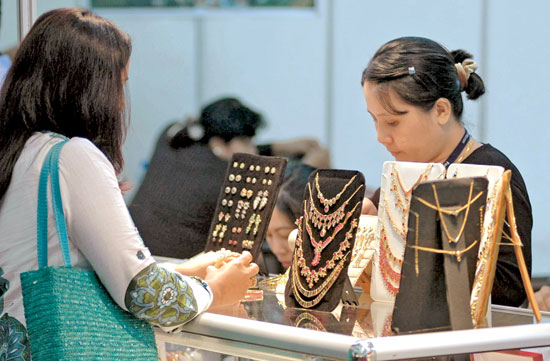 A gold sovereign weighing 24 carats increased from Rs. 26,100 last month to Rs. 27,400 due to the weakening of the US dollar and the surge in world oil prices which has hit US$ 109 a barrel. Manufacturers who attributed the sudden escalation in gold prices to the market recession in the US and countries investing in gold for oil hedging said that a sovereign may reach Rs. 30,000 by June.
They said that this is the best time to invest on an asset that is safe, readily cashable and doesn't lose its value.
Chairman, Pattakannus (Pvt) Ltd., S.A. Thiagarajah said the rise in gold prices has a negative impact on the turnover which has dropped by 50 per cent during the past four to five months.
Gold prices have been on the increase except when prices dropped 20 years ago resulting in a 20 per cent slump in sales.
A 24 carat sovereign dropped from Rs. 600 to Rs. 480.
Thiagarajah said when he started business in the 1960s a 24 carat sovereign was Rs. 60.Gold prices have shot up to an unimaginable level and jewellery buyers are compelled to order smaller quantities. "Banks and those who buy in bulk will benefit with the increase in prices.
A 10 tola bar known as a biscuit is the minimum quantity that they buy", he said. Waruna Manikdiwela, Branch Manager, Swarna Mahal Jewellers, Wattala, said due to the increase in gold prices there is a shortage of gold in the market. Investors are grabbing the opportunity to gain big returns from banks.
"Gold prices are affecting our sales but there will be a demand during the Sinhala Hindu New Year. If prices continue to rise we will reduce labour and use machines", he said. People buy jewellery for weddings, engagements, naming of a child and other important family occasions.
Corporates buy gold to reward service excellence and other achievements. Sportsmen are rewarded with gold medals for their achievements.
The demand for gold is high during the festive period from April to December and drops during the lean period from February to March.
The price of a 24 carat gold sovereign has been increasing from the middle of last year.
The price increases are as follows; June Rs. 17,600, October Rs. 20,000, December Rs. 21,600 and March Rs. 27,000.
One troy ounce is equal to 3.89 sovereigns which is 31.10 grams.