LTTE tries to drive wedge between Lanka and India
Minister Fernandopulle attends Good Friday service in Madurai:
Minister of Highways and Road Development, Jeyaraj Fernandopulle has accused the LTTE of trying to create animosity between the Governments of India and Sri Lanka by attacking Indian fishermen.
Minister Fernandopulle was speaking after attending a special Good Friday service at St.Mary's Church in Madurai, Tamil Nadu.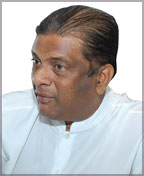 The Minister participated in the service along with his family members and prayers were also offered to invoke blessings on Sri Lanka.
Media personnel representing various newspapers in Tamil Nadu surrounded Minister Fernandopulle when he walked out of the church after the Good Friday service. "The Government of India is well aware of the LTTE's covert activities.
The terrorist outfit is attacking Indian fishermen in the South Indian waters to tarnish the image of the Lankan Security Forces and to create animosity between the Governments of India and Sri Lanka. However, the Indian Government is well aware of the covert activities of the LTTE and is giving its fullest cooperation to the Lankan Government to overcome LTTE terrorism," the Minister said.
Speaking on the current situation in the country Minister Fernandopulle told the media in Madurai that the LTTE was not prepared for a negotiated political settlement in Sri Lanka and was spearheading its terrorist activities to divide the country.
"As a member of the Government delegation I attended the talks that were held with the LTTE in Geneva.
There I noticed that the intention of the outfit was more towards going ahead with its militant activities and not showing any interest of solving the crisis politically," the Minister said.
Commenting on the Government's untiring efforts to restore democracy in the North and East, Minister Fernandopulle said that the Local Government polls were held successfully in the Eastern Province recently and a large number of Tamils who were deprived of elections cast their votes enthusiastically. "Ninety-five per cent of the Tamils in the country want to live in peace in a united Sri Lanka.
But they are in a helpless situation due to LTTE terrorism.
However, the Government is using all its resources to restore democracy in the war-torn North and East and bring peace to the country.
The Government of India which is aware of the nature of the LTTE is providing all support to the Lankan Government in dealing with the outfit," Minister Fernandopulle said.