Richard Pieris launches 'St Clair's tea' in Russia
St. Clair's Teas, grown, manufactured, processed and marketed under the watchful management of Richard Pieris and Company has entered the quality conscious, cash-rich massive Russian market recently. The launch coincided with the annual Prodexpo Trade Exhibition held in Moscow in February.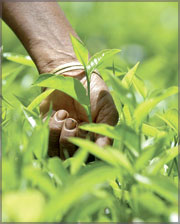 Gehan Ellepola, Business Development Manager for Maskeliya Tea Gardens Ceylon Ltd., a subsidiary company of Richard Pieris and Company said, "This was the golden opportunity we were looking for our branded teas. Business in Russia is booming and the urban population is cash-rich and are looking for products and services that complement their affluent lifestyles.
Quality is the buzz word there and with the reputation that 'Ceylon Tea' has cultivated world-wide, Russia and CIS in particular; we are positive that St. Clair's teas will perform very well.
Marketing of the product in Russia is carried out through an exclusive distributor who is no stranger to the tea industry."
Under the St. Clair's brand name black teas, green teas, flavoured black and green teas, leaf teas, souvenir packs and gift items are exported to Russia, a country for the past so many years who has been a steady buyer of Ceylon teas.
St. Clair's Teas are manufactured using the harvest of the Richard Pieris plantation group, which has a cumulative cultivated land extent of over 15,000 hectares of well-nurtured tea in the high, mid and low elevations. St. Clair's teas are garden fresh, coming from Richard Pieris owned plantations, thus guaranteeing that freshness, quality, taste and aroma which premium Ceylon teas are synonymous with.
The St. Clair brand is built around the story of the St. Clair estate and its founder James W Ryan, an Irishman whose love and intense passion for tea saw him cultivating and managing St. Clair's tea plantation in 1875.
Maskeliya Tea Gardens Ceylon Ltd. which commenced its export venture in 2006 exports teas to Romania, China, Japan, Chile, South Africa and Australia while witnessing continuous growth in demand. Ellepola said, "At present Russia is the most lucrative market for tea exporters who are committed to value addition and maintaining quality. Though the market is flooded with average teas from other origins, Ceylon Tea has still maintained its predominant position in the Russian market.
There is plenty of room and opportunities for players like us who are committed to quality, which is the primary concern of the most ardent tea drinkers in Russia."