Heroin racket busted in Colombo South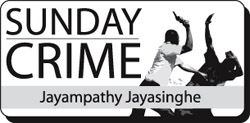 Baddowita village bordering Dehiwela-Mount Lavinia area has acquired a notorious reputation as a heroin dump for several years. Several houses at Badowita had been raided frequently for heroin.
The heroin trade there, is dominated by closely linked families who rake in millions of rupees by way of profits by selling heroin to other towns in the Western province. Drug dealers often employ couriers to distribute heroin in areas like Ratmalana, Moratuwa, Piliyandala, Kahathuduwa, Panadura, Wadduwa by using tree-Wheeler taxis and motor cycles.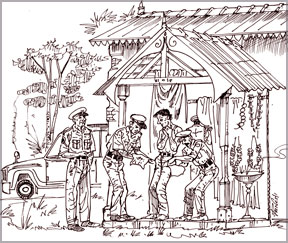 It happened last week when Chief Inspector Manjula Fernando, the OIC Vice of Mount Lavinia Police was tipped off that a man named Deiya, a well known heroin dealer at Bodowita had received a fresh consignment of heroin, (the brown sugar variety) worth several millions of rupees.
He had received the stuff from a henchman named Wele-Sudha, a notorious underworld character and a drug lord from Kadawata in the Dehiwela area. According to the police Wele-Sudha is currently serving a jail term for his involvement in a criminal case. Meanwhile, a police team led by Chief Inspector Manjula Fernando raided Deiya's house at Badowita a fortnight ago and recovered a large haul of heroin. Deiya's desperate attempt to flee from the house was foiled by policemen who stood near the main entrance.
When policemen searched Deiya, they found 400 packets containing heroin in both his trouser pockets. The quantity of heroin in his possession was 40 grams with a street value of Rupees 100,000 or so.
The heroin was of the brown sugar variety usually smuggled from India. According to police Deiya had been purchasing heroin from Wele-Sudha for several years. They had a thriving business which made both of them wealthy.
The suspect was called 'Deiya' (20) because he lived in a 'Dewale' (Kovil) and was the son of the 'Dewale Kapuwa.' The 'Dewale' was a perfect cover for their nefarious activity because no one suspected what the father and the son were up to.
The suspect while being interrogated had told the police that drug peddlers from Dehiwela, Ratmalana, Kohuwela, Angulana, Lunawa, Moratuwa, Piliyandala Panadura Wadduwa always call over at his residence to purchase heroin.
Last year the Central Anti Vice Striking Force (CAVSF) raided a house at Bodowitta Mount Lavinia and arrested a woman (39) a drug dealer who ran a heroin distribution network at Badowitta. The packaged heroin was distributed by a three wheeler taxi drivers in Panadura, Wadduwa, Pinwatte and in the Kalutara areas.
The woman who owned 3 Three Wheeler taxis and a motor cycle used them for heroin distribution in the Colombo South area. The operation was kept so secret that only a handful of persons knew what went on.
Once the heroin was given to the three wheeler drivers they took it in their taxis sometimes accompanied by school children or by persons who posed of and pretended to be seriously ill. They did this to trick policemen manning checks points and road barriers.
However the Vice Squad men intercepted a taxi on its way to Panadura searched its driver and found a plastic bag containing 50 packets of heroin strapped inside his trouser. Each packet had contained 40 milligrams of heroin worth Rs 250. The packets were to be delivered to a heroin dealer in Panadura.
After quizzing the suspect, Police raided a house at Badowitta and arrested the woman following the discovery of 100 packets of heroin in her house. She later told police that she makes 700-800 packets of heroin a day. Her son too had been in remand prison for a similar offence.
The latest heroin racket was busted at the Central Bus Depot in Pettah last week when Policemen questioned and searched a man at the Central bus stand. To their surprise they found 20 packets of heroin concealed in his socks worth several thousand of rupees.
The suspect aged 24 was a native from Welibissa in the Kahagolla area. OIC Police Guard Room at the Central Bus Depot, Sub Inspector Karunatille said the detection was made when they searched a man behaving in a suspicious manner. Police are conducting Investigations to ascertain whether he was taking the stuff to Kahagolla or elsewhere.
Two years ago an army officer was caught attempting to smuggle a bag containing 390 kilos of heroin with a street value of over Rs 50 million. According to PNB it was the biggest haul of heroin detected that year.
Two civilian from the Pesali area who handed the consignment of heroin to an Army major were later arrested by PNB sleuths. The army officer and the two suspects were later produced in court and remanded.
According to Police Narcotics Bureau (PNB) 65 kilograms of heroin was detected during 2006. The bulk of heroin smuggled from India had reached the country by air and sea routes.
Heroin that comes in bulk form is usually diluted by drug traffickers who pack them in small tin foil sachets. It had been found that drug traffickers caught at the Bandaranaike International Airport (BIA) from time to time had resorted to various methods to conceal heroin.
Some times they even wrapped the heroin by using polythene and gum tape to conceal it in their bodies. Heroin was also inserted into false bottoms of shoes and false bottoms of their travelling bags.
At times the smugglers conceal heroin in hollow ares of silver mugs or even swallow them risking their lives. It had been found that heroin addicts become mental patients even with adulterated heroin. This shows how dangerous heroin can be to human beings.