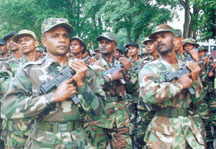 DEFENDERS OF THE NATION:
Dressed in combat fatigues with their distinctive Uzi machine pistols held ceremonially, these troopers of the Army's crack Special Forces are seen rehearsing for the Independence Day parade at Independence Square last week. Photo: Sulochana Gamage
All set to re-open closed Jaffna road
by P. KRISHNASAMY
Arrangements are in place for the re-opening of the A9 road (Kandy Road) from Vavuniya to Jaffna. Both Government officials as well the LTTE leadership have indicated that work is under way for the rehabilitation of the entire stretch of the closed highway.


Full story
4,000 lines planned Telecom boost for Jaffna
by E. WEERAPPERUMA
Sri Lanka Telecom Limited under a new project "Hope" designed to help the civilians in Jaffana will increase the number of telephone lines to the peninsula to 4,000 with immediate effect.


Full story
President concerned over media allegations
"False and unlawful allegations" have been made against the President during the last few weeks "by some private media", the Secretary to the President, Mr. K. Balapatabendi, says in a statement to the news media issued on Thursday.


Full story
---
Other Stories