Entertainment
Group supports imprisoned Nobel peace prize winner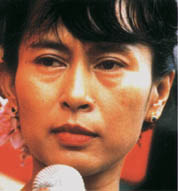 Aung San Suu Kyi, the world's only imprisoned Nobel Peace Prize recipient, had her story of justice and democracy for the Burmese people brought to the international stage when The Freedom Campaign launched with the Grammy award winning Black Eyed Peas concert in Bangkok, Thailand recently.
With large images of Aung San Suu Kyi (pronounced: Aung Sawn Sue Chee) posted on stage, The Black Eyed Peas dedicated their hit song "Where is the Love" at today's concert to the imprisoned Burmese leader.
The performance will also be simulcast into Burma where she is under house arrest and the government forbids democratic messages to its populous. With the aid of un-censored satellite technology, this will be only the second time the Burmese people will be able to watch part of an international music concert in which musicians speak about Aung San Suu Kyi and the first time ever that this has been done from any of Burma's bordering nations.
This performance kicks off the global Freedom Campaign; a partnership between the Human Rights Action Center and U.S. Campaign for Burma designed to bring attention to Aung San Suu Kyi and the cause for freedom for the people of Burma.
The dedication portions of this concert will be broadcast inside Burma via satellite through the brand-new Democratic Voice of Burma television station, which is based in Norway. There are an estimated two million satellite dishes inside Burma, reaching up to 10 million of the country's population of 52 million persons.
Listening to democracy radio stations or watching such programs on television is illegal under the ruling military regime, a "crime" punishable by up to seven years in prison. In the past, people caught listening to opposition radio stations such as Radio Free Asia have received lengthy prison sentences.
The Black Eyed Peas dedication follows a previous dedication made by R.E.M. on Aung San Suu Kyi's 60th birthday in June 2005. The Freedom Campaign concerts will be led by renowned activist Jack Healey; well-known for organizing Amnesty International's highly successful concerts around the world.
(www.TheFreedomCampaign.org)
---
Pamela Anderson ties knot with Kid Rock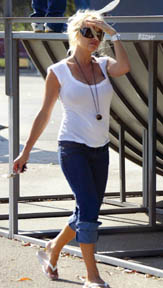 Pamela Anderson and Kid Rock tied the knot on a luxury yacht in St. Tropez recently. The former 'Baywatch' actress walked up the aisle in a white mini dress, diamond studded Jimmy Choo shoes, a veil and was carrying a white bouquet.
Wedding guest, Jimmy Choo owner Tamara Mellon, said:
"She was the most beautiful bride I've ever seen - like a modern-day Brigitte Bardot. Kid Rock was a total rock star. He gave her a good kiss. Everybody was crying."
Pammie, 39, then changed into a white string bikini and sailor's cap to drink champagne and party with guests before she and Rock left for their honeymoon.
Hours before saying "I do" to 35-year-old Rock, Pammie grabbed celebrity photographer David LaChapelle and pinned him between her thighs while she performed a lap dance for him, wearing denim hot pants and a pink bikini.
One onlooker said: "If I were Kid Rock, I'd be spitting feathers. Pammie left little to the imagination. But she wasn't misbehaving really, she was just practising for the main event.
"If this is how she likes to pump up her tyres, he can look forward to the ride of his life." Among the wedding guests were Elton John's husband David Furnish and supermodel Cindy Crawford. Furnish said: "It was a real rock 'n' roll wedding." Pammie and Kid Rock started dating in 2001 and got engaged a year later, but called it off in 2003. They got back together a month ago and now plan to celebrate their marriage three more times, in Malibu, Detroit, and Nashville.
(BANG Media International)
---
Mel Gibson in firestorm of bad publicity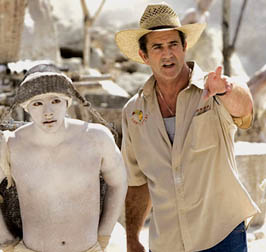 Getting drunk and mouthing off is nothing new in Hollywood, but Mel Gibson's weekend arrest has plunged him into a crisis that few could have imagined two years ago.
Back then he described himself as a filmmaker guided by the Holy Spirit on his surprise blockbuster The Passion of the Christ, saying he hoped the film had "the power to evangelize." But that image has been shattered by news of his drunken-driving arrest and the anti-Semitic and sexually insulting remarks attributed to him. The Associated Press reports that an official police report substantiates claims that Gibson made the remarks and threatened a deputy.
Many say Gibson will have to explain his comments beyond his publicist-released statement, which implied that his rant was just the booze talking. And some in the entertainment industry are calling for a boycott.
One of the nation's most ardent and active promoters of church outreach for The Passion was First Family Baptist Church in Overland Park, Kan., where the Rev. Jerry Johnston brought 5,000 people to see it.
"Only the savior is perfect, and every messenger of the gospel is flawed, and Gibson certainly illustrated that to the worst degree," Johnston says now. "It was unwarranted, and a great shame has been attached to the maker of the movie." But the message of the movie remains untainted even if the "messenger obstructs the Messiah in the delivery system." Johnston says Gibson owes an apology not only to Jewish people but to all pro-Israel evangelicals.
"He could take some of the proceeds of that movie and donate them to a worthy Jewish cause in Israel," he suggests.In Hollywood, some called for the industry to take a moral stand. Agent Ari Emanuel posted a public call for studios to boycott Gibson. "No amount of publicist-approved contrition can paper it over," Emanuel wrote on the news and comment website HuffingtonPost.com.
"People in the entertainment community, whether Jew or gentile, need to demonstrate that they understand how much is at stake in this by professionally shunning Mel Gibson and refusing to work with him, even if it means a sacrifice to their bottom line."
Political gadfly Arianna Huffington, who runs the site, says she will keep "the drumbeat" going to boycott Gibson's films. "These remarks were made while the Middle East is in flames; while anti-Semitism is on the rise. We have to have zero tolerance of any anti-Semitism."
The View host Barbara Walters told viewers she would not see another Gibson film. Producer Peter Guber, host of AMC's Sunday Morning Shootout and chairman of Mandalay Entertainment, says: "Most people can survive a DUI, but his charge is an SUI - speaking under the influence. That's a more difficult charge. It stays in people's minds for a long, long time."
As for career damage, Guber says that "the audience forgets more than they forgive." He says Gibson will have little trouble attracting ticket-buyers to action films, thrillers or comedies, but could face difficulty drawing people to more thoughtful projects, particularly those dealing with religious or political themes that previously have earned him respect.
One such project is at ABC, which is in the early stages of development of a Gibson-produced miniseries about the Holocaust. Network vice president Quinn Taylor, who has not yet received a first draft of the script, declined to comment on the impact Gibson's statements might have on finalizing a deal, but said the network has not yet committed to it.
Disney spokeswoman Heidi Trotta says the studio is not altering plans to release Gibson's new movie, Apocalypto, about ancient Mayans, on Dec. 8. "We all make mistakes and I've accepted his apology to what was a regrettable situation," Oren Aviv, the new head of Disney's film studio, told Slate.com.
Gibson has remained quiet and out of sight since his arrest. "He is in an ongoing program of recovery," says publicist Alan Nierob, who added that Gibson had no public appearances planned but may soon issue another statement.
The beliefs of Gibson's father, Hutton Gibson, who has written articles denying the magnitude of the Holocaust, have for years dogged the actor/director, who has dodged the issue without denouncing his father. Says Anne Thompson, movie columnist with The Hollywood Reporter: "He probably should do something he has never done, which is make a distinction between what his father believes and what he believes."
Meanwhile, the arrest has been forwarded to the Los Angeles County District Attorney's Office, which said that it would decide this week whether to file charges. Penalties for a case like this could include a fine, jail time and a suspended license.
(USA Today)