That young lawyer Kadirgamar spotted at Hulftsdorp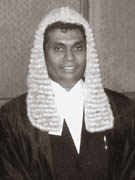 Perhaps, it would have been a remarkable coincidence on the part of a senior lawyer to spot a young aspiring lawyer carrying a book on Jurisprudence at Hulftsdorp.Manohara de Silva who took silk as the President's Counsel, thus, recalled how he came to know former Foreign Minister, Laskhman Kadirgamar, as a legal luminary at the hallowed precincts of Hulftsdorp.
"Jurisprudence, was not something that practising lawyers read. After two, three years at bar, I was one day at court, carrying a book on Jurisprudence. He called me and said that for a long time he had not seen a lawyer reading jurisprudence.
One day he phoned me and asked me to be a junior on a matter. Since then, he became a senior who I consider much close to my heart. He used to appreciate the part I did in the case even before the client", "said President's Counsel Manohara de Silva referring to the longstanding influence that Kadirgamar had on him.
Hailing from a Buddhist family, Manohara de Silva studied at Ananda College, Colombo. Though he studied in the science stream, in his heart, he was interested in law, and as a student, Manohara used to visit the old High Court and listen to the proceeding of the 1978's Presidential Commission that deprived Mrs. Sirimavo Bandaranaike of her civic rights, and used to read law reports which appeared in newspapers. As he did not obtain enough marks to enter university in the science stream, he chose the next option, the law.
At Law College, he became the Captain of the English debating team and member of the Sinhala debating team, thus proving his excellent language abilities in both Sinhala and English. At Law College, he studied various branches of the law under Priyantha Perera, Srinath Perera, Sybli Azish PC, R. Pallawell and Asoka Abeysinghe.
Manohara engaged in students' politics which is a part and parcel of a student's life at Law College, and contested for the Law College Students Union's Presidency. However, he lost the fray to Nimal Weerakkody.
Manohara, together with Nilanthi Pieris contested for Independent Group. It was during this time that the nomenclature of two groups came into being which were known as "Haramanis", a derogatory term for villager or folks and "Kulturs", affluence. Some of Manohara's batch mates were Nilanthi Peris, former CTB Chairman Ervin Jayasuriya, and ETF Chairman Karunajeeva.
He was called to Bar in March 1988. He started his career as an apprentice under Mr. Sethukavala and Lushan Weeramanthrie. He joined the chambers of N. R. M. Daluwatte. Manohara reminisces vividly N. R. M. Daluwatte who inculcated a lot of values in him.
"When I introduced a client to Daluwatte and told him that the client could afford to pay, he advised me that before demanding a fee I must think of the next world. Although I joked that sinceI had no house or a proper car at the time I should think about this world before I thought of the next, looking back, I cherish these values inculcated in me by Mr.Daluwatte. It still recurs whenever a client comes, that I should take a conscientious fee from the client. If a client could not afford a fee, I should make an extra effort to reduce the fee. "said Manohara mentioning his Guru in the profession.
Another incident that proved his legal acumen was the occasion when he was invited to join the Attorney General's Department by the then State Counsel Kamala Sabayson., the present Attorney General. The invitation came following a thorough presentation Manohara made as a young lawyer and this happened to be the very first case he appeared before Supreme Court. Manohara de Silva has been a member of the Legal Aid for over a decade, both as member and an Administrator.
"That money is not everything is something that Mr. Daluwatte instilled in me. I also cherished the values I learnt from Ananda College", said the newly- appointed President's Counsel Manohara de Silva, reminding his almamater.