Arts
The Glorious Quest' concert
In celebration and thanksgiving, the choir will present a concert to round off their successful season of praise, titled "The Glorious Quest" on August 13, at 7 p.m., at the Lionel Wendt Theatre.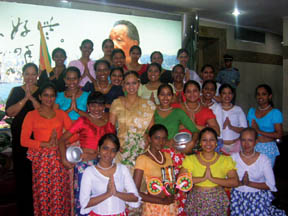 The Choir will recreate the magic of their performance at the World Choir Games in China last month, as well as captivate audiences with their trademark repertoire ranging from gospel and spiritual, secular and contemporary pop music. As always, Christopher Prins will accompany the choir on drums.
There will also be two guest performances by the locally acclaimed song-bird Mignonne Fernando and the talented young cellist, Kamani Perera who will perform jazz rhythms on the Cello.
The Choir, being the only choir in Sri Lanka to compete and perform internationally, remains committed towards uplifting the standards of Choral singing in Sri Lanka and is convinced that through commitment and hard-work they would ensure that Sri Lanka is recognized in the International arena in the sphere of arts, not just in classical western music, but in traditional folklore as well.
Sri Lankan choir, 'Soul Sounds' bagged two silver medals at the 4th World Choir Games (formerly known as 'The Choir Olympics') concluded in Xiamen, China on Wednesday July 26.
The local choir which has been steadily gaining a name not just in Sri Lanka, but in other parts of the world, were awarded the medals in the Gospel and Spiritual and the Scenic Folklore singing categories. Approximately 400 choirs from over 60 countries around the world competed at the Games.
Soul Sounds won the silver medals based on the points awarded by an international jury. Earning 78.63 points in the Gospel and Spiritual category and 75 points in the Scenic Folklore category, they missed the 80 cut-off mark which otherwise would have won them two gold medals.
With music direction by the group's founder Soundarie David and artistic direction from veteran theatre personality cum director - Jerome L. De Silva, the choir gained direct entry into the final round of the Games by their distinction of having emerged 1st runners-up in both the Youth Choir and Solo categories at the Llangollen International Music Eisteddfod in Wales, in 2004.
Soul Sounds also had the distinction of being featured in the One World Project in January 2005 to raise funds for the victims of the 2004 Tsunami disaster. They sang a single, for the "Grief Never Grows Old" CD produced by Mike Read. Soul Sounds shared the stage with stars like Cliff Richard, Bill Wyman of the Rolling Stones, Russell Watson (the famed contemporary tenor), Robin and Barry Gibb of the Bee Gees, Steve Winwood, Boy George, Chicago in this charity project in England.
---
'New Directions' Festival of dance and art
Three Sri Lankan artists who reside abroad have united to present a unique event bringing together works of dance and art.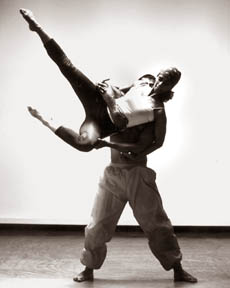 Chandri Peris and Nadeera Rajapakse will be presenting new pieces of choreography in a dance concert that will be bringing together dancers from various techniques.
Between them, they have united a group of young dancers from Ravi Bandu Vidyapathy's Kalayathanaya, Naomi Rajaratnam's troupe of Latin American dancers and dancers who have trained at the Ooshagarten of Ballet, Kanthi Ranchigoda's school of ballet and many other dancers who have worked and performed with different schools and choreographers.
Coinciding with this event will be an art exhibition consisting of works by Indira Gunesekera Baron and Chandri Peris which will be at the Harold Peiris Gallery, Lionel Wendt Art Centre on August 11, 12 and 13.
This exhibition will be open to the public from 10 am to 7 pm on these days.Nadeera and Chandri will have the difficult and challenging task of conforming these dancers into separate dance items that will have to project an identity of their own.
They will have the added difficulty of having to create new works and presenting them to the public in a relatively short period of three weeks.
Chandri still keeps very much in touch with the world of dance in London, where he lives, even though he has given up performing actively on stage, by following intense choreography workshops and open-technique classes. Nadeera has been very much in touch with her dancing in France where she has been living for the last 10 years and will present her first effort in choreography at this concert.
This year, Chandri will be presenting two very modern works, one of them will include working with traditional dancers on an oriental theme.
The 'New Directions' dance concert will take place at the Lionel Wendt on August 11 and 12 at 8 p.m. Indira and Chandri have both been dancers who worked with each other over several years. Indira who now resides in France with her husband and three children began painting and she gave up her career in dance.
Chandri who used to paint before he began dancing has now decided to resume work as an artist after giving up performing.
---
'Depth of Art'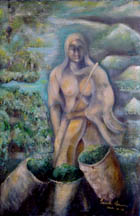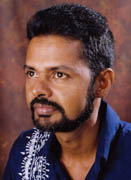 A woman wrapped in a cloud of mist... At her feet rest three baskets full of tea leaves. Her left hand holds a stick used by tea pluckers. In the morning haze, the tea bushes look as if they are crying.... The painting is named 'Giving Life to Tea' says the painter, Jayantha Thissera. "There is much more to a painting than the obvious, and that is what I want to portray."
'Depth of Art' Jayantha Thissera's third solo exhibition of paintings will be open to the public at the Lionel Wendt Art Gallery, Colombo 7.
'For a painting to become a work of art, there should be a proper mix of shapes, colours, texture and the idea or the theme,' says Thissera. Calling himself a 'self-made' artist, through his exhibitions he had been trying to reveal the hidden facets of art to the public.
His maiden exhibition 'Theli Thudaka Rahas' (The Secrets of the Paint Brush) focused on a similar theme, while the sublime nature of art was the focus of 'Sittam Sisila', (The Repose of Paintings) his second exhibition. "With this exhibition I want to take the viewer to an even deeper level where he or she could view the realities of life from a different angle," says Thissera. His paintings 'Feelings', 'Nirvana', 'Jesus Crucified' and 'End of My Spirit' scheduled to be exhibited, are a few that would make you re-think of the realities of life.
Twenty eight paintings will be displayed at the exhibition which will be inaugurated on August 11. It will be open to the public from 9.00 a.m. to 7.00 p.m. on August 12 and 13, 2006.