Happenings / People
'Celebration 35'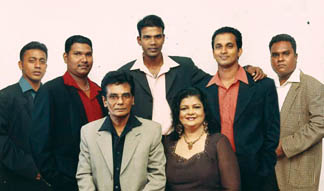 Her enduring talent has effectively steered Lankika Perera through her musical journey with Golden Chimes, spanning todate an exciting 35 years. Which is why she has decided to stage her 'Celebration 35' concert on September 9 at the Methodist College Auditorium.
She will not be alone in this musical extravaganza. Joining in her celebration will be leading lights Annesley, Indrani, Anil, Keerthi, Rajiv, Mariazelle, Rukshan, Christine Gunawardena and Sureshini Wanigasekera. Quite naturally, the musical backing will be by Golden Chimes, led by Chanaka Perera, Lankika's husband. The show will feature dances by Solar Heat and Sanker. The compere is Faisal Bongso.
'Celebration 35' will feature all the favourites of Lankika like 'Kimada Nave, Molaketi Puthuni, Sihina Sagare, Hiru Negila and more.
Lankika is proud of the fact that she was and is the only girl singer associated with Golden Chimes. She was nurtured in a home that echoed to the sound of music. "My father used to sing and play instruments, my mother was a singer, so too, my brothers - in fact we were a singing family" exclaims Lankika with a happy laugh. A von Trapp family?!
Church choirs and school choirs were a passion with young Lankika. She won talent contests in school too and emphasizes that she was just seven years when she began to sing in programmes over SLBC and her favourite song was Butter Cup O' Golden Hair. Remember?
Her first professional gig was when she was eighteen and was invited to join Golden Chimes which was formed by Chanaka Perera and Clarence Wijewardene. Clarence stayed with the group for two years and went on to form his own band in 1973. But this did not deter Chanaka.
He accepted the challenge and took the band forward playing both the Western and Sinhala stages. At that time the Western music scene in the '70s was dominated by dance bands competing with each other and Lankika and Golden Chimes had their fair share of popularity and gigs in Colombo, playing for dances, weddings and concert shows.
Today, Lankika and the 'Golden Chimes' are a much sought after band for performances in the Southern Circuit.
Lankika is an administrative officer in the Bank of Ceylon working for the past 34 years and as such the Bank is one of the sponsors along with Etihad, Crystal Cargo and Speed Mark Transportation. The electronic media sponsor is Derana and tickets are available at all Torana outlets.
---
Soul Sounds and Silver awards
It's history now, the story of how twenty eight young Sri Lankan singers belonging to Soul Sounds carried off two silver awards at this year's World Choir Games held at Xianmen, China for their magnificent performances in the two categories they entered for - Gospel and Spiritual and Scenic Folk Lore.
To Soundarie David, Director of Soul Sounds "it was an amazing experience" and gives her added impetus to enter her choir for other international competitions. Sixty countries took part with 400 choirs moving in and out of the stages and some countries like USA, UK and Australia entering more than one choir. Eight judges were on the panel and in this scenario all credit to the Sri Lankan young choir for making an impact at Xianmen.
In the Gospel and Spiritual category, Soul Sounds sang African, Let Us Break Bread, He's the Rock and Joyful, Joyful with solos taken by Shehara Liyanage. In the Scenic Folk Lore category the selections chosen were Dhanno Budunge, traditional vannam and kavi and the catchy Mangala Mohotha.
Mignonne Fernando who was also in the team that performed at Xianmen commented that it was a fabulous project and the participating choirs were of an extremely high standard. "They were a group of people who individually vocalised - they could sing from tradition to modern times.
This gives the arranger to bring in new ideas without distorting the music pattern. The Sri Lankan choir was relatively young, 14-25 years of age, while some others had singers who were above 50 years. All kudos then to Soundarie David for taking Sri Lanka to the world and proving that we can communicate with our music with the rest of the world.
The Global Village where the choirs could interact, had rehearsal rooms which quite naturally had to be booked according to a schedule. Stage rehearsals were a strict 20 minutes and there were two mikes for the lead singers. Some of the choirs sang on mike.
We had three mikes, two of them FM mikes and note here, the drums were not miked at all. There was a choir from China whose lead singer, sang from the back of the choir with her back to the audience and the acoustic response was fabulous. I think corporate establishments should come forward unhesitantly to also sponsor music and musicians who have the brilliance to make Sri Lanka proud".
M.P.
---
Fashion Designer of the Year 2006
International fashion designer Chula Nanayakkara Ariyaratna once more invites all fashion designers to take part in the Fashion Designer of the Year contest this year too, which will be held in association with the Sunday Observer and the Daily News.
Scheduled to be held on November 30, 2006 at the main auditorium of the BMICH, the event is sponsored by the Singer Fashion Academy. Hair and make-up is by Ramzi Rahman. "Start your sketches early" says Chula and gives the four categories of the contest; casual, office, evening and sari wear.
Watch out for the coupons in the Sunday Observer and the Daily News in the near future.