They will always miss the bus...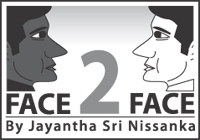 [email protected]
Senior Deputy Inspector General of Police Jayantha Wickramaratna urged the public to cooperate with the Police to implement the new security strategy in the Public Transport system. Bus Owners Association President, Gamunu Wijeratne blamed the Provincial Transport Authorities for not implementing Government orders to ensure security at bus stops.
Q: How successful is the new security strategy launched to prevent LTTE attacks on the Public Transport system in the country?
G.W.: Two of our buses were damaged from these two attacks. Police educated our drivers and conductors. They gave over hand bills and audio tapes to educate people. We extend our fullest cooperation for such efforts. Our employees are now on the alert. But, I am not happy about the services of the Provincial Transport Authority. If they are active, they can render a great service but, political henchmen have ruined this establishment. They don't cooperate with us. They must carry out orders of the Central Government to minimize terrorist attacks. They have not taken any steps so far to implement orders of the Government.
J.W.: President Mahinda Rajapaksa was highly worried after the two bus bomb explosions in Nittambuwa and Meetiyagoda. He convened an urgent meeting of Cabinet Ministers, Commanders of the Three Forces, senior officials of Police, Transport Authorities and other relevant agencies. He directed us not to permit such incidents to occur again. The Inspector General of Police gave clear instructions to all the Police Stations the same night to follow certain preventive methods. Instructions were given to all the OICs' to liaise with CTB Depot officials, Private Bus Associations, Transport Ministry Officials and to organize Police Civil Security Forces, Neighbourhood Vigilance Committees, Crime Prevention Societies, etc. to adopt precautionary methods to avert further explosions.
Q: Many preventive methods are being proposed by various security experts to avoid explosions in buses. Are they practical?
G.W.: There are practical difficulties when implementing some of the security measures. There are no proper bus terminals to stop buses. 75% of buses are stopped on roads. Our employees will make a thorough check of buses before take off as any explosion could even kill them. Time keepers and OICs' at bus stands can inquire whether buses have been checked. Lapses in their part could be tantamount to a tragedy.
JW: We can use the above mentioned organisations to check railway stations, bus stands, buses and trains to have a thorough check before buses commence journeys. We introduced an audio tape to caution people at railway stations, bus stands, trains and buses. There is a public address system already. President Rajapaksa proposed to use the Lottery sellers communication systems if there is no public addressing system at a bus stand or at a station. It's a wonderful idea at this juncture. Because we cannot wait until the public communication system is installed.
Q: Don't you think that the LTTE will change their strategies again to target civilians as people are now alert on security in buses?
G.W.: Of course they will change their strategies like in the past. This is the first time they planted bombs in private buses. We have 600 members in our association from Jaffna. I request the people not to over crowd buses. There are enough buses and if they wait a few minutes they can sit and travel. People should bear with the situation. Conductors cannot check bags during rush hours when people struggle to get into busses. It is easy for the LTTE to target such buses.
JW: It's always the case. After the meeting with President, we had a detailed discussion with the Transport Minister A.H.M. Fowzie and relevant authorities. There, I proposed that the LTTE will always change their strategies and I requested the Minister to protect bridges, culverts, trains, etc. I requested him to deploy casual labourers from the area to protect bridges because most of the long distance trains move in the night. A Policeman will assist the Railway security officers in Trains to maintain security. I also requested the Minister to purchase some mobile phones for the locomotive driver and the guard to use as a primitive communication system. When I questioned the driver of the ill fated Meetiyagoda bus, the driver had stopped at nine places and went for tea and meals without keeping someone to guard the bus. In addition, we asked the railway authority to adopt security measures when accepting goods for transport. Then it is easy to identify suspected parcels.
Q: Why are some of the proposals are not practical?
G.W.: The IGP asked us to not to take anybody with a parcel from bus halts other than main bus stand. It is not possible, because student get into the bus. People will also not hire a three wheeler to go to bus stand to get into buses. I received complains from passengers that some of our buses have not taken them in from bus halts with parcels. Conductors find it difficult to check suspected women.
JW: Sometimes we have to adopt difficult measures to maintain security. Someone can see it as impractical method. But, for the safety of people and properties, we have to do it.
Q: Can you maintain security at bus stands because drug addicts, under world gangsters and many other unwanted persons are at bus stands. They will do anything for money. The LTTE can hire them for their missions. Should the authorities take action to first clear these bus stands?
G.W.: It's a puzzle to me as well. I doubt whether the LTTE has hired these drug addicts and under world characters to plant these bombs. They take ransom from our buses. Bus owners pay about Rs. 80 million annually as ransom. The LTTE can hire any of these men for Rs.500. They will do anything. Recently we saw that a home guard has taken Rs.3,000 to transport a claymore mine. There are traitors among us. We have to be careful from them too.
JW: True. Police can certainly take action on complaints if there are unwanted characters at bus stands. If the respective Police station does not take proper action, it can be taken up at ASP level. It's a joint exercise. But actually private buses deploy these runners to get people.
Q: Some of the bus conductors are highly indisciplined. Don't you think that people will agitate if they discourteously try to check Identity Cards and parcels?
G.W.: If we sack one employee today, he will find a job in another bus. That is why we can't maintain discipline. We need to create companies by abolishing individual route permits. Then it is easy to implement any law and even a security system. The Company can hire female security officers to check female passengers. Indisciplined employees can be sacked under such a set up.
JW: Under the normal law any civilian can arrest a person to prevent a crime to society. You would have heard people arresting pick pockets. Under the normal law any person is free to arrest or prevent any unwanted incident in society. Even without emergency law it can be done. All the civilians are answerable under the Police Ordinance. They have to assist the Police in case of an arrest. Certainly, the conductors should maintain discipline and respect of the dignity of persons when checking. Who likes to humiliate in public? Sinhalese should understand that all Tamil people are not terrorists. Over enthusiastic security precautions should not harass them. They have to uphold the dignity and self-respect of any person. Terrorist could be identified the way they dress and from their behaviour.
Q: How can the conductors check a suspicious woman?
G.W.: That is the problem we are encountered with. Conductors cannot check a pregnant woman. Who knows whether she is really pregnant or not? Once, when a conductor tried to check a bag of a Tamil woman in Dehiwala, she tried to hit him with the bag.
JW: Conductors can stop her boarding the bus and phone 118 or 119 or the nearest Police station. Today, most of them have mobile phones. Any suspicious person can be prevented from entering a bus. If she is refusing, first thing is to unload the bus and evacuate people around the area and inform the Police.
Q: Do you request people to keep their bags with them hereafter without isolating bags in the buses which can create panic?
G.W.: It's better if people keep their bags with them. Then people will not panic. Nobody likes to keep time bombs on their laps. Then we can identify who is trying to leave their parcels. Two bombs were kept on racks as no body knew the owner of those parcels.
JW: After boarding the bus people can keep their bags on racks. Police should be immediately informed if there are suspicious bags. In addition, if people keep an eye on the person sitting next to him, it is easy to identify suspicious persons and unknown persons boarding buses after stopping for tea or meal. When I questioned the driver of the Meetiyagoda bus tragedy, he was not aware whether a suspicious person got into the bus or not. That is why bus employees should take a head count when the bus starts after stopping on the way and commuters should keep eye on the person sitting next to them.
Q: How can security be maintained in crowded buses, especially during the office hours?
G.W.: We have to adjust timetables. If we reduce the timing of 'bus turns', then people will not struggle to get into one bus. Since we have a long duration between buses, people are struggling to get in. If we implement this, we can further reduce the security threat.
JW: We have to be security conscious at a time like this. We started a security strategy in the Matara Ruhunu Kumari office train. Then it is easy to identify the suspicious persons. I request the people not to agitate for delays due to security checks. Because, Police officials do their best to save the lives of people. People should not let any bus or a railway compartment take off unless a thorough check is done. They have to organise with the Police, Civil Security Forces to prevent terrorist acts. Because, the Police alone cannot do it with a 65,000 force to provide security for 19 million people. We have our priority areas like protecting vital institutions, power stations, VIPs, even generators, etc. It is an impossible task only for the police to maintain security. People have to support us.