Call girl racket unravelled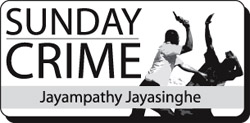 She was stupendously wealthy and owned several luxury vehicles like Dolphins and a hotel in a plush residential area in Dehiwela. She was an attractive middle aged woman (45) who ran a call girl racket from her residence at Dehiwela.
The woman had amassed a fortune by procuring young women to heterosexual men, businessmen and criminals. The racket had been in existence for some time under the very nose of the local police. It was a thriving business because there was a demand for prostitution by businessmen and criminals alike.
Of course they were willing to part with big money for sexual gratification. Her entire operation was cloaked in secrecy due to fear of being raided by the police.
Meanwhile DIG Western Province (South) K. Pathirana ordered a crack down on Karaoke bars cum brothels in the Dehiwela - Mount Lavinia areas after receiving numerous complaints from the public. With the commencement of the tourist season several Karaoke bars and brothels had sprung up in the Dehiwela \ Mount Lavinia area.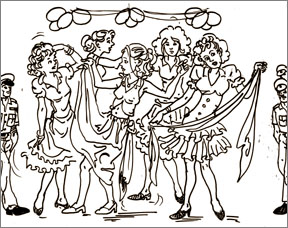 However, the Mirihana Special Investigation Unit kept an eye on several Karaoke bars, and brothels in the Dehiwela Mount Lavinia area. It came under their microscopic scrutiny for several reasons. These brothels were mostly patronised by criminals wanted by the police.
The Madam from Dehiwela who ran the call girl racket took great care not to entertain too many clients at her hotel. She kept a low profile because she did not want to attract the attention of her neighbours who kept a tab on everything going on.
She realised that when things go out of hand tongues in the neighbourhood begin to wag inviting the police. After all, theirs was a closely knitted neighbourhood. But on the other hand she wouldn't give up her business in a hurry because it was a lucrative trade. So she devised a strategy to stay out of trouble. The strategy however paid off.
Instead of procuring women to clients who called over at the hotel she began supplying them to places where they were needed. It was a call girl racket practised over the telephone. Businessmen too began making discreet inquiries over the phone whenever they desired a woman. They would simply furnish an address and instruct the madam to deliver women for an arranged fee.
She too would reciprocate by procuring women to her clients. According to police the Madam had operated a huge call girl racket. The young women sex workers had come from distant places like Galle, Matara Dehiwela, Avissawella, and Homagama areas.
According to police some employed women too had been on her list. The madam usually accompanied women in her luxury vehicles and delivered them to wealthy customers for astounding sums of money.
It was last Sunday when 30 officers from the Mirihana Special Investigation Unit armed with search warrants from courts raided the hotel at Dehiwela. When police entered the premises they found two women at the hotel. After questioning, police took the two women and the Madam for questioning.
They were later taken before courts and remanded pending further investigation. In the course of investigations police learnt that the Madam was a well off woman. She had owned several other business enterprises in the suburbs of Colombo.
Meanwhile, on the same night another team of police officers raided an exclusive Karaoke bar at Mount Lavinia after midnight and took in for questioning its Barman and thirteen women hostesses and three men.
The raid was conducted for selling liquor after mid night to customers without a permit. According to police, several exclusive brands of foreign liquor was being served to customers at the time of the raid. Although the three men had initially protested that they had come to enjoy an evening, on further questioning it was revealed that two were Army deserters and the other was a Navy deserter. Police are investigating whether the service deserters were involved in serious crime.
Further inquiries are being conducted by OIC Special Investigating Unit (Mirihana ) Inspector Upul Samarasinghe, and Sub Inspector Jayantha Perera, Wasantha Sudasinghe, Police Sergeant, Lakshman, Jayasinghe, Hemantha and Mendis.