A glimpse of reel life
"Scene 4, shot 1, Take 2" and "Action" shouts Director Trevor, (names have been changed) staring at the TV in front of him, as the camera zooms in on the VP field of tea on which stand eighty-five pluckers, clad in colourful saris, a smile on their faces as they deftly pluck the two leaves and a bud, two leaves and a bud which would, within the course of the day, be turned into a packet of invigorating, high flavoured tea.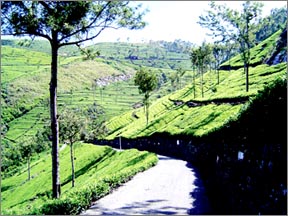 "Ceylon Tea, the best in the world" begins the narrator who is also standing among the pluckers when Trevor shouts "Que". But before he could finish his lines the sound of a three-wheeler chug-chugging up the narrow road makes a frustrated Trevor shout again, "Cut".
The pluckers are asked to stop plucking, while the crew prepares for a new shot. Mobile phones which were switched off are on again, and every few seconds different kinds of music, arabesque, harp concerto, blue jazz etc. assail the ears. The opening line in every conversation begins with "Muchan I am in Nuwara Eliya doing a TV commercial".
The commercial to promote Ceylon tea in Australia is directed by Trevor, an Australian of undeterminable age. There are three others in his team, Keith who has to be more than fifty and Angie and Sylvia (both of whom could have been anywhere between twenty-five and seventy-five) plus the crew - all Sri Lankans.
Sylvia, a freelance model, whose part in the commercial is to take a cup of tea into her hand raise it to her nose, inhale the steam and close her eyes with a look which says she is in seventh heaven, says this is her first visit to Sri Lanka. She will be here for exactly one week. "My visit is too short to see the whole country but I'm making the most of it. I had one off day in Colombo and I visited some temples.
I liked Colombo, but now that I have seen New-ra-eliya, I think New-ra-eliya is better". Sylvia lives in Sydney and comparing the two capitals says "Colombo is not as crazy as Sydney".
She has acted in many commercials for Australian TV channels but this is the first time she is working with Trevor and Keith. She proudly ticks off the countries she has visited, on business and on holiday.
"Almost every country in Europe, America, Philippians, Thailand" On her next day-off she intends to travel to Sigiriya via Kandy because everybody she meets keeps saying these are two places she must not miss.
"Ceylon tea marketed under this particular brand is already very popular in Australia, we hope this commercial will further increase sales". Sylvia likes Sri Lankan food and says it is not totally unfamiliar because there are lots of Sri Lankans living in Australia, and so, there are plenty of restaurants that serve Sri Lankan food.
Moving onto an entirely different topic, a staunch believer in astrology, she wonders if the star signs of Sri Lankans are decided according to the Western almanac or according to the time of birth. When the latter is affirmed as correct, she laments her mother cannot remember the exact time she was born. "I have been begging her to remember the time I was born, but all she can recall is that it was somewhere in the afternoon, after lunch and before dinner".
Her companion, Angie, the make-up artist is more interested in wide-water rafting and about listening to how David Lean filmed the Bridge on the River Quwai at Kitulgala.End of the break. Time to begin shooting.
Trevor shouts for Angie. With her make-up bags hanging from a belt round her waist, Angie runs up to the pluckers to freshen them up. As she brushes their weather beaten faces with talcum powder she is advised not to make them look too perfect. Trevor begins to stare at the TV again. "Angie, tell the lady in the orange sari to move one step forward. Please tell the guy standing on the stone to hide his knife.
That looks nice. Someone tell them to begin plucking, and tell them to smile".
"Kolandu Edinge. Nalla Sirikka" comes the command from the Administrative Officer of the tea estate where the commercial is being filmed.
"Action" shouts Trevor. As a smoky substance acting as mist begins to spread over the fields, the entire region, the mountains, the pine trees, the passing clouds as well as the on lookers hold their breath.
"Cut" says Trevor. "That was good. Really good". Everyone starts to breathe again. Scene 4 of the 30 second commercial to be broadcast in Australia is finally on reel.