Getting cross with those cross streets
Just in case you've got some spare time on your hands never mind the wasted knees - its worth it, fully worth indeed... I mean an observation tour of Colombo's Bazaar area.
Having highlighted in this column Colombo's hell hole - Gabo's Lane and the Pettah fish market... I think it was week before last which outcome was a fine below zero what with a dissolved local authority that makes no difference even when intact, the observing eye embarked on the second leg of her tour across all of Pettah's cross streets.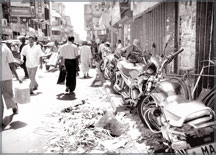 You name it... its all there..... those cross streets.... First Cross Street, Second Cross Street, Third, Fourth.... I wonder where the Fifth is? Anyway why bother? What should bother you is that in all these cross streets, many a nerve wracking problem is sure to cross your path. Certainly you'll come out all very cross about what's going on there blaming every conceivable state authority for its deplorable state.
In as much as Gabo's Lane's citizenry have learnt to put up with all that kind of 'star class' odour the fish market and its surroundings offer, those in these cross entities remain immuned to mobility or movement related problems.
Sometimes running in circles, if not playing musical chairs minus the music except those blaring horns, this writer recently came across countless confrontation along these cross streets. Along the pavement, if there were any, you would find all brands of mobikes parked to suit owner convenience. Some horizontal and others vertical and a few that were neither. The roads' both sides bore vehicles of all kinds glistening in the noon day sun.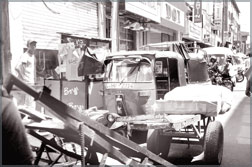 From road to pavement and pavement to road one has to calculate and keep shifting bearing in mind other problems as well. Suddenly a motor cyclist would creep in between your legs and apologise profusely - the latest Sri Lankan tactic of wanton damage followed by a hurried apology - the pronunciation of which would not spare the queen - 'sorry' goes as in the vowel sound 'O'. One smart guy, a victim was heard saying, Oyaalata sorry apita hori!
What's more, loaded handcarts even take you unawares. Aiyin venda, aiyin venda shouts the carter a reminder to move aside and by the time you do so, considering other confrontations, a bruised arm is all you get from the speeding cart.
Now look, if you want to experience some neat, fine driving, here's the place. Vehicles move at snail's pace - a hair splitting experience for any driver. Heaven knows what he would encounter as men, women, children, cats and dogs keep running across all of those cross streets. Adding to the misery ,a careless motorist would at once move his parked vehicle onto the main road quite unmindful of even oncoming vehicles.
Nevertheless, these roads offer ideal learning ground for novices at the wheel what with all those shortcomings that necessitate constant gear changing not found in power steering.
All this then brings to writer mind the former SSP Traffic A. M. G. R. Lafir's uniflow traffic system operational in some parts of Colombo - certainly a relief to those whose pet aversion of these roads were in times of school traffic.
In that part of Colombo where too many schools are located, uniflow though effectively operational was not all that welcome at the start. So was it with these newly launched parking spaces - now doing remarkably well. Wonder what has silenced this SSP now turned DIG?. Many commend the man for a well accomplished task though a few hiccups came on at the beginning.
Also causing much unhappiness among some members of the public is the guy's deafening silence following post elevation for they see in him a sort of 'messiah' for Colombo's longstanding ailment - traffic, traffic and traffic despite the fly overs, overhead bridges, underpasses and what not.
Lafir's successful brainchild now sees people walking from car park to their offices - a much resented task earlier on for which Lafir himself initiated a taxi service at a Rs. 50 standard rate.
Come to think of it motorists' psyche itself has a lot to do with traffic problems. Reluctant as we are even to walk half a bus halt, back tracking on the walk from car park to office is not surprising. Sri Lankan lethargy even extends to the point of some, at the drop of a hat, even to buy a bread loaf that deposit themselves at the wheel. Any body movement is frowned upon. Attributing it to lethargy alone wouldn't suffice - not to forget the status mania - particularly a Sri Lankan middle class affliction.
Considering the sordid state in these cross streets and other Pettah related surroundings, it's time the traffic police initiated a parking area outside the locality facilitated by a metropolitan taxi service or still better a 'walk it all' promotion drive - a sure way of cutting down the businessmen's lumps not to forget the yeoman service to their wallets by way of reduced medical bills.