Another side of the "OtherSide"
Paintings, sculptures, instalments, dances, mimes, instrumental music, photography; art in its many unorthodox concocts. Another side is shown by the "OtherSide". A display of ingenuity to awe the audience conducted by Phoenix Ogilvy's will take place at the Barefoot Gallery on August 25 and 26.
The "OtherSide" was launched, in 2000. "OtherSide" is as much a "Preservation of sanity". Through the year "OtherSide" has revealed the true faces of master artists, who with this recognition have gone on to marking a niche in their respective fields of art.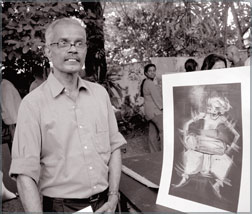 The staff of the agency proved that being two faced all the time is not a bad thing. That is the essence or the spirit of "OtherSide". To make this "OtherSide" exhibition live and creative many artistic masterpieces were show cased at the media conference which was held recently.
The creativity of a person's talents may combine with other subjects such as meditation, philosophy etc. In a busy society where pressure leads the people to drown in there own aims and goals has brought about the near extinction of the creative side. "OtherSide" understood this and decided to make a difference by opening the stairway for the people to unmask their hidden talents.
During my time with these various artists, I was able to gather their marriage to creativity, innovation a freedom which has proven the success of their stewardship with the event. Namal Jayasuriya an Art Director said since his childhood the passion he had towards painting was immense. Namal's paintings were generally inspired by real life.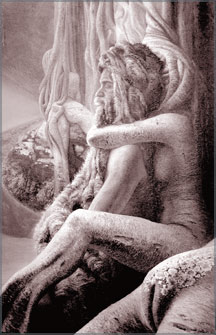 He displayed his talent with the mediums water colour and painting in acrylic on canvas.
Aruna Kahadauwaarachchi is also a senior Art Director and his other side is as a realistic painter. He told the Sunday Observer that he is comfortable with surreal ideas based on the theme "finding what is beyond time and space". Adding, Aruna said though his favourite medium is oil canvas, practising varieties of different styles was shown in his creativity.
Basil Cooray is none other than a self made artist. Basil exploits the medium of water colour modernly to present Sri Lanka's rural life in refreshing manner. His journey in world of art has made him a renowned artist.
During my evening with these design experts I realised or rather found out that the agency staff is more packed up with Art Directors. Anyhow, Gamini Abeykoon was the next Art Director I came across. Gamini's art technique is line drawing. The design for the 2005 Buddha Jayanthi stamp and Sir John Ambulance service 100 year commemoration stamp were among his major achievements.
The "OtherSide" captured moods and expressions going beyond their extremes to present the creativity in various perspectives. Inspiring the talented artists to achieve the utmost in the world of ingenuity.