Arts
Roots, Reflections & Reminiscences
Colourful reminiscences of a bygone era:
Tissa Abeysekara's work titled Roots, Reflections & Reminiscences was recently launched marking yet another important milestone in Tissa Abeysekara's trail brazing career as bi-lingual author.
Perhaps, Tissa Abeysekara is the most famous contemporary bi-lingual in Sri Lanka who is not from the academia. Although Martin Wickremasinghe wrote in English, by his own admission, Wickremasinghe had never been at ease with English and most of his English writings were confined to articles on literature and anthropology.
However, singular characteristic of Tissa Abeysekara's writing in both Sinhala and English is that he is able to express his heart and mind in a most natural way, with diction unique to him. His diction in English is more or less close to those of famous English essayists such as Virginia Woolf and prose of Somerset Maugham.
Tissa Devendra in his introductory remarks at the launch stated that ... Tissa comes from a split social background. His father was from the Anglicized upper middle class whilst his mother hails from an exclusively Sinhalese speaking lower middle class with roots in rural hinterlands of our country. Tissa is a fusion.
On occasions, an uncomfortable and an uneasy fusion of these two strands. But Tissa has, like any gifted human being, is confusing in social circumstances. He is one of the giants of that vanishing, if not vanished, bi-lingual intelligentsia of our country.
Reggie Siriwardene, a literary giant had observed that in Tissa's creative writing in English, the language of our colonial rulers, has acquired, and for the first time, a distinctly Sri Lankan tone.
The book runs into 264 pages has been divided into three main sections; Roots, Reflections and Reminiscences.
It contains articles by the author which had appeared in Newspapers and numerous presentations that he made at diverse international fora in addition to Tissa's reflections on diverse subjects ranging from cinema to his life and times.
In the chapter "Fifty-Fifty of the Species" which is a presentation the author read at the SAARC Writers Conference held in Lahore, Tissa traces back to the very commencement of Sri Lankan writers in English and of writers in English from SAARC countries.
Tissa Abeysekara states Thus we preened ourselves on our ability to speak English properly and found the English spoken with Tamil accent, cause for laughter. Those were the times when ethnicity had not yet reared its poisonous hood, and both Sinhalese and Tamils laughed together good-naturedly.
There was a man who wrote in English in the nineteenth century; he was Sinhala, an official of rank in the Colonial administration, and his name was Dandris de Silva Gooneratne.
He wrote an essay on Demonology to the Royal Asiatic Journal of 1868, it immediately acquired seminal status. Lord Macaulay, read the essay, and was impressed enough to write to Dandris de Silva personally. In the letter, the imperial agent observed thus: Of all my imitators, writing in English, you seem to have come closer to stimulating basic elements of my style. Dandris Silva was immediately christened as "Ceylon Macaulay".
Even though Ceylon had a writer who wrote as well as Macaulay as far back as 1864, our first great candidate for serious critical attention in the world of English creative writing, Michael Ondaatje emerged only in the eighties.
Abeysekara also states that although Sri Lanka produced number of outstanding scholars and scholarly writing in English, they all wrote from the head and something was missing.
The problem was not one of learning the language, or mastering its vocabulary, its grammar and its syntax. The challenge was to integrate language into one's thinking. It is here that both Mulkraj Anand and Bankim Chandra Chatterjee of India, and Lucian de Zylwa of Sri Lanka failed.
Among the fascinating chapters in the section "Reminiscences" is the chapter on Martin Wickremasinghe. It is here that Tissa Abeysekara explains his quest in search of his roots and the vital role the language plays in a culture.
More than his novels, reminiscence like Apey Gama, voyage of cultural discovery like Kalu Nika Seveema, intellectual quest like, Sinhala Lakuna, and awesome treatises like Sinhala Sahitayaye Negeema, conquered me completely.
I was slowly discovering my roots, tracing the contours of my fractured cultural heritage and learning a principle which continued to guide me the importance of language in culture. It is generally accepted that language is the most important and acceptacle conveyor of culture, the code of solidarity among people who share a common past.
The book is a must read for deserving readers who cherish the cultural baggage the bygone era bequeathed to us. It is also the reflection of the contemporary cultural history of Sri Lanka where the cultural scene was dominated by bi-linguals who nourished the vernacular languages as well as the language of their adaptation that is invariably the Colonial master's English language.
---
Nethra Pooja
A rare insight into monastic life:
The exhibition of photographs by Janaka Wettasinghe, explores hitherto unseen aspect of monastic life in Sri Lanka. It is the aspect of omni-present solitude and the renunciation of worldly belongings by the meditating Buddhist monks that Wettasinghe has captured through his artistic eye.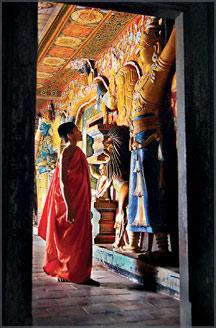 Janaka Wettasinghe is a Deputy Editor of Budusarana, perhaps the only newspaper in Sinhala dedicated to the spread of the doctrine of the Buddha. He travelled far and wide, sometimes on foot climbing steep rocky terrains, into the very core of monasteries to capture quintessence of monastic life in Theravada tradition of Buddhism.
Veteran photographer Lal Hagoda stated The cover picture should be eye-catching and it should also be a correct report on the place of worship or the environment. A significant aspect of Janaka's photography is that he achieved both with the use of theory and the correct use of intrinsic properties of the picture.
Most of Wettasinghe's pictures embody the solitude, calmness, the simplistic and idealistic life the Buddhist monk lead in those monasteries. It is a life in total conformity with nature, with bare necessities.
On one occasion as Wettasinghe was not allowed in, to the monastery, he took a snap of the lonely fleet of stone-slabbed steps leading to the monastery through a dense forest, embodying the omni-present solitude associated with the lives of monastic Buddhist monks.
In his fascinating journey into the untrodden territories, Wettasinghe has taken a novel perspective in portraying some of the rare glances into the order which spiritually nourishes the thousands of Buddhist for centuries.
The exhibits included both famous and little know places of worship. One of the significant aspects of Wettasinghe's photography is his innate ability to capture details from entirely novel perspective.
---
Nirmana (Nava Narthana Prasangaya) and Beri Nada
Creations based on traditional dance forms:
Nirmana and Beri Nada, concerts by veteran dancer Ravibandu Vidyapathi will be held on August 25, 2007 and 26, 2007 at BMICH.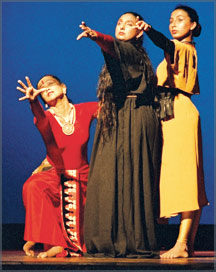 Especially the performance include Ravibandu's three novel creations; two of them are a piece based on message issued by world famous artist, Kazuo Aohno, one of the surviving Butoh dancers (Butoh, a Japanese post-war dance movement and reflects on the consequences of war) and a short message issued by eight-year old student of dance from France on the International Dance Day.
For this unique piece, Ravibandu has used the third movement of Padith Ravishankar's Sitar Concerto no 3. Another piece is based on a message written by an eight year old student of dance from France on the occasion of International Dance Day. One of the important pieces in this performance is the piece based on Shakespeare's sonnet. It is a dance trio.
The rest of the performance includes Ravibandu's previous creations such as piece on Judas against classical music.
One of the highlights of the performance is ballet reflecting the consequences of war through historical and contemporary characters of mothers who lost their sons in the war; Kusumalatha, Ghandari and Heccabi from Trojan Women. Music for the ballet is based on a score by Eero Hamanimi.
A significant aspect of the performance is that though the pieces are contemporary dances, the vocabulary of movements steps from traditional Kandyan dance. Beri Nada show represents a range of drums of Sri Lankan and other parts of the world.
The concert consists of pieces with local and modern drums and music pieces such as Raga and classical tunes have also been added in order to break the monotony.