'True love is great'
Senani speaks of life with Minister Duminda Dissanayake: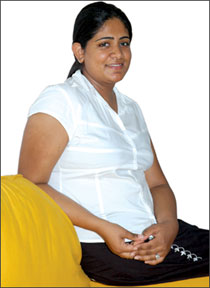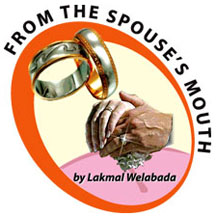 True love is great for true lovers like the young couple whom we are featuring in this column this week. Senani Lanka Jayaratne speaks about her hubby, Duminda Dissanayake, Minister of Petroleum Resources.
A revolutionist in Sri Lankan politics who fosees much promise for the future of the country, Duminda has created history by being the youngest Parliamentarian by breaking the record held by the President Mahinda Rajapaksa. Duminda became a Member of Parliament at the age of 21 years, while President Rajapaksa stepped into the Parliament when he was 24 years.
Though still 28 years of age, the young revolutionist has a wide scope for the future. He has been really fortunate as he has handled three Ministries since he came to power. "He became a MP in year 2000 in the Anuradhapura District.
He was appointed as the Deputy Minister of Vocational Training in 2004-2005, and then the Deputy Minister of Port and Aviation in 2006. He became the Minister of Petroleum Resources last year. Apart from that, he is the Deputy President of the SLFP Youth Organisation which is directly under President Rajapaksa," smiles Senani humbly.
"But I never liked him entering politics," she laughs.
"I imposed three conditions to him before I gave him my consent 'no politics, no drinks and no beard'.... But ultimately I had to sacrifice," she says.
Question: Liquor?
Senani: Aiya has become a social drinker, but has promised to stop it in the future. Question: You call him 'Aiya'?
Senani: Yes, because I got to know him as his our brothers are friends. They were batch mates and best of friends.
I call him 'Aiya'. And if I call him by his name when I really get irritated with him. And he knows that(laughs). He calls me 'Baba' but when amongst others 'Senani' (laughs).
Though shouldering many responsibilities the duo is still a newly married couple. Senani is just 25 years and the young Minister is still 28 years. Amidst the never ending work in the Directorate the two spend quite a few moments with each other.
"Well, at the beginning I used to get annoyed, especially when I heard my friends were going out with their husbands and having a gala time. But later I realised that I have to accept my situation. Luckily I come from a political background too and that has helped me a great extent to understand his position," she says.
Senani is the eldest daughter of the Minister of Plantation Industries, D. M. Jayaratne and Anula Yapa Jayaratne. "I have a younger sister and a brother. I learnt the alphabet at Doluwa Maha Vidyalaya and then entered Mahamaya Balika Vidyalaya, Kandy, and then from Grade 8, I was at Visakha Vidyalaya," she says.
"All five members in our family have been very close to each other. We were brought up in a strict secured background. I was 10 years when my father became a MP. So, unlike our friends we rarely had a carefree life. While our friends were talking about the trips they went on during the vacation, we had nothing very specific to talk about.
Even when we go either to Anuradhapura or Dalada Maligawa, it was also amidst strict security and we couldn't even see the road properly due to the speed of the vehicle we were in. We couldn't get off to go to the bathroom! Our mother used to fill the vehicle with food so that we didn't have to stop.
That was the fate of most of the children of politicians. And that was why I didn't want to get married to a politician. But I did," she smiles.
Duminda Dissanayake is the eldest son of the present Chief Minister of the North Central Province (NCP) Berty Premalal Dissanayake and the former NCP Chief Minister Jayani Thisera Dissanayake.
Apart from former President Chandrika Kumaratunga and MP Anura Bandaranaike whose parents (S.W.R.D. and Sirimavo Bandaranaike) who were appointed Premiers of Sri Lanka, Duminda was the only politician whose parents were in politics and appointed to the same post in the same electorate.
"Aiya has three younger bothers and since both his parents were in active politics, it was he who looked after them. So all three brothers have a great respect for him, and the also scared of him. And that was the very fact that provoked me to give him a phone call," she begins her love story.
"I had seen him only once when I was about 14 years at Ratmalana Air Port when he had come to pick his father back home. Both our families were friends. It was 1995, we just returned from Anuradhapura to Colombo by a Chopper. He looked haughty and swollen headed and didn't even look at us. And my cousins and I were so annoyed. We thought he was proud," she recalls.
"It was December 3, 1998. I was at home after O/Ls. Some of my friends had a crush on Duminda Aiya. But nobody knew that I too had a major crush on him after I saw him at Ratmalana. I couldn't reveal it to anybody as they too were crazy over him.
However, since both his younger brother, Kasun and my younger brother were best of friends, they used to come to our place to play. But Duminda Aiya had imposed a law that his brothers should return home before 6.00 pm. So, Kasun had forgotten about it and was really scared that Aiya would scold him.
He asked me to call him and shape it up saying that I cooked a dish and asked him also to stay for dinner. So I did. But, Duminda Aiya at once said, 'Don't lie. I was there a few minutes ago and saw them playing'. He had come to the gate and was watching," she laughs.
Exactly after a month Senani had a get together with her friends. Giving nuisance calls to known boys was fun at that time for many gals. So they too were up to mischief. When it was the turn of Duminda, however, it was story different. He was serious and it was the beginning of the 'love story. But they kept it as a secret.
On January 30, of the same year he confessed his love for her. He visited their place disguising himself as a computer repairer. Fortunately none of Senani's parents were at home and she was under the care of her Nanny. The very first gift she got from him was a beautiful Rose, perfume and a gold pendent. "But I had to sell that pendent", she says.
"Both of us went to Australia soon after. He was following an IT degree course in Melbourne and I was following a degree in Business Administration in Sydney. Since I was with my aunt's family I rarely had a chance to meet him. But we exchanged letters everyday.
The minimum number of pages of his letters were between 8 and 10. I was became famous among my batch mates as the girl who got the longest love letters in the University.
We phoned each other everyday. But both of us had to spend heavily for telephone calls. I only had pocket money, and when I heard about my O/L results from Sri Lanka, I wanted to call him and inform it to him. That day I had no other choice, but to sell the pendent to find money for the phone call," she sighs.
Question: What are the best qualities you see in him?
Senani: A lot. Duminda Aiya was quite matured for his age. He and his family is hundred percent with people. His mission is to work for the country. And drilling out oil from the Sri Lankan shores is the biggest venture ahead for him. I'm sure he will be a great success, and make a strong and rich the economy in this country. Because of all this he rarely has a personal life.
Fortunately I am from a similar political background, so I could do any sacrifice in the name of politics. Sometimes, a day we attend 13-15 funerals in the Anuradhapura area. Whatever the occasion they have, to name a few, wedding, grown-up party, Dana, Bana, Aiya is invited. Those people think it's a big healthy omen to see him around. And also they are really grateful to all that. Aiya and Berty uncle have launched many projects in the area to uplift the life of the people.
Fifty thousand acres of land were given to people to grow maize on a foreign business venture along with seeds and fertilizer. And people get Rs. 30,000 per acre. And also they provided over 1000 jobs in the newly made garment factory in Mihintale.
At present they are concentrating on developing the standards of the schools in the area. They were also able to close down the illicit liquor dens at Rajanganaya by providing them shops in the town. That was the biggest venture I personally admired of all of their work.
Question: All that as a politician. How is he as a husband?
Senani: Most lovable and adorable, I would say (laughs). He handles everything. He treats me like a child. We have a good understanding for in the nine years of our love affair we talked, fought and got to know each other to the maximum level.
So we have a really good understanding between us. Since our marriage took place on September 27 in 2006, except for a few days I was never apart from him. I always say that though you are a Minister to the world, to me you are just my husband.
We don't have helpers at our Colombo residence still. So he helps me in all the work at home - cooking, sweeping, cleaning, washing and the garden is managed by him. I'm really lucky to have him as my hubby.
lakmal@sundayobserver.lk