Bounces are Back!
Ramzi Rahman:
The lastest low-down straight from the beauty guru's mouth is that trendy styles like wavy hair and bouncy perms are making a comeback. Apparently, word has it that even though straight hair is the 'in-thing' wavy hair is also now in vogue.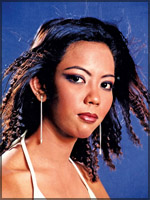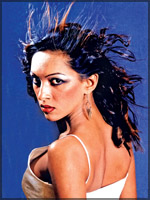 Razz Rahman, the former president's official beautician enlightens about the current trends in hairstyles at his Galadari Hotel Salon. "Lots of bounce and curls are the trend with waves but not the old-style winglets.
More wispy strands of hair with subtle and soft curls with no stiff hairstyles," mentions Ramzi. "In Colombo, people walk on the road and use public transport, so it's not logical to be daring with your hair unless of course you are model," notes Ramzi.
The temporary curl effect is done with a curling iron that is gently swirled around the hair. Thereafter, it is kept for a few seconds, heated and then dexterously pulled out. Depending on the client's hair thickness and length, the time it takes to make the hairstyle differs. This is mostly done for special occasions and parties that require people to spice up their look.
Further on, Ramzi mentioned that highlights and tints are still in but with more of a twist. Many these days opt for the highlights that are a blend of two colours. The more popular colour is a light copper mix rather than the traditional bleach and many even go for 2 or 3 colours blended in their hair.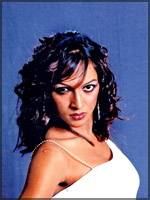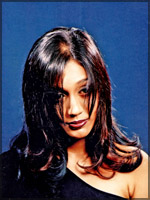 Auburn mixed with red is also the trend but more on a light tone as to blend with the natural hair. Fake hair, lots of wigs, extensions and dazzling accessories are in vogue and look rad for party goers who like to dress in fancy styles.
Highlights and different products to style semi-perms are available along with different coloured spray-on cans. There is another kind of style called 'Carmen Curlers' which is a "Half up and a half down style that goes with not too much of a bun effect" says Ramzi.
Ramzi advises, "Many should be careful when layering their hair and not go in for frizzy perms. Anyone at any age can perm and style their hair but maintenence is important.
Using a proper shampoo and conditioner recommended by your hairdresser ensures that your hair stays healthy" emphasizes Ramzi. A good head massage and olive oil treatment with Vitamin E is also advisable for people who have dry hair. Oily hair should be more careful and shouldn't always treat their hair.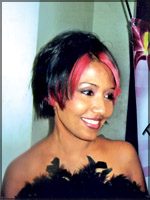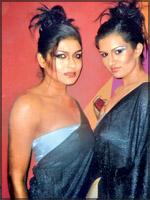 Rams talks about the men "As for the guys, the gelled and spiky hair look is still a rave. However, many are opting for the 'Mohican' look which is a haircut that is short on the right and left sides. Sections are styled and mooused and more innovative styles are being used since people are willing to experiment."
It was highlighted that many are being exposed to the media so now the latest fashions and likes are changing and people want to copy and experiment. "If someone is bold enough, they will try it.
Many people who do it are aren't bothered about what other people think about it," states Ramzi laughingly. He also said that our changing views on fashion and hairstyles reflect much what is on par with international standards and what is shown on the catwalk.
"Many should realise that we can't mimick what is in the magazines because of hair texture and the Sri Lankan complexion. If you do want to go for a massive hairstyle, you should maintain your hair with particular products advised by your hairstylist or beautician if you want to prevent the hair from falling and spiltting at the ends".