Public vigilance saves lives
17 injured in bus bomb explosion in Mt. Lavinia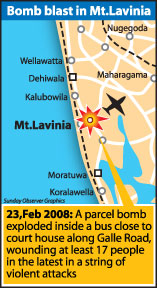 Public vigilance paid dividends yesterday saving several lives after a passenger spotted a suspected parcel and warned her fellow passenger to get off from the bus. The bomb exploded minutes later.
A bomb exploded around 11 a.m. yesterday in a private bus travelling from Moratuwa to Colombo at the Mount Lavinia junction. Seventeen people were injured, including seven women, 10 men and one child.
They were all rushed to the Kalubowila Teaching Hospital with minor injuries. No casualties were reported.
Senior Deputy Inspector General N. K. Ilangakoon said it was reported that a women passenger had noticed a suspicious-looking parcel in the bus and had informed the bus conductor.
"I noticed a parcel left behind on the seat. When no one claimed it, I alerted the bus crew and shouted at people to get off", said passenger Ms. Indrani Fernando, resident of Mount Lavinia.
The driver and the conductor then called upon the passengers to get off at the Mount Lavinia junction until they called the police to check the bus. However, at the same time the bomb exploded.
M. F. Amjadeen, an eye-witness at the scene of the incident said he was walking towards the Mount Lavinia junction and saw people alighting from a private bus.
When he was 500 metres away, the bomb exploded and he saw those who were injured were the by-standers and not any of the passengers. Fernando, another eye-witness said, "I saw the bomb blast and the bus was a total wreck. Then I saw smoke curling up".
The Fire Brigade doused the fire about 45 minutes later. There was panic at the junction.