'A long and contended life'
Preethi speaks of life with veteran actor Ravindra Randeniya:
"Things never went wrong!" declares Preethi. "I never thought he would marry me," she continues. "Even after he came to my place and proposed, my mother thought he would leave me and go soon.
She used to give me examples from the society where handsome playful rich young men had dumped damsels like hot potatoes when they found another. My mother had little faith in him. She thought he would leave me sometime after the marriage.
She never had any personal grudge with him and always liked him, but was really scared about it as he came from a popular rich business high class background, and we, compared to them were lower middle class family with little means. But, things never went wrong!" she repeats enthusiastically.
"A woman might stay with her parents a few years more than twenty, and would spend rest of her life with her husband. So, eventually when you stay that long together, you tend to strengthen your bond with that party.
People have ups and downs in their lives, and assess their past years as 'good', 'ok' , 'bad' or 'worst'. I stayed with my parents only for twenty years, and have been with 'Ravi' for thirty three years, and I will declare that I've have had a wonderful time.
I'm proud to be his wife," Preethi laughs continuously. Living with a popular actor or actress for that long leading a contended life is 'not that easy'. But we rarely find such spouses; like Preethi, the proud and happy wife of one of our popular and leading actors, Ravindra Randeniya.
Preethi Pramila Seneviratne was born on June 2 in 1954. When I (the writer) asked whether it was ok to publish their age, she went on to say, "Never mind, many know our age. We are adults with three grown up children."
Question: But, generally actors and actresses hide their age.
Preethi: Why hide now? (laughs continuously)
Preethi was the 'Lucky Seventh' of the nine children in her family. Her mother Enid was a housewife and her father Leonard Seneviratne was working at 'Ceylon Theatres'. And that means she has had some connection to the cinema.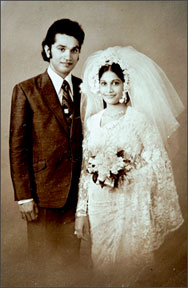 "Our family consisted of six brothers and three sisters. We were living down Dharmarama Road, Ratmalana, and had our education at Dharmarama Vidyalaya, Ratmalana.
We had an extremely free life during our childhood. The environment of that area was soothing and we used to be part of it quite often. The sea was just down about 50 yards away.
There was a coconut grove along the beach and we used to play hide and seek there. Today, after 20-30 years when we pass that area, it is shocking to see the change; as it's all packed with buildings. The whole area has become a concrete jungle.
Now, none of our family members live there. And I feel really sad when I recall the happy past memories," reminisces Preethi.
Question: Tell us about your school days.
Preethi: Hmm... I was more on the studious side, and rarely attended to any extra activity when I was schooling. Since ours was a big family we had a lot of things to do at home. We used to have dramas and musical concerts at home.
Our mother was a very fair and pretty lady full of energy and benevolence. She was so active until her last breath. She spent her autumn of her life with me and died three years back (says Preethi with tears in her eyes).
It was she who kept all of us, the siblings together. And we are still the same, living as one family. Even Ravindra's sisters and brothers are also very united. I'm very happy and fortunate to be part of two such families.
Preethi had just finished her O/Ls when her cousin, popular singer, Lakshman Wijesekara spotted her talent. "Lakshman Aiya who saw me staging dramas at home asked me to take up the role of the 'Gama Duwa' (village damsel) in 'Nari Bena', the stage drama.
So I went for the interview with the director Dayananda Gunewardane, along with my mother and Lakshman Aiya. The rehearsals of 'Sailasana' had been taking place at the same venue. Popular actress, Chandra Kaluarachchi who saw me there asked Lakshman Aiya to ask me to join me their drama troupe as there was a vacancy for the role of the daughter of 'Shakkra' (the king of heaven).
And I stepped as the Shakkraya's daughter (laughs). It was my first performance," she recalls. However, since the production of 'Nari Bena' got delayed and by the time it was on stage Preethi had already bid farewell to acting.
Tissa Abeysekara's documentary, 'Sahan Eliya' was her second appearance. Mean while, Sumithra Peris selected her for her famous film, 'Gehenu Lamai'. Simultaneously, Lester James Peris was directing 'Desa Nisa' film at Galigamuwa.
So he asked Preethi to act a small role in it as a rehearsal to face the cameras. Even at the auspicious time it was Preethi's face that was taken as the first shot of the film. The famous director might have assumed that the 17 year old damsel would bring luck to his newest film. Yes, it did. And not only to him but also to the main actor of the film, Ravindra Randeniya.
"It was Ravi's second film. (His first film was 'Kalu Diya Dahara'). Shriyani Amarasena and Joe Abeywickrema played the other two main roles. I read an article which appeared in 'Sarasaviya', the film weekly, of an interview with Lester who had praised Ravindra, his newest introduction to the cinema.
So I was wanting to see this new guy. I finished my part in the film and was to go back home in another days' time. When I told Shriyani Akka that I like to see the new actor, she said 'Aiyo, Nangi, you are going to miss his as he would reach here in two three days time. You would be already gone by that time.'
So, I just thought ok. But, unexpectedly, after ten minutes Ravi reached the location. He was scheduled to come later, but something had made him to come early. So, Shriyani Akka at once announced him aloud to me. I was so embarrassed and didn't come out of the room the whole day even for meals.
The following day, Ravindra, himself peeped into our room and inquired about the new girl who was waiting to see him. I was so shy at first, but later began to talk to him," she recalls.
Though Ravindra promised to visit her place, Preethi never dreamt to see him at her doorstep. She didn't even bother to give him her address. His arrival was a sheer surprise! 'Duhulu Malak' was the very next film in which both Ravindra and Preethi got the chance to take part.
Preethi played the role of the private secretary of Ravindra. She had to paly the role of the girl who was interested in her boss (Ravindra) and was spying the clandestine affair between him and his mistress (Nita Fernando).
While Ravindra was playing a love scene with Nita Fernando before the film camera, the real love scene of Ravindra-Preethi was building up behind the camera. Ravindra and Preethi tied the knot at All Saints' Church, Borella on October 31, 1974.
Boniface Perera was born on June 5 in 1954. Kelaniya, Dalugama is his home town. Popular businessman, L.P.Perera at Dalugama, Kelaniya and Caroline were his parents. Boniface was the second of the six in his family.
Though he studied in the science stream at St. Benedicts' College, Kotahena his heart and soul was with arts. His father always wanted his studious son, to be a doctor. After sitting for the A/Ls, Boniface just joined the drama workshop of Dhamma Jagoda for fun, but it changed his life completely. And that was how the to-be 'Doctor' became an 'Actor'...
Now, who is this Boniface Perera? A few veterans including Prof. Ediriweera Sarachchandra decided to change his name to suit the Sinhala cinema screen. And since then, Boniface Perera became 'Ravindra Randeniya', whose name has made a mark in history not only in cinema, but also in politics.
The number of awards Ravindra had won for his talented performances in the silver screen are countless. More than anything the award he won from the public is exceptionally exorbitant. Ravindra is a well versed person who would talk about many subjects including art and culture, cinema and international politics.
He was first invited to compete for the Mahara seat under the UNP ticket during President R. Premadasa's era. "He didn't accept it as the late Vijaya Kumaratunga was also competing for the same seat from the People's Front party.
Vijaya and Ravi had been very good friends since their school days. They were class mates at St.Benedict's. Both of them stepped into the cinema also together, and both came to politics simultaneously," says Preethi. Ravindra accepted the same offer and won the Mahara seat during Ranil Wickremesinghe's Prime Ministership in the beginning of this Millennium. Ravindra was a MP for a period of four years.
Question: Did you like him entering politics?
Preethi: Actually, no.. Even our children didn't like the idea as we all thought the fame he built up through his talent in the cinema is more valuable than being in politics. In fact we thought it would harm his identity as an actor too.
But he wanted to be in politics. So, all of us including our families, and even everybody in the cinema helped him to acquire what he wanted. But, later he decided on his own to move out from active politics a bit. But he has always said that if he is given a duty he would render his utmost service. He wants to work for people.
Question: Last week he was appointed as the President's Advisor for Cinema by the President Mahinda Rajapaksa. So, he has scope for the future in this sense?
Preethi: Yes. He is very happy about it. And I personally think he got the right subject to handle as he is well versatile in it, both by his own experience and by reading.
Question: You revealed to us your romance which is also like a film. How is he as a husband, and what is it like being a wife of a popular actor?
Preethi: He asked me to quit from cinema. I had to do it. I never cried over it as when both of us were busy going out for filming for months it would have been a hell at home, with no proper family life. He was very protective, and he never took his eyes off me when we went out for functions.
I was just out of my 'teenage', and he was nine years older than me. So, I was scared of him (laughs).. Also I've never heard bad rumours about him. Ravi has a personality which many tend to interpret as being proud.
At the beginning I used to get bored and really jealous when he was out from home for months. It was terrible as I came from a large family, and I felt caged in all of a sudden.
Also I missed him so much, so I used to nag him often. But later realised the mode of his busy job. And both his and my families have been there for us through out. Even his absence didn't affect me that much, especially when looking after our three children.
Ravi came from a strict Catholic background, and I was a Buddhist. I never thought his mother and family would give their consent to our marriage. And Ravi's only request for me was to convert myself to his religion. And his family did like me. How all these happened I don't know. I think it's fate.
Today, he worships in his shrine room upstairs, and I do my religious activities according to Buddhism in my shrine area downstairs. We celebrate both festivals; the Feast, Christmas, Aluth Avurudu .... All the members of both families love to gather at our place.
Question: Your children..?
Preethi: My husband is a very lucky person, I would say... I've noticed that if he needs something he would somehow get it. He is a policy man and self disciplinarian. He was strict with his children when they were small which was a great help for me. Our two sons Suchindra Rishi and Sameera Marawarana were born in 1975 and 1980 respectively, and our daughter, Umayangana Indrachapa was born in 1982.
Our elder son got married last year, and all our children are in Australia. The second and the third are still studying. All three mastered in Management. So we are very proud of them (smiles with tears).
When she talks about something sensitive, Preethi gets really emotional. This might have helped her to develop her poetic talent. She has published nearly 15 books, mainly for children of poems.
"I used to recite stories to my children when I was feeding them when they were small. So they used to ask me to write and keep them to read when they were big. That is why later I put my stories in print (smiles).
Question: Your future hopes?
Preethi: Quite contended. And no sky browsing hopes. Would like to see our children doing well, and also to live happily and in harmony with everybody.