Expiry dates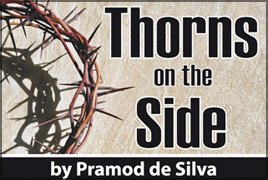 The recent death of a child, possibly as a result of consuming a bottle of carbonated beverage which was well past its sell-by date, has again ignited the debate on the expiry date of goods.
It is no secret that 'expired' goods (food and drink) are on sale with many merchants, who may be doing it wittingly or unwittingly. Just a few days ago, officers of the Consumer Affairs Authority's, Nuwara Eliya branch raided two wholesale shops in Hatton and seized 50 bottles of outdated fruit juice kept for sale. A spokesman for the Unit said the outdated bottles were mixed with bottles of fruit juice, which had a shelf life of about three more months and packed in cardboard boxes to be dispatched to retail shops in Nallathanny and its outskirts for sale to Sri Pada pilgrims.
There could be two scenarios here: the store owner may know that the goods are long past the expiry date or he may not know it at all.
Either way, the only possible conclusion is that both consumers and traders do not know enough about the importance of expiry dates.
The expiry dates on food, drink and medicine are there for a reason - consuming such items after the sell-by date may be dangerous and even fatal. Of course, one may just end up with a slight discomfort in the abdominal region if all goes well, but why take a chance with something that may have gone bad ?
It is time that traders are educated on the significance of expiry dates. Traders should regularly check the expiry dates on the products on their shelves and remove any product(s) that had stayed beyond their welcome. Another point worth mentioning is that some sales representatives turn up only a few times a year especially at remote locations. By the time they come again, the previous stocks may have expired, without the traders even realizing the fact.
The expiry date itself may be indicated on products in several ways. Some products have the legend "best before" which sometimes means that the product could still be consumed after the date indicated, albeit with a loss of flavour or crispness. But this is not the case always, so it is better to strictly stick to the date indicated. With products which have a "date of expiry", especially medicines, no chance should be taken at all.
In any case, the expiry date depends on one crucial factor: storage conditions. In other words, the expiry date may be nullified if the goods are not stored properly. All goods have to be stored according to the instructions given on the packaging. The manufacturer may request "cool and dry conditions", "keep away from sunshine", "do not keep near flammable liquids", "Keep frozen/refrigerated" etc. These instructions should be followed to the letter, lest the goods become stale and unfit for human consumption.
This is especially so with goods that have to be frozen or refrigerated. It is vital to heed the instructions of the manufacturer. If the manufacturer recommends a temperature of less than 1 C and the temperature inside the refrigerator is 4 C, there is a very high possibility of the product going bad. Some store owners also habitually turn off their freezers and refrigerators at night to save power (and reduce their electricity bill), which adversely affects the shelf life of frozen products. In fact, around two years ago, a child in the Western Province died as a result of consuming sausages bought from a shop which had engaged in this practice. Thus educating store owners on the expiry dates, storage conditions etc is of paramount importance.
The next step has to be taken by the consumer. Most consumers still do not look for the expiry dates of the products they buy. Instead, they blindly add them to their basket (at supermarkets) or let the store owner hand them over (at a grocery store). It is obviously in their interest to look for the expiry date - it may not be obvious at first in colourful packages. Most canned products have it at the bottom while bottles have it in the neck.
It is best not to buy any product whose expiry date has been obscured or tampered with in any way. Also check whether any seals have been broken. Be wary of products which vaguely mention, say, a "shelf life of 24 months" without necessarily mentioning a date of manufacture. It must also be borne in mind that products other than food, drink and pharmaceuticals could have an expiry date - one doesn't often think that a mosquito coil pack could have an expiry date, for example.
When a customer asks for a product, most grocery store owners just wrap it up and hand it over. Consumers must take the time to take it out and inspect the expiry date without just taking it away. Always insist on a receipt (sometimes called "Proof of Purchase") where possible - if you find that a product has gone bad after going home and opening it, that is your ticket to a replacement or a refund as the case may be. Complain to the store owner and the Consumer Affairs Authority when you come across such instances. The customers must adopt a proactive stance to fight for their rights.
Of course, the customer also has to heed the relevant instructions for storage. If a product calls for consumption "within three days after opening", then so be it. If the contents of a packet has to be transferred to an airtight container, that has to be done. If they want you to use a dry spoon, using a wet spoon will affect the shelf life.
Overall, there has to be greater awareness on expiry dates among consumers, traders and even the authorities. We must look at how other countries implement laws regarding expiry dates. The print and electronic media should have a vigorous campaign on the issue to educate every segment of society. After all, this is one instance where the small print can and does save lives.