Lesson for Michael Ondaatje from Sri Lanka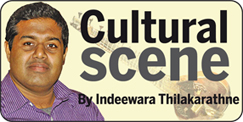 Having written a few more columns on neo-colonial Galle Literary Festival and their owners who provide fun and happiness for chosen ones in Galle, perhaps using British Council funds meant for Sri Lanka's cultural program, I want to digress and share some thoughts on what lessons some of our local writers could offer, for example, Sri Lankan-born Canadian novelist, the Booker Prize winning author, Michael Ondaatje.
In this week's column, I intend to look at the work of Michael Ondaatje as a novelist and suggest that there may be lessons for him to learn from a new brand of literati who are very capable (in their own way) of producing at least one novel each for annual Swarna Pusthka Samana (Golden Book Award) which some perceive as one of a life time reward equal to Sri Lanka's Booker Prize.
This new brand of literati, though far behind Ondaatje in terms of quality and the content of their literary productions, but light years ahead of him, in terms of the speed of churning out fiction which is almost closer to the proverbial speed of light.
Ondaatje's work
It is pertinent to examine Michael Ondaatje's literary career to identify how his creations have evolved and how he has achieved universal acclaim. It is obvious that Ondaatje has developed his impressive style of writing through sheer discipline and meticulous research.
These factors make Ondaatje's work universally appreciable and contribute to their lasting value. His elegant style of writing was first observed in his very first novel, Coming Through Slaughter in 1976 and mastered in The English Patient (1992).
I would like to examine, albeit, briefly, the career of Ondaatje as a novelist, although he has played a significant role as a poet. Coming Through Slaughter is Ondaatje's first novel which was published in 1976 and he won Canada's First Novel Award the same year. The novel is based on the life of the New Orleans' pioneering jazz singer, Buddy Bolden. It covers a fictionalised version of the last months of Bolden's sanity in 1907, during which his music became more radical and his behaviour more erratic. A secondary protagonist of the novel is the photographer E. J. Bellocq. These historical characters are portrayed drawing on their actual lives. However, Ondaatje departs from "facts" to explore the central theme of the novel focusing on the relationship between creativity and self-destruction.
The English Patient (1992) which was turned into movie by Anthony Minghella starring Ralph Fiennes and Juliette Binoche won an Academy Award for the best film in 1996. The novel which stands out for its impressive narrative style is focused around four people coming together in an abandoned bombed monastery, during the final days of World War II: Hana, a young Canadian nurse and her horribly burned patient, nick named English patient, a vengeful Canadian soldier named Caravaggio, and an Indian soldier working for the British army. Their stories of the past and the present demonstrate how lives are caught and changed by the circumstances of war.
Anil's Ghost (2000) deals with the conflict in Sri Lanka and his latest book Divisadero (2007) revolves around a single father and his children: Anna, his natural daughter; Claire, who was adopted as a baby when Anna was born; and Cooper (Coop), who was taken in "to stay and work on the farm" at the age of four when orphaned. Subsequently they all found their ways in life.
Though Ondaatje is better known as a novelist, his canon of literary works spread over diverse genres ranging from autobiography, poetry and film. One such important work is his semi-fictional memoir of his childhood in Sri Lanka entitled Running in the Family (1982).
Besides them, he has published 13 books of poetry. For two of them, he won Canada's Governor General's award. The documentary on Poet B.P Nichol, Sons of Captain Poetry and The Clinton Special include three documentaries that Ondaatje produced. Ondaatje published a non-fictional book in 2002 entitled The Conversations: Walter Murch and the Art of Editing Film. The book won special recognition at the 2003 American Cinema Editors Awards and Kraszna-Krausz Book Award for best book of the year on the moving image.
A significant factor of Ondaatje's literary journey is that the sheer amount of time he invests in and spent on research, before writing a novel. Interestingly, the Booker Prize winning novelist took seven years to write Divisadero (2007) after publishing Anil's Ghost in 2000. This is in contrast to the practice of a group of Sri Lankan literati who almost write novels annually, apparently, with the intention of presenting them to literary awards such as Gratiaen Award and Swarna Pusthka Samana (Golden Book Award).
Ironically, the Gratiaen Award was founded by Ondaatje himself with the lofty goal of producing Sri Lankan literati in English who would follow Ondaatje's foot prints and would become internationally acclaimed authors.
However, contrary to its objectives, The Gratiaen Award has proved to be counterproductive and over the years reduced to a label for literary works of dubious quality. If Gratiaen Award has contributed to the lowering standards of Sri Lankan literature in English, and indirectly promoting pidgin writing, Swarna Pusthka Samana has done the same in Sinhalese literature.
Writing fantasy fiction annually
The most appropriate metaphor for the high speed Sri Lankan literary production is like making hoppers (Appa) in a plain hotel! Our annual literary productions are glamorous in appearance and yet with little or no substance. A group of literati has emerged who annually write novels, poetry (some of them are sentences broken into lines under the label of Haiku!) and short stories with the objective of grabbing awards.
Those Sri Lankan literati may be far ahead of Michael Ondaatje in terms of their light speed writing! Why not Ondaatje visit Sri Lanka soon to meet our speed writers, and learn how to write fantasy fictions annually? We are happy to provide names of our speed writers!