CULTURAL DIARY
Royal College celebrates 'PASCH DAY' on grand scale
Royal College Colombo, recently celebrated 'PASCH' Day on a grand scale. Chief guest was Jens Uwe Ploetner, Ambassador of Germany in Sri Lanka.
Also present on the occasion were Dr. Stefan Weckback, Charge d' Affaires of the Embassy of the Federal Republic of Germany, Director of the Goethe Institute Bjorn Ketels, Principal of Royal College Upali Gunasekera, Deputy Principal Royal College and Sri Lanka's National PASCH Coordinator Mrs. Lakshmi Attygalle.
The event opened with the throbbing of Sri Lankan Thammattan and Getabera fusing harmoniously with 'Vollmond', a popular German song. The entire morning took on a typical German flavour with the colours of the German flag and haunting German music.
Royal College also launched 'ROYAL.DE', its first ever publication in the German language. The winners of the Youth Film Competition conducted by the Goethe Institute also received their awards from its Director Bjorn Ketels and Mrs. Brigitte Wimaladharma.
---
Book Buzz and British Book Fair
A "Book Buzz" event featuring Premini Amerasinghe and Asgar Hussein, both authors short-listed for the Gratiaen Prize 2009, will be held at the British Council on Friday March 11 at 6.00p.m.
The book buzz is held in connection with the British Council Book Fair 2011featuring many leading book sellers selling both local and international books.
---
Exhibition of Photography
A rare exhibition of photography by P.U.D Perera will be held at the National Art Gallery, Colombo 07 from March 11 to 13. A concert containing songs of the drama PUD Perera produced will also be held at the John de Silva Theatre, Colombo 07 on March 13 in connection with the exhibition.
---
Upeka Nirmani live in concert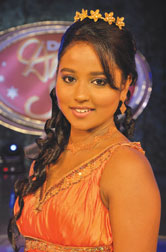 The exclusive concert by Upeka Nirmani, the youngest singing sensation and winner of Derana Dream Star season 2 will be held at Ananda College Auditorium, Colombo on March 11.
---
Embrace me
The first solo exhibition of paintings by Pathum, Vithanage will be held at the Lionel Wendt Art Gallery, Colombo 07 from March 11-13. The exhibition will be opened on March 11 at 5.00 p.m.