Battaramulla – Janakala Kendraya:
The paradise of traditional craftsmen
The handicrafts are beautiful and elegant and also of high quality, it is unbelievable that items which cost so much to produce are sold at such low prices, that's why we came all the way from Hikkaduwa to your centre, a young Australian tourist Mark Gregory and his wife Jennie who were at Battaramulla, `Janakala Kendraya' said.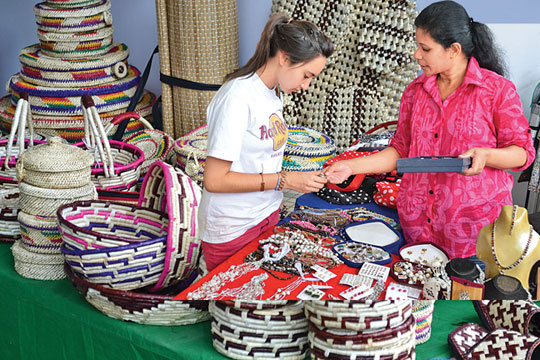 Mark and Jennie had come to Sri Lanka on October 15 to the spend their holidays for just two weeks and go back to the Maldives, but suddenly they had to cancel their Maldivian trip due to the busy schedule in Sri Lanka .
During their stay here they planned to visit places such as Hikkaduwa Coral Gardens, the Kandy Dalada Maligawa (Temple of the Tooth), The Botanical Gardens at Peradeniya, Sigiriya Rock and also to the Pinnawala Elephant orphanage.
When the Sunday Observer met the couple at Battaramulla, Janakala Centre, Mark said they extended their tour in Sri Lanka for a further three days. He said they were brought to the Janakala Centre by a tour guide whom they met at Hikkaduwa. He said before arriving in the country they had browsed the Sri Lanka Tourism Website and selected to visit only five places during their two weeks tour.
"But, when we came to the Janakala Centre, we decided to cancel the Maldivian tour with the intention of visiting this village at least for two days, so that we could buy some traditional items for friends in Australia".
He said a large number of traditional items such as batik clothes, brass and silver items including lamps and statues, wood carvings, handloom textiles, wall decorations and clay products and many more are very cheap at the Janakala Centre.
"We were amazed when we heard about the low prices of some items as the same items are very expensive at many other places in Colombo,".
He said he bought a bronze statue of a god at Rs. 3,750, but the same statue is sold between Rs. 7,000 and Rs. 8,000 in certain popular shopping arcades in Colombo. He called upon foreign tourists to visit the Craft Village at Battaramulla once and see the difference.
"I will also ask my friends to visit the Janakala Kendraya to purchase handicraft items as they are very cheaper when comparing to other places in Colombo,".
Mark said although they planned to stay at the village one night, but gave up that idea owing to non availability of accommodation facilities.
The Handicraft Marketing village at the Janakala Kendra complex was opened last year to help craftsmen in the country to sell their products under one roof. The village was opened by Minister Basil Rajapaksa.
The National Crafts Council (NCC) was opened in 1982 by the then President Ranasinghe Peremadasa to help craftsmen and also to preserve the age-old handicraft industry in the country.
The village is on a five-acre picturesque land at Pelawatta, Battaramulla which is in close proximity to the Sri Jayawardanapura Parliamentary complex and only 15 minutes drive from the city of Colombo. It also takes less than 50 minutes to travel to this village from the Bandaranaike International Airport, Katunayaka. Anybody who visits the village could see the green environment and vast climatical changes.
The craft village has about 30 stalls which are run by local craftsmen representing all districts. Some of them have their workshops within the village while some others run only sales centres. In addition to local tourists, a large number of foreigners too visit the village almost everyday.
The traditional handicrafts that are available in the village are batik creations, handlooms, wall decorations, table cloth, bobbin lace creations, rattan creations, silver jewellery, oil paintings, bronze creations, interior house decorations, garden decorations and palm related handicraft creations.
NCC, Chairman Buddhi Keerthisena in an interview with the Sunday Observer said the craftsmen in the village provide only high quality local handicraft to visitors at very affordable prices when comparing to the prices in the open market in Colombo and other tourist destinations. "Sometimes, we sell very valuable local crafts such as silver plated elephants, wood carvings, bronze creations such as oil lamps and handloom textiles at 30 to 40 percent discount rates since our objective is to help local craftsmen in their endeavour of manufacturing more items," he said. Keerthisena said arrangements have also been made to conduct variety shows such as dancing, thovil ceremonies and cultural pageants at the craft village during weekends and holidays for the benefit of local and foreign nationals who would like to see traditional artistes performing. He said some foreign tourists visit the village not only to buy items, but also to spend the day as they generally do at hotels in down South or in Nuwara Eliya and Kandy and other places.
"This encouraged us to start a hotel complex with all the facilities within the craft village, so that foreign tourists could even stay at night,". The Chairman further said steps have been taken to bring more foreign tourists to the craft village in the future under a special program, already launched in collaboration with Sri Lanka Tourism.
The village has been constructed on the lines of the famous Indian handicraft village, `Dilli Hert' The stalls are open everyday including holidays and according to statistics over 100,000 local tourists and 20,000 foreigners visit the village every month.
The NCC has also started craftsmen exchange programs between Sri Lanka and India to encourage our craftsmen to visit handicraft villages in India. In addition, the NCC also conducts annual trade fairs in Kandy, Kataragama, Ratnapura and Galle to encourage craftsmen to expand their sales. According to many craftsmen in the village they have no fixed monthly income as it depends on the arrival of the number of customers. Some craftsmen earn around Rs. 60,000 a month, while the monthly income of some others are less than Rs. 30,000. They are of the view that only authorities could develop this traditional handicraft industry by initiating new programs to bring foreign tourists to the village. A 56–year-old James Perera who owns a wood carving stall said the Sri Lanka Tourism could play a major role to bring tour groups to the village, if so all craftsmen will be able to sell their products within short periods. A brassware and Jewellery stall owner Susil Rajaguru said there is no proper bus service to the village from Colombo and proposed the Sri Lanka Transport Board to start a direct bus service, so that people could comfortably visit the village. The owner of Sriyani Jewellery House, S.M. Sriyani wanted school authorities to bring students with their parents to the village to show the craftsmanship of our people as it will also help them to sell their products.
Nimal Premasiri of Silver Design said the livelihood of craftsmen in the village depended on customers and requested Government authorities to hold conferences and other meetings at the Craft Village hall.
"This will also help us to sell our products to people".