Koster's curse invades natural forests!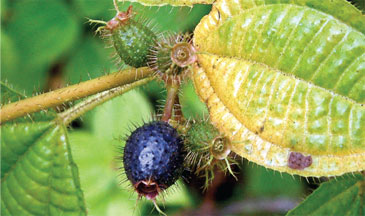 We know what a 'curse' means - a wish that harms or hurts another. Then what about 'Koster's Curse'. It a curse befel our rich fauna and also fertile soil structure, then it is simply a 'botanical curse'.
Being an invasive plant known among locals as 'Katakalu Bovitiya, 'Boo Bovitiya' and 'Kaka Bovitiya', Koster's Curse with the scientific name Clidemia hirta and belonging to Melastomaceae family has now fast spread in the country's wet zone and has become a severe threat to indigenous plant species."Boo Bovitiya is one of the world's worst alien invasive plant and it is among the world's ten dangerous plants.
What is Koster's curse
Between 1880 and 1886 a man by the name of Koster was working to establish a coffee plantation in Fiji, when he accidentally introduced some of the seeds of Clidemia hirta in his coffee stock. By about 1920 islanders realised the widespread problems of this plant, particularly in coconut groves, and called it the 'curse'. Later Koster's name was attached to it and it was called Koster's Curse. Since its early introduction to Fiji it has spread to many other tropical islands and caused major problems as an invasive species.
This plant needs to be removed immediately from the environs as it has already become a threat to our plants", Sajeewa Chamikara of the Environment Conservation Trust (ECT)said.This a coarse perennial shrub growing up to six feet tall with stems covered with red bristles. It generally grows from 1 to 3 feet in height. The unique features of this invasive plant is that its leaves which are slightly hairy with five major veins originating at the base of the leaf and extending all the way to its tip. Boo Bovitiya flowers with five petals are small and white.
It produces small bluish-black berries.Boo- Bovitiya, an invasive shrub, believed to be a native to South America, was introduced as an ornamental plant to Sri Lanka and naturalised in several tropical countries. It is widely distributed along rain forest pathways and streams of wet and montane zones. Also in roadsides and disturbed grounds of lowland wet zone to tea estates in the upcountry. Propagation is mainly due to seeds spread by birds - Yellow - browed Bulbul, White - browed Bulbul, Black - capped Bulbul, Yellow - eared Bulbul, Legge's Flowerpecker and Small Flower pecker.
The shrub has become common in wet open or disturbed places with abundant moisture. Boo Bovitiya can grow vegetatively and reproduce throughout the year."Its success as an invasive species is due to prolific seed production, high seed viability, rapid growth, broad environmental tolerances, and abundance of dispersal vectors including birds, pigs, and humans.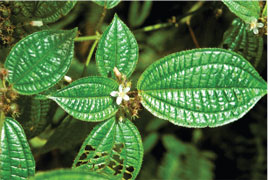 The shrub spreads rapidly into forest gaps that have been opened due to disturbance. Once it becomes established Koster's curse forms dense monotypic stands that shade out all the understory vegetation", he said adding it can suck out the nutrients from the soil very fast, making it difficult for other plants to live.Koster's Curse originated in Central and South America and later spread to Mexico to Paraguay and unfortunately the plant started spreading in Fiji, Australia, South East Asia and Hawaii.
The plant became a curse to the fragile ecosystems of Hawaii, where it was first recorded from the island of Oahu in 1940 and by mid 1970s it spread in over 90,000 hectars. Now it is found on all major Hawaiian islands.Explaining the impact of Boo Bovitiya, Sajeewa said the plant has the ability of spreading rapidly disturbing without any natural predators. According to ECT findings Boo Bovitiya has become a threat in 10 districts - Colombo, Gampaha. Kegalle, Ratnapura, Galle, Matara, Kandy, Nuwara Eliya and Matale. "Boo Bovitiya has raidly spread in the environs of the Sinharaja forest and also Sri Pada. Swathes of this plant can be seen in almost all the forests in the wet zone.
It grows like a bush, blocking sunlight for other plants below it", he said adding that the rapid growth of this plant has affected plants growing underneath."Its spread threatens indigenous plants that grow in the same areas. There are also fears that the rapid spread of the shrub could harm the ecological balance as well as threaten wild life like elephants", he said.The environmentalists said the responsibility of destroying and controlling spreading of Boo Bovitiya is on the hand of the Forest Department and the Department of Wildlife Conversation (DWLC). Sajweewa said destroying Boo Bovitiya was easy as bushes around one plant would be easily uprooted and need no machinery to uproot the plants. "As it prop up from the roots, the best way is to uproot the entire plant without leaving roots.
The uprooted plants need to be burnt to prevent them re-growing", he said.The environmentalists said lack of knowledge how this worst invasive shrub make a huge impact on local ecosystem was one reason to its rapid spread. They pointed out one effective measure to eliminate Boo Bovitiya was to educate people, especially the villagers and children on the harm that this plant cause to our own plants and soil.
Pix courtesy - Environment Conservation Trust