Plant nursery owners commend relocation :
Facelift for horticulturalists
When a group of British tourists who wanted to visit Nuwara Eliya to see varieties of Sri Lankan flowers and foliage, they were taken by surprise when the local tour guide took them to a newly opened flower plant nursery in Battaramulla.
A member of the tour group who had earlier visited Nuwara Eliya on more than three occasions, realised that the guide had taken them to a flower nursery similar to the one which was at the Viharamahadevi Park in Colombo.
A section of the Viharamahadevi Park in Colombo which was opposite the newly constructed Mahinda Rajapaksa 'Nelum Pokuna' auditorium was at one time known as the paradise of flower plant nursery lovers.
In the days gone by, the park was filled with people who came from all parts of the country to buy varieties of rare flower plants and also foliage.
The nursery is now located in Battaramulla, near the Waters Edge Hotel Complex.
According to a flower plant seller, the decision taken by the Government to shift the nursery to Battaramulla from Viharamahadevi Park was a good decision.
When the Sunday Observer visited the flower plant nursery at Battaramulla last Sunday, the Secretary of the Tropical Plant Growers Association, Indraratne Mallikarachchi said the heavy traffic jam near the Viharamahadevi Park, especially during the evenings, to for visitors and they found it difficult to park.
"I think this is a wise decision taken by the authorities to shift the flower plant nursery from Colombo to Battaramulla, since visitors could now without hindrance visit our stalls to buy plants."
According to Indraratne, seven plant growers' societies hold flower plant exhibitions in Battaramulla every weekend.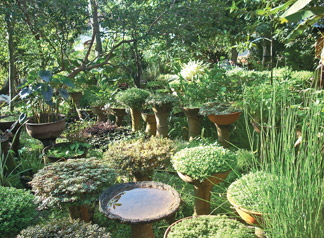 Some of the popular plant nursery sellers at Battaramulla are CND Plant Nurseries, Ayoni Wickramanayaka Plant Nursery, Nishantha Palliyaguru Plant Nurseries, Lakmini Kuruwitage Flower Sellers, Ramya Gunatallaka Plants and W.L.D . Indika Plant Nursery Sellers.
"Each flower plant seller has to pay Rs. 4000 to the Urban Development Authority during weekends for conducting nursery exhibitions and in addition we have to spend a large sum of money for TV advertisements to popularise exhibitions among people, for security, electricity and for water supply".
He said some stall owners earn between Rs. 20,000 and Rs. 75,000 during a weekend, depending on the sale of high valued flower and foliage plants.
Indraratne showed a rare plant named Cycnds encephalitis (Madu plant in Sinhala) and said that it costs around SLR. 30,000.
He said some flower plant lovers are in the habit of purchasing costly plants, even paying as much as Rs. 45,000.
A long-standing flower plant seller at Battaramulla, Gamage Perera of Koslanda said he recently sold a rare flower plant for Rs. 68,000 to a businessman in Kollupitiya.
"Although I am a bird lover, I have never spotted such a rare and beautiful flower plant in my life. During one of my visits to the Sinharaja forest, I saw it and quietly uprooted and brought it home. The businessman visited my nursery following a paper advertisement".
He however, lamented for uprooting such a rare flower plant from the sacred forest range `Sinharaja' and appealed plant lovers to refrain from committing such acts.
A prominent horticulturist at Ambewela in Nuwara Eliya, Joseph Nugawela said he too runs about three flower plant stalls at different places, including at Battaramulla every month and said, unlike in the past, horticulturists face many problems now.
"The prices of the main components which are used in the flower plant cultivation such as river sand and fertiliser are very expensive and people who are involved in the cultivation face untold hardships".
He therefore proposed the Government to look into their grievances and help them at least by asking Area Divisional Secretariats to provide sand at reasonable prices and also, provide them fertiliser at subsidised prices.
He also said many people who are involved in selling flower plants are not in a sound financial position and urged the authorities to encourage them at least by granting them bank loans.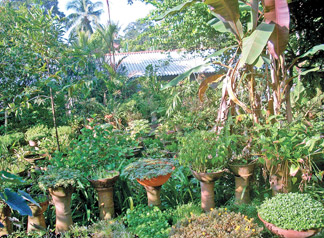 Flower plant exporter, M.R. Dias said horticulturists generally bring a colossal sum of foreign exchange to the country by exporting flowers and therefore urged the Government to give them bank loans to uplift their plantations.
He said flower plant exhibitions should be conducted under the purview of the state and should be held at main junctions at least twice a month to encourage people to take to selling plants.
Nuwan Guruge of Ratnapura said he would appreciate more encouragements from the authorities to help sustain the industry.
He said the Government conducts exhibitions at venues such as 'Deyata Kirula' and 'Mahapola'. Flower plant sellers too would be grateful for an opportunity to exhibit their flowers and plants, he said.
He also said a separate authority should be set up for the benefit of over 200,000 families involved in flower plant industry, like the protection given by the Government for coconut, tea, rubber, palmyra and toddy industrialists.
Ramesh Subramaniam of Kadawatha said, if the authorities could allocate a separate place at the BIA premises at Katunayaka to conduct flower plant exhibitions, it will be very helpful for local industrialists to earn money. He also said his native place is Jaffna and proposed the Government to conduct flower plant exhibitions in Jaffna.
He said he was a flower plant seller and also proposed the Government to conduct flower plant exhibitions in the main cities such as Kandy, Trincomalee, Galle and Matara. A flower plant seller at Battaramulla, Daya Perera requested the authorities to give them mobile vehicles such as `Dimo Battas' to conduct mobile plant sales at every junction. He also said some flower plant sellers bring plants from the Peradeniya Botanical garden, as well as from forest ranges such as Yala and Wilpattu.He requested flower plant sellers to refrain from bringing rare flower plants from such places and to sell them at their stallsbecause they were doing a disservice to the country.