Cold spell causes...:
Surge in energy demand
At the beginning of this week the chill in the western world reached this tropical island with the news of the death of a 37-year-old Sri Lankan migrant found dead in Tuscany, Italy. AFP reported last Monday that "Temperatures fell to minus 10 degrees Celsius (14 degrees Fahrenheit) in Milan on Monday as 59,000 households remained without electricity in Italy and officials declared a gas supply emergency." Last week's storm was the first heavy snowfall Rome has seen in 26 years, Reuters reported. Snow also kept falling in northern Italy, with temperatures dropping to minus 25 degrees on the shores of Lake Garda, according to the news reports.
Europe's record freezing temperatures have claimed hundreds of lives, snarled traffic and trapped tens of thousands of residents in remote villages across Serbia and Romania.
As Reuters reported on February 09, quoting a weather forecaster George Mueller, " It is the worst cold snap to happen in February in 26 years." "It was in 1986 when we had the last similarly severe cold weather (in February)," he said. Speaking to Reuters Mueller further says that "In this instance this big blocking of cold air . . . seemed to influence the way the winds behaved rather than the other way around." Meteorologists predict the frigid temperatures will last until the end of February.
According to the news reports heavy industries in countries like Serbia are more likely to shut down their heavy industries as the electricity companies are unable to face the demand. "In Serbia, where at least 13 people have died and 70,000 are cut off by snow, the State power company said its system can only meet the present level of demand for a week longer and authorities warned of more restrictions unless electricity consumption is reduced." the Reuters reported. In Serbia, the frigid temperatures have slowed digging for coal, which is used heavily in Serbia for power. There are also fears that ice that has formed on rivers could jeopardize power production at hydroelectric plants. The Sydney Morning Herald reported "The overall death toll from the cold snap that began 11 days ago topped 400 while forecasters warned there would be no early let-up to the freezing conditions."
This part of Europe is not unused to cold, but the current freeze came after a significant period of time. Many were shocked at the freezing temperatures in some parts of Europe.
According to Russian-based news reports, due to the abnormally cold weather in Western Europe, EU countries have asked Russia to increase its supply of natural gas. Operators in Italy, Slovakia, Poland, Austria and Hungary estimate the shortage of gas at about 30 percent. European Commission Spokesperson Marlene Holzner said countries were currently compensating for the fuel shortage by using their own reserves or switching to liquefied natural gas.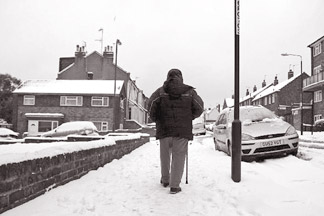 Walking on a cold snowy day as transport was brought to a halt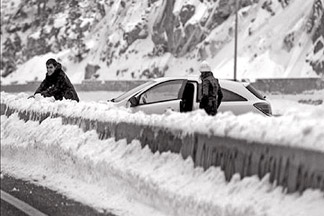 Piles of snow causing a drawback for travel
Europe has accused Gazprom of reducing the deliveries, but the Russian company insists that it has stepped up its supplies. According to Gazprom CEO Alexander Medvedev, Russia's gas exports to Europe currently stand at 180 billion cubic meters of gas per year.
Obviously these extreme icy conditions have driven a surge in energy demand in heavily populated parts of the northern hemisphere. The Hardest hits would be countries which use gas to heat major part of their homes and those that relies on electric heating. The tendency for the price hike in fuel, that was on going, for the past few years will surely increase – the chill effect on rest of the world. According to pro analysis the crude oil consumption rose high in Europe closer to the cold weather climate.
Thus it is predicted with the intense weather conditions prevailing in Europe and its troubles in their own power supply lines the crude oil price in the world market will rise exceeding the expected levels. According to the data available with the Research section of the Ministry of Media and Information, the price of a barrel of crude oil in the world market has increased to maximum during this month. Accordingly a barrel of crude oil costs 117.2 US dollars during this month. It was 108.93 during last month. The price fluctuates causing global economical , social and political transitions.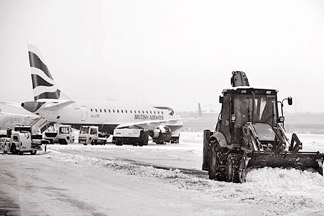 Airports closed due to runways being covered with snow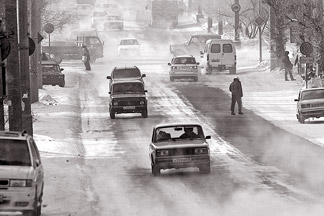 Sheets of snow cover roads making transport a nightmare
We in Sri Lanka will be no exception, but the government is trying to maintain the current price for oil. Sri Lanka maintains the lowest prices for oil in the region. The average Sri Lanka price of a Litre of Petrol or Diesel ranges around Rs. 137. Yet a litre of Petrol costs 152.28 in Sri Lankan Rupees in Delhi. In Singapore it is 2.23 Singapore dollars which is 204.65 Sri Lankan rupees. It is indicated that after 2009, the price of Petrol rose 14.3 percent while causing a heavy demand for diesel for electricity generation.
The Ireland based RTE new and Current Affairs reported last Monday that the price of Brent crude oil rose this evening as cold weather in Europe, tensions over Iran's nuclear program and turmoil in Syria outweighed concerns about the possibility of a Greek debt default and any resulting impact on oil demand. Brent crude rose $1.06 to $115.64 a barrel. "Natural gas supplies to the EU from Russia improved at the weekend but have not fully recovered, the European Commission said" the news report further states. Accordingly the US crude fell pressure from a recent rise in inventory levels, tepid demand for petroleum products and unseasonably mild weather limiting heating fuel demand.
According to the Bloomberg Businessweek "Crude advanced as much as 1.2 percent." The Bloomberg Businessweek in its report also states that the the Organization of Petroleum Exporting Countries (OPEC) has reduced its estimate of consumption for this year by 120,000 barrels a day, to 88.76 million a day, in its monthly market report issued on Saturday. "Oil for March delivery on the New York Mercantile Exchange rose as much as $1.19 to $99.90 a barrel and was at $99.64 at 2:04 p.m. London time. Brent oil for March settlement rose for an eighth day on the ICE Futures Europe exchange in London, gaining $1.01 to $118.21. The European benchmark's premium to the New York-traded West Texas Intermediate grade widened to $18.57 from $18.48 yesterday. The spread reached a record $27.88 on Oct. 14," the Bloomberg Businessweek reported on Saturday.