Fourth Footwear and Leather Fair 2012 launched at BMICH
Sources of the Ministry of Industry and Commerce said that footwear and leather sector which is growing with a workforce of over 30,000 and is a vibrant industry equal to the apparel industry. The Footwear Fair will conclude today.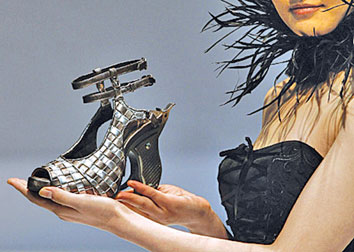 The Fair comprises a designer award ceremony, a fashion show and a Best Stall Competition.
Among the industry sectors on display are footwear raw material, travel goods, chemicals, leather goods, components and accessories and machinery.
The show began on a small scale in 2007 and has now become an international event drawing exhibitors from industry players in India and China. It is now a collaborative effort of many stakeholders-the Ministry of Industry and Commerce and SLEDB (as organisers), and Industrial Development Board and the Sri Lanka Footwear and Leather Products Manufactures Association (as co-organisers).
The Ministry of Industry and Commerce sponsored the event with the Export Development Board with an investment exceeding Rs. 3 million.
It also provides the opportunity to identify the creativity of small and medium enterprises and to develop as potential exporters by establishing contacts with large scale manufacturers.
The show will also assist participants to forge backward and forward industry linkages at local and international levels so that the growth momentum of the industry continues. In short, for us to compete successfully in this sector, a collaborative approach is needed", sources said.
Assistant Director, Industrial Products at the Export Development Board Sriyani de Saram, said: "This event aims at keeping up-to-date with the latest technologies around the world, to meet suppliers of raw material, components and accessories, to meet the prospective business partners and to identify networking opportunities the overseas exhibitors.