All for the love of a child!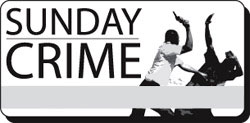 Anuradhapura is an ancient city with a history that spans over thousands of years. It was once the capital of Sri Lanka, and is full of artefacts and historic temples. Anuradhapura even today has withstood the test of time and many tourists throng the area to view its splendour.
In this backdrop, a gruesome fratricide story unveils from Illukkulama in Anuradhapura. Forty-three-year- old Jayakody was a farmer who faced many hardships in his life.
His youth was, however, a happy one, although his parents were poor. Jayakody as any other child enjoyed the serenity of Anuradhapura. He happily attended school and played with other children who loved the tranquil environment there.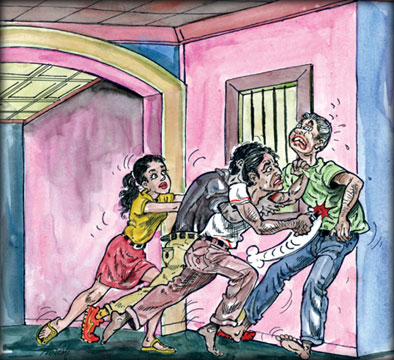 It was during his schooldays that he met Chitra, a beautiful village damsel. Chitra was a charming woman. It was love at first sight when Jayakody met Chitra at school. They spent many hours together at school as well as in the paddy fields playing and assisting their parents in cultivation and harvesting.
The childhood friendship with the passage of time had gradually transformed into an intimate relationship between Jayakody and Chitra.
However, tragedy struck early when Jayakody's father met with an untimely death. The burden of the family suddenly fell on the older children in the family.
Although Jayakody was keen on pursuing his education he had to abandon his dreams and shoulder the burden of his family.
It was a sad beginning to the youth's adult life with his dreams for a bright future being shattered with the demise of his father. Jayakody was, however, a determined youth and took to farming which was the livelihood of his folk for generations.
He, however, could never forget his first love Chitra who loved him dearly. Chitra had pleaded with Jayakody to marry her.
She promised him that she would endure any suffering and assist Jayakody in his farming. In the beginning, Jayakody had refused to heed to Chitra's pleas as he knew that their lives would be plunged into more suffering as he could barely earn to support his family which had become destitute after the untimely demise of the father.
Destiny
However, the bond between the two was too much to break off and destiny was already written for Chitra and Jayakody and Jayakody had decided to marry her.
This was the beginning of many calamities in their lives. Chitra helped Jayakody in every possible way from household chores to farming. However, with the passage of time the hardships began to mount.
They had four children. Drought and famine were regular occurrences in Anuradhapura.
Farming was not a profitable business any more. Jayakody had not only to look after his wife and children but also other members of his family. In this backdrop, the first setback hit the family, when Chitra made a plea to go to the Middle East and earn money so that she could ease some of the burdens the family faced.
"I can make your lives much better if you allow me to go out of this country and work as a housemaid in the middle East," she told Jayakody one day. She pleaded saying " Let me go to the Middle East and earn some money, that will ease most of our burdens and we could pay off our debts". At first Jayakody vehemently opposed the idea and Chitra had to give up the idea of leaving the country. However, as time passed she somehow managed to convince Jayakody that there was no other option other than going to the Middle East. After much pleading Chitra left for Saudi Arabia seeking employment. But this did not ease Jayakody's problems and he endured many hardships to bring up his four children.
He was especially fond of his first born son and favoured him on many instances because he used to help his father in his farming. Jayakody endured much without Chitra to bring up his children but destiny had other plans for them. His children got married and wanted to live away from the family.
His elder son settled down in Waturegama. His daughter Manel married an army officer. However, tragedy struck when Manel's husband met with a tragic death. This was a big blow to Jayakody because he was fond of his daughter for whom he made many sacrifices.
Events
The story takes a dramatic turn with the events that unfolded after that.
A few months after Manel's husband's death she developed an illicit relationship with another youth in the village and was hell-bent to continue with the affair although there was vehement opposition from the father and began living together with her paramour.
Manel's father Jayakody was irked with the decision his daughter had taken, because he wanted a decent life for his children and was a religious man.
He advised Manel many times to put an end to the affair and said he would teach her paramour a good lesson.
It was in this background that someone tipped Jayakody off that his daughter Manel had arrived in Waturegama at Jayakody's eldest son's house with her paramour. Hearing the news Jayakody was furious.
He could not control his emotions and decided to go to his son's house promptly and teach his daughter and paramour a good lesson.
On that fateful day, a few hours later the Kirindiwella police were informed that a terrible killing had taken place in Waturegama.
The OIC of the Kirindiwela police Dilruk rushed to the scene of the crime.
However, it was too late by then, as a brawl had taken place between Jayakody and his daughter. Jayakody had in no uncertain terms made it quite clear that his daughter could not be tolerated and that her paramour should be thrown out of the house.
Then Jayakody's eldest son had in a rage of fury grabbed a knife and stabbed his father two fatal blows.
The police arrested the elder son on charges of homicide.