Hayabusa - the epitome of train travel
Two significant events took place while I was in Japan last month. The Sakura (cherry blossoms) bloomed and the Shinkansen (literally New Stem Line) saw the addition of the fastest train yet. Called the Hayabusa (Peregrine Falcon in Japanese), the train reaches a maximum speed of 320 Km/h, which exactly matches the highest speed achieved by France's TGV (Train Grande Vitesse). And I was lucky to ride one on the very day they entered service (March 16).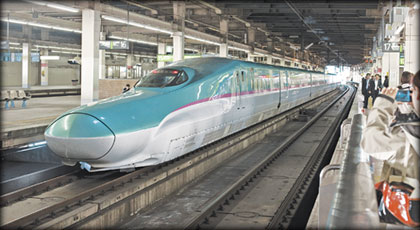 A Hayabusa train is a magnificent sight, even when it is perfectly still. I was blown away when I saw a couple of them at the Tokyo station, poised for the long journey ahead. The striking 15-metre long, fluidic nose gives an impression of speed - akin to a peregrine falcon swooping down on a prey below. The front nose alone is a marvellous feat of engineering, aesthetically designed to minimise wind resistance.
The entire train is a work of art with its green and white design complemented by a pink strip in the middle to denote speed. In fact, the nose design and the sheer speed of Shinkansen trains had given rise to the popular English term 'Bullet Train'.
A Japan Railways (JR) Hayabusa (Technically called E5 Series Shinkansen) does the 714 Km Tokyo-Shin Aomori (on the northern tip of the Honshu island) in precisely two hours and 59 minutes (no, it is not three hours), 11 minutes faster than before. Yes, a plane will do that in one hour, but you have to factor in airport waiting times, long airport transfers at either end and stringent security measures. On the other hand, the Shinkansen whisks you from city centre to city centre - you could be in your hotel just minutes after disembarking.
Another advantage: Once on board, there is absolutely no turbulence – you can keep a glass of water on the tray, without a drop being spilled, until the journey ends.
You will be cocooned in air-conditioned luxury in any class in the Shinkansen, but the Granclass on the Hayabusa does rival even the first class cabins of some airlines. With only 18 genuine leather seats in each Granclass car, there is plenty of room to recline and relax. If you want meal service, just press the button on the seat and your wish will be fulfilled in no time.
Getting into a Hayabusa, or any Shinkansen for that matter, is an experience in itself. The trains arrive exactly on time (the story that you can set your watch by Shinkansen arrival times is true) and every station has clear signs where each compartment would come to a stop.
Before a journey commences, an army of workers boards the train and cleans it in exactly seven minutes. They also rotate the seats, depending on the direction of travel. Once they are gone in a flash, you are free to board. Just look for the seat number if you have a reserved seat. On board announcements regarding stations and stopping times are made in both Japanese and English, so foreign travellers need not worry.
Story of Shinkansen
The Shinkansen story begins in the late 1950s, when the Japanese Government approved plans for a 200 Km/h line between Tokyo and Osaka. (The journey then took seven hours and 30 minutes by normal train). The first Shinkansen train was flagged off on October 1, 1964, coinciding with the Tokyo Olympic Games. The first (Series 0) trains were a far cry from today's ultra-sleek ones, but it was a revolutionary step forward in the 60s. Following the privatisation of JR into six private companies in 1987, the Shinkansen network grew at an even faster pace. Today, the Shinkansen network covers most Japanese cities, with a few exceptions and even these will be included over the next decade.
Then and now, the Shinkansen relied on four key attributes: Safety, precision, speed and comfort. Safety is the most important of all, with hundreds of trains running in every direction. The Shinkansen Operations Centre in Tokyo keeps a close watch on every train. To date, there have been only a very few accidents involving Shinkansen trains.
Several technologies ensure the safety and comfort of Shinkansen passengers. Most lines have a safety train known as 'Doctor Yellow' which runs once every 10 days at a speed of 270 Km/h, checking voltage, track conditions, wire and pantograph (the device that transmits power from overhead wires to the train) conditions and various other factors and transmitting data in real time to the centre. The Shinkansens running in earthquake-prone areas also have an earthquake rapid alarm system known as TERRA-S. (No injuries were reported to any Shinkansen passengers during the Great East Japan Earthquake on March 11, 2011).
The Shinkansen may have reached its maximum speed using pure electricity, but there is another alternative which is already being used in Shanghai in neighbouring China: Magnetic Levitation (MagLev). As the name implies, the train is levitated using superconducting magnets. The Shanghai MagLev has a top speed of 431 Km/h, with the potential to reach 501 Km/h. The train runs one centimetre above the ground.
Variation of technology
JR Central is testing a slight variation of this technology, where the train runs a full 10 cm above ground, at an especially designed track in Yamanashi prefecture just 100 Km away from Tokyo. With this technology, it will be possible to reach speeds exceeding 500 Km/h and Osaka will be just one hour away from Tokyo. It will also be earthquake-safe.
JR Central already has a name for the proposed MagLev line - Chuo Shinkansen. However, you will get to travel in one only in 2027, because development, construction and pre-commercial testing will take several years. The first MagLevs will only run up to Nagoya (40 minutes) and the track will then be extended to Osaka.
Travelling on the Shinkansen is an experience that should not be missed if you are visiting Japan. The only caveat is that Shinkansen tickets are not cheap. However, foreigners are eligible for a special concession which is envied by the Japanese: The Japan Rail Pass. You have to buy it outside Japan and 'convert' it at JR offices once in Japan. The Pass allows unlimited reserved travel on JR Shinkansen/local trains (with the exception of Nozomi Shinkansen trains), buses and ferries for seven, 14 or 21 days.
A 21-day first-class pass costs only 80,000 Yen (Rs. 100,000) and an ordinary class pass would cost only 58,000 Yen (Rs. 74,000). If you do not have a JR Rail Pass, you could purchase only a handful of Shinkansen tickets for that amount. This is the best way to travel around Japan. And do not forget to get off at Nagoya to see the Shinkansen Museum, where the very first Shinkansen (Series 0) and all subsequent Shinkansen trains are on display.
From the Series 0 to today's Series E5 Hayabusa, the Shinkansen has evolved to become the most well-known high-speed rail service in the world. Many other countries have ordered Shinkansen train systems (they are already in use in Taiwan on the 345 Km Taipei-Kaohsiung line/95 minutes travel time), making it a global household word for speed and safety in one convenient package.
(The writer's trip was organised by the Ministry of Foreign Affairs of Japan.)