Cobbler, cobbler, mend my shoe
It is Wednesday morning and after the heavy downpour of the previous night, the bright sun seems almost too hot to endure.
Yet it makes no difference to Uppan Maniappa. Rain or shine, he has his work cut out for him. Piles of shoes, slippers, handbags, purses, umbrellas lie heaped under and around his little stool, each of them carrying an 'Urgent' tag on them.
The pleasant forty-something man who sports a tattered cap brown with dust and an equally dusty T short and faded brown shorts, does not look up when I stop right in front of him.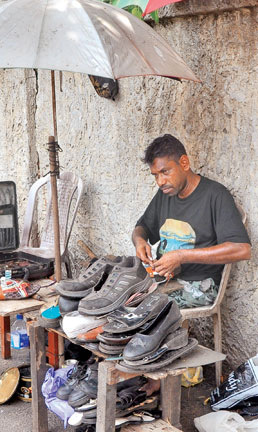 He gives me a brief smile when I introduce myself as a journalist from the Sunday Observer and continues with his work. His eyebrows tighten with concentration as he threads the strong 'tyre nool" in his cobblers needle and I watch as his fingers fly in, out, in, out, finally coming to a stop when he completes his task.
"All done," he breathes a sigh of relief wiping the sweat off his brow, and dipping into his old tool box containing the barest of tools, to pull out a sharp knife. With this, he snips the thread and frees it from the gent's shoe he has been mending.
"The sole had come off and I gave it an extra firm base after using some glue and then stitching it up", he tells me, using a little spit on his hand to wipe the shoe. "That's to give it an extra shine" he grins, seeing me grimacing...
Upside down
He next picks up a pair of ladies slippers, and turns them upside down, showing me how the straps as well as the soles have come apart. "The owner gave this to me and has just informed me she would be here within the next hour. So I have no time to stop working. But you can ask me any questions you wish".
To my first question on how long he has been in this business he shows ten fingers and says, "Multiply that by three, and you'll come up with the right answer".
Illiterate with no schooling since his father could not afford to buy him clothes or school books, he says that the little he knows to read or write is what he has learned from his children who are still schooling. So how did he enter this business? Was it by accident? Or was it a family business he inherited? I ask.
"My father and grandfather were cobblers. They were the best around town and no one could match them. So I guess it's in my genes', he says with a note of pride. " I learned all about this trade from the time they taught me as a child of five when I used to sit on my father's or grandfather's lap and watch them work."
Was the money he earned enough to pay for his family's needs? I wondered.
"Definitely not at the present cost of living. I earn between Rs 500 to 600 a day. Barely enough to feed my growing family, my wife and myself. But that's life. I guess. I'm not trained in any other job and I don't want to do anything else at this stage of my life", he says with an air of resignation.
His charges are minimal. Unlike the shoe repairers operating fancy machines in luxury shopping complexes, Mariappa's charges are minimal. They range from Rs 20 for a simple job, to Rs 80 for a more complicated repair job. "Everything I do is a labour of love and every item given for repair deserves the same attention, whether it is an umbrella, show, handbag, slipper, gent's purse
or even a raincoat whose buttons have come out", he says. Living in a rented two roomed tenement house in Armour Street, for which he pays a monthly rent of Rs 5,000 carefully collected coin by coin, rupee by rupee from his day's earnings, he walks most of the way to save on bus fare, to his permanent stand on De Saram Road which is cheek by jowl with the large shopping complex of the National Hospital.
Workplace
"I set out at six a.m and reach here by 7 a.m when the first of the hospital visitors are trickling in. I never lack takers. There's always someone wanting to have a shoe, umbrella, slipper or handbag mended. The problem is they are always in a rush. So I've got to finish everything before I leave.
"Anyway I don't leave anything behind till the next day as I have no room to keep them in my home anyway".
Before he moved to his present work place, he was doing his cobbler's business at the other end of the road near the Eye Hospital. "I used to sit under the shade of the Bo tree. When the police chased us pavement hawkers away, I decided to shift to this place. This is much better as I can take shelter in the market when it rains. Besides, many kind visitors coming to the hospital often give me a free lunch as a 'dana'. So God has truly blessed me", he says raising his hands skywards.
On days he gets no free lunch, he quenches his hunger with a cup of plain tea and sometimes a piece of bread. So what happens when he becomes too old to continue working? Will he pass on those skills to his son and daughters?
"No" he says firmly. "My wife will not allow it. Nor will I. My children are schooling now and I have dreams of a better future than this for them.Someday, who knows, they may win a scholarship, enter the university or go into some well paid profession. Times are very hard for the likes of us who are in this trade.
Many of my friends have already given up their professions despite having hailed from families of cobblers. I intend doing the same when the time comes." And until then? He is determined to continue plying his trade of 30 years and more, with the same zest and dedication.
"Cobbler, cobbler, mend my shoe"... How many times have we sung this well loved nursery rhyme as children. Then, cobblers dotted every street corner in highways and by lanes in the city and outside.
Today they have been reduced to a handful. With skills like theirs, it is time that the authorities step in with timely interventions to prevent the extinction of this iconic symbol of our culture, and give them the recognition and a place of their own which they truly deserve.