He who was a 'she' is marrying a 'she' who was a 'he'
After four marriages and 10 children between them Felix, 46, born as a girl called Katy and Helen, 56, born as a boy called Leslie have decided to elope to Gretna Green. Unbelievable! But it's true.
When Felix Laws and Helen Morfitt of Britain gaze into each others eyes it's clear that they can't wait till they tie the knot. Their huge smiles hide the years of torment and incredible changes they have been through before they became one of Britain's most unusual couples.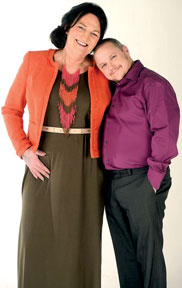 The love-birds have both had sex changes. At 5ft 8in, Helen towers over 5ft 1in Felix and the couple admit that people sometimes stare at them in the street. Helen says: "It might seem a bit strange to people on the outside but as far as we're concerned we're just like any other man and woman in love.
"We've been through a lot over the years and had tough times transitioning from one sex to another, but we've now found each other and that's all that matters.
"I've been married three times before but this time I know it's for real because I know I'm the right sex this time." School teaching assistant Felix says: "We share everything, from house work to decision making.
"And we're just like any other couple - including in the bedroom. Neither of us has any complaints on that score." The couple will officially change the sex on their birth certificates so they can marry as husband and wife.
The date for the nuptials, September 13, holds special significance because it was the date they had their sex change ops - albeit seven years apart.
They met in 2008 after Felix - who was then a woman - confessed to his doctor that he was trapped in the wrong body. The GP sent Felix to see psychologist who put him in touch with Helen because she ran a transgender support group.
Felix says: "I'd known from the age of eight that I should have been born a boy. "My friends were playing with dolls and prams but I wanted to climb trees, play football and get muddy.
"Even sitting down to go to the toilet felt wrong. But it was the 1970s and you didn't have those kind of thoughts back then.
"So I tried to behave as if everything was normal and got married aged 21.
"After I exchanged vows with my husband and went up to our room I knew I'd made the biggest mistake of my life."
As Katy, Felix went on to have two sons with her husband. Felix says: " Just because I was transgender didn't mean I didn't want what everyone else had - a loving family.
"When I held my children in my arms for the first time I felt like any other mother would about their baby."
Felix settled down to family life but after 13 years of living a lie he could take no more. He walked out - leaving his sons, then aged 10 and 12, behind."My husband was given custody of the children and it broke my heart but I couldn't keep playing happy families. Helen offered Felix a shoulder to cry on. And when Felix told her how tortured he felt, Helen revealed how she had gone through her own sex change five years earlier. Not only was she once a man, buy had also been married three times and had eight kids.
Helen says: "My wives had wanted children and I did too. In some ways I was trying to prove my masculinity, trying to deny who I really was - a woman in a man's body.
"I loved my wives, in fact I'm still friends with two of them. But I couldn't love them in the right way. I was trying to repress my real feelings and coped by cross dressing in secret."
As Helen and Felix shared their stories, they grew closer and fell in love, despite the fact that Felix was still waiting for his op to become a man.
Helen says: "When I met Felix, he'd been taking hormones and had a deep voice and muscles so I never really viewed him as a woman."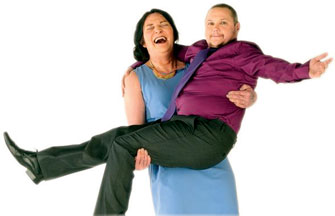 In 2009 the pair got the news they had been longing to hear - Felix was given the go-ahead for a sex change. The couple, who live together in Hull, say their years in the wring gender were devastatingly stressful.
As was plucking up the courage to talk to their families about the problems. Helen, a support worker at Lincoln University, told her children about her op before having it. She says: "I was incredibly ill by then because of the stress. "I told my two youngest, who were only five and six, that I was very poorly and the only way I could get better was to become a girl. They accepted it easily.
"The six-year-old said it would be a bit silly to call me Daddy and started calling me Helen.
"My two girls and four other boys came round to the idea slowly and I regularly see most of them now." After proposing to Helen in 2011, Felix says: "I kept thinking how amazing she'd been through my transition.
"One day I just said 'let's get married' and she agreed". Felix wore a flowing white dress at his first wedding but will be in a kilt this time.
And Helen will swap morning suits for the red and black Gothic dress she dreamed of wearing when she was a little boy.
---
Warning! Don't call 911 for stupid reasons
911- the emergency telephone number which allows a caller to contact local emergency services in USA . This service should be used only if some one's life is in danger or needs urgent help. If it is misused or abused the caller can be arrested and charged in a court of law.
This is what Vincent Valvo had to undergo when he called 911 to complain against his mother. Mothers can be annoying sometimes, but that should not be valid reason to call 911. Police arrested Vincent Valvo, 19, after he allegedly called 911 twice because "he didn't like how his mom was talking to him."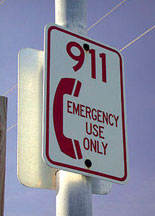 He was later released after posting a $500 bond.
Meanwhile, a 42-year-old Pennsylvania woman called 911 requesting a divorce and police assistance to make her husband leave. Police say they explained to the woman, whom they are not identifying, that a divorce is a civil matter and that they could not make her husband leave the residence because no crime had been committed. Instead, police have cited the woman for disorderly conduct and misusing the Erie County 911 system.
These are not the only instances where 911 emergency telephone number had been abused or misused.
For instance police in Tampa, Fla., arrested Robert Hagerman for calling 911 on his daughter after she refused to buy him a beer.
Then Michael Barker called 911 repeatedly in Hudson, Fla. asking them to fetch him a taxi and saying that he lost his football. Cops arrested him for allegedly misusing the emergency system.
Meanwhile, Everett Lages who allegedly called 911 after he was not allowed to bring his kitten inside a strip club was arrested. But one of the most irritating calls was by John R. Pacella who called 911 and told the operator he "wanted to see an officer because he wanted to fight with them." When police showed up at his door, he began pushing and shoving officers. He was promptly arrested.