BIZ BRIEFS
Abans launches new Smartphone

Abans introduced the LG G2 4G LTE Smartphone to the market recently.
The flagship model of LG Electronics, Korea sets a new standard in the smartphone industry. The LG G2 has more customer-centric innovations such as ergonomic design, practical functions and an intuitive user experience. The LG G2 has revolutionised smartphone designs by placing all the buttons at the rear of the device.
The Rear Key concept was derived when studies found that it was increasingly challenging to properly access the side buttons of a phone as smartphones got bigger.
---
amanté opens 50th store

amanté recently launched its lingerie collection at No Limit, Kegalle, marking the brand's availability in 50 stores nationwide, after over a year of operation in Sri Lanka.
This showcases the success of the brand, which strives to cater to the local consumers with fashionable and quality lingerie.
A subsidiary of MAS Holdings, amanté lingerie is designed using material and accessories of international standards keeping up with latest trends and styles.r 450 retail outlets across India.
---
LB Finance branch in Chenkalady

LB Finance PLC opened a branch at Trinco Road, Chenkalady, last week, offering a range of financial products.
Assistant General Manager, Marketing, LB Finance, Roshan Jayewardena, senior management staff and a large number of customers were present.
LB Finance has a history of over 42 years.
The branch will provide financial facilities such as leasing, gold loan, factoring, mortgage loans, margin trading and investment opportunities such as fixed deposits and savings accounts.
---
Platinum 1 launches multi-level parking system
Platinum 1, the latest real estate high-rise to join the expanding skyline of Colombo unveiled the latest elevator parking system recently. Platinum 1 is a business cum residential hub within the cosmopolitan Colombo. "This is one of the first elevator car parking system in Sri Lanka," said Managing Director of Platinum 1 Kishore D. Reddy. This automated valet car parking system has 261 parking slots. The 'Automated valet car parking system' a sophisticated automated parking system based on Korean technology by the Korean based company Costec.
---
ComBank rewards MoneyGram recipients
More than 40 recipients of remittances sent via MoneyGram received gifts from the Commercial Bank in a promotion conducted by the Bank between September and December last year.
Among the valuable gifts they received were 32-inch led TVs, home theatre systems, microwave ovens, water filters, mixer grinders and toasters.
The Bank conducted monthly draws to select winners.
---
Tata Communications launches mobile VolP platform
Tata Communications launched its mobile VolP platform, a hosted, white label solution that allows mobile network operators (MNO) and other retail voice providers to deliver and monetise innovative converged IP communication services. The mobile VolP platform offers rich featurest that enables operators to quickly roll out packages that create competitive differentiation among users such as roamers, migrants and people exploiting internet reach.
Tata Communications' mobile VolP platform gives MNOs the ability to offer customers a simple, converged communication service across voice, chat, video and file sharing, enhancing the customer relationship value chain and thereby improving customer loyalty and Average Revenue per User (ARPU).
---
Admo revolutionizes pre-fabricated buildings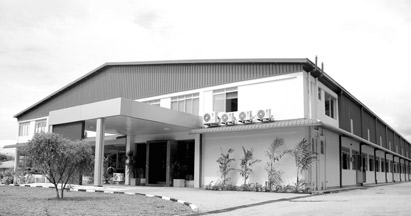 Admo has revolutionised the pre-fabricated steel building sector and emerged as a market leader within a short span of time.
By relying on quality technical equipment, raw material of international standard, specialised technical advice and service excellence,
Admo has won the trust and confidence of its customers. Admo completed construction work on the Nobles factory in conformity with highest international standards.
The engineering department at Admo consists of a structural engineering unit to deliver service excellence in the areas of structural designing, quantity surveying, draughtsmanship and technical expertise. Modern engineering and fabricating methods were used to build the garment factory. General Manager, Vinseth Engineering (Pvt) Ltd. Nirosh Muthukuda and Vice Chairman, Nobles Manufacturing (Pvt) Ltd, Sidath Wettimuny were present at the handing over ceremony.
---
Home Lands opens branch in Kandy