An interview with Nimi Vashi:
Book blogging gathers momentum
Literary activism, which can be in the form of promoting books and authors, organising literary events, book reviewing, helps literature thrive in this ever-growing world of competitive commercialism where the realities of markets and commerce cannot be fully divorced from the field of art and literature.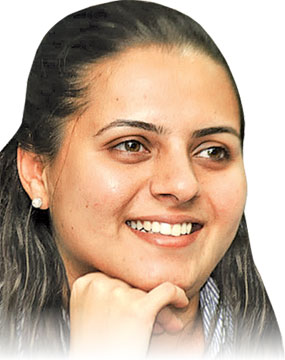 The digital era and the constant growth of ICT affords us opportunities that have redefined the boundaries of fields of activity such as publishing and advertising to name but a few. Literary activism too has found a great platform for growth in the digital age thanks to the internet, and blogging.
Book bloggers are a category of literary activists as I came to learn (through my own engagements in social media) who use their blogging platform for literary activism through providing book reviews, and at times featuring interviews of authors, conducting 'book giveaways'.
Although book blogging is yet to be heard of as a robust realm of blogging in Sri Lanka, not very far away, on the other side of the Palk Straits, the concept of book blogging is gaining immense momentum with literature enthusiasts becoming engaged in this field of cyber activity as both practitioners of book blogging and active followers of those blogs.
Nimi Vashi is a young book blogger based in New Delhi who is passionate about books and devotes much time and energy to her literary activism. Her blog 'The Readers Cosmos' is a platform for various streams of activities related to literature as mentioned above, and has a growing following from across India. To her credit Nimi has reviewed over 100 books and posted on her blog.
A serious student in the sciences in her academic mettle, Nimi whose B. Sc is in Microbiology has an M.Sc in Biochemistry, and is currently a Ph.D student whose area of research relates to pharmacological interests. The following is an interview Nimi had with the Montage on her activism and aspirations as a prolific book blogger.
Experts:
Question: Nimi, could you give us an introduction about yourself and what your tastes are when it comes to books?
Answer: I am Nimi Vashi, a student of life but currently pursuing a doctorate in Immunology at ICGEB, New Delhi. I love to read and hence I review books on my blog thereaderscosmos.blogspot.com. I love to read most genre of books but my favourite ones are Popular Science, Historical/Mythological Fiction and Business.
Q: What made you get started as a 'book blogger'? Do you see yourself as a 'literary activist' or 'literary critic' in terms of your book blogging objectives?
A: I loved reading always, still I have my fairy tales story books from childhood preserved. I started blogging because I felt someone searching for a good book from the little savings of a pocket money (as myself) deserves to feast upon a goodread and my blog is a little step in that direction.
I am also a critic because I am tough on the author. However, I just do not point out the faults but I suggest how they can be corrected. So, for people who are ready to grow and improve as writers I am an activist. Plus I am found on Facebook most evenings giving sermons on do's and don't's to would-be authors.
Response
Q: What's the response from authors, fellow book bloggers and readers?
A: I love some of the bloggers such as The Readdicts and Ankita Singhal. They taught me a lot about literary activities on their blogs and didn't mind my silly doubts as a novice. I also run a book review program for authors to get genuine reviews from quality bloggers and the best bloggers review the books. Their welcome to the blogging world was very warm.
Q: Apart from blogging have you initiated any other forms of internet based activities related to promoting books and literature?
A: My platform The Readers Cosmos does a lot around a book. First of all The Pre-Publishing Review, which is where myself and a published author review a manuscript before the author sends it to publisher, so that the obvious flaws in the plot, length and language are taken care of to increase the chances of the book being picked up by a publisher.
I am very happy to share that the first book we did Love @Airforce"by Gaurav Sharma will be launched in December. The book was accepted by five publishers after the author made the changes after our review.
Other activities are editing and proofreading. For promotions we have The Readers Cosmos Book Review Program, Facebook and Twitter promotions and contests.
Q: I came across an online article once from an Indian author who severely criticised book blogging and said that some online PR companies lure authors to pay five figure sums for 'promotion packages' of their works through book bloggers, which lacks professionalism and merely leaves a dent in the author's wallet with no real productive outcome. As a book blogger yourself how do you feel about such accusations and in your opinion are such allegations justified?
Criteria
A: I do not believe such articles are justified. It's a very tough job getting coverage across blogosphere and more so off in the print media. In India a big publishing house releases about 15+ titles every month and the reader base is limited. In the ocean of books the probability of one's work being picked up is limited, so one pays to get a coverage. I would really like to question the author who made this statement, "What lured you?" In the end the author has to define the purpose of his writing, if he wishes to have a name and readership then he has to make it happen.
Q: Do you think a book blogger should be transparent in terms of their principles and policies when engaging in book reviewing? What are your criteria when you review a book?
A: Certainly! The very term blogger to me means an unbiased and honest opinion. My criteria to review a book is simple. "I am honest, send me your copy only if you love to hear the truth."
Q: India has a vast community of authors. In your experience do you see a great diversity among writers from different states through their works?
A: India is a diversity in every aspect and that is reflected in writing too. I see excellent works of writing for many centuries emerging from Bengal.
Q: How much of your time do you devote to books and literature related forums? Do you visit book fairs, book readings, writers' festivals and literary festivals regularly?
A: I devote a minimum four hours a day to literary activities and half of the weekend. I visit book launches and lectures by eminent authors. I love The Delhi World Book Fair and missed it since I have moved to the city.
Q: In times to come as the cyber realm and social media gain more ground in people's lives, how do you see the role of book blogging and its relevance to the mainstream publishing industry's major players?
A: The winds of change you speak of are blowing already. During the past one year all publishers are trying to lure bloggers to review their books. Since most bloggers are honest I believe people would turn to reading blogs more often as they buy books which would in turn drive the traffic of publishing industry all the more towards bloggers.
Q: Where do you see your own activism as a book blogger going in the future?
A: I aim at converting The Readers Cosmos into a company that can provide services to many more authors.