Illegal Aussie migration at zero level
Illegal migration from Sri Lanka to Australia has come down to zero level from October 2013 due to the steps taken by Sri Lanka and Australia at individual and bilateral level, Navy Commander Vice Admiral Jayanath Colombage said yesterday.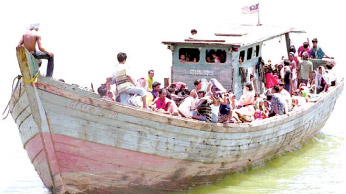 It has been reported that not a single Sri Lankan would-be refugee or irregular migration by sea has reached Australian territory since October last year, he said.
"The surveillance carried out by the Sri Lanka Navy and intelligence gathering by the Sri Lanka state intelligence services and the Sri Lanka Navy and the collaborations we experienced with the Australian Navy and the Australian Border Protection Force and the tightening of laws in Australia has contributed towards this end", he said.
"However, we are not relaxing surveillance in our waters as human smugglers would switch to other methods to send people to Australia illegally". The Navy Commander said that Australia has launched a new military-led campaign called Operation Sovereign Borders to prevent anyone reaching Australia and the Australian Navy, Coast Guards and Customs are involved in it.
"At present there is a joint working group between the two countries which discusses various matters to stop human smuggling and Australia has provided us with technical assistance to carry out surveillance and training".
"They will give us two patrol boats in the near future to strengthen our deep sea surveillance capability", he said.
He said investigations on illegal migration rackets carried out by the CID and the police, had also contributed to the drop.
"Allegations have also been levelled at some Navy personnel as well.
Hence, we have permitted the police to carry out investigations and four Naval personnel are under police custody and the normal law of the country will take its course, he said.