'TNA resolution, part of broader political conspiracy'
Human Rights Special Envoy and Minister Mahinda Samarasinghe said the recent resolution that was passed in the Northern Provincial Council (NPC), weeks ahead of the Geneva Human Rights Council sessions, is part of a broader political conspiracy by international players, coordinated by diaspora groups to destabilise the country.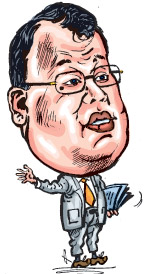 The resolution passed by the NPC called upon the international community to initiate an international investigation to expose alleged 'mass killings'.
He said, such conspiracies will not bear fruit as long as President Mahinda Rajapaksa and the Government are favoured by the people, a fact proven repeatedly at many elections in the past.
"The whole thing is a game that is being played, in the guise of promoting and protecting human rights. I have seen this happening in the past eight years, since the inception of this Council," the Minister said.
He said initiatives by the so-called champions of human rights have nothing to do with HR. They are playing political games to make countries which have independent foreign policies kneel down.
External interferences to overthrow governments using social media or internal groups have been successful only when leaders lacked public support.
However, the people here respect President Rajapaksa for eradicating terrorism and developing the country in an unprecedented manner.
Passing the resolution soon after the visit of US envoy Stephen Rapp and his meetings with the TNA is indicative of well-coordinated efforts against Sri Lanka. "It is not an isolated move by the TNA. It's all very well coordinated and this is the challenge that we face today," he said.
He said the call for external investigations, special rapporteurs and sanctions on Sri Lanka are echoes of Tamil diaspora groups whose aim is to somehow win what they could not win with LTTE violence.
Sri Lanka is expected to form a common front with its allies to counter the challenge of the imminent third resolution that is to be moved at the UNHRC by the US next month.
The UN High Commissioner for Human Rights Navi Pillay will submit her final report to the Council during the latter part of the sessions.
The Minister said anyone looking at Sri Lanka objectively will conclude that tremendous achievements have been made during the past four and a half years after the defeat of terrorism and added that he did not want to prejudge the outcome, but the Government was ready with facts if the report by the Human Rights High Commissioner steers into subjectivity.